Welcome to the Shift Number Cruncher. This week's column is dedicated to a less popular number. I was inspired to run this triple digit after watching a hard-charging performance in the sticky Anaheim mud on live television last Saturday night. It got me thinking about the young man's number and who may have also raced with it. After some considerable research, I didn't come up with very many! But that doesn't really matter. The #114 has a pretty cool story behind it. Actually…there are a few cool stories behind it.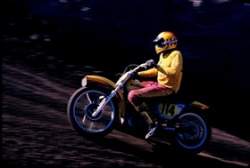 Gerrit Wolsink
photo: Dick Miller Archives
Holland's
Gerrit Wolsink
's name graces the record books with two Trans-AMA wins. One in Philadelphia in 1973—a night race in the old JFK Stadium—and the other the following year in the sands of Orlando International Speedway. Of course Wolsink is from Holland, and he is most famous for winning the Carlsbad 500cc U.S. Grand Prix five times between '74 and '79! This was back when Carlsbad was the only race that appeared on TV, and American fans soon came to appreciate "the Flying Dentist," as that's what Wolsink was when he wasn't racing.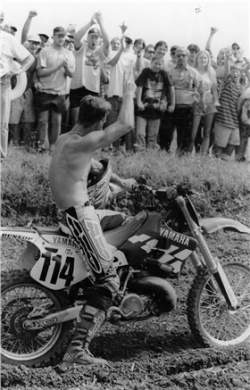 Damon Bradshaw
photo: Racer X Archives
When
Damon Bradshaw
left the sport in 1993, he had 19 supercross victories. When you consider he won his first one in 1990, that was an impressive number. Back in those days, winning six or more supercross races equaled a championship. Or at least it was supposed to. In 1992 Damon won nine, which was unprecedented at the time, yet still lost the title to Jeff Stanton with a terrible last-round performance at the L.A. Coliseum. After that, Damon's career fell apart. He won two more SX races in 1993, but Jeremy had arrived, and Bradshaw's fire had left.
Then he suddenly came back in 1995 running #114 aboard a Factory Yamaha YZ250, which was his last two AMA numbers: #11 and #4. He was fast, but never won another supercross. But he did take one last win—the 30th of his career—in the mud at
High Point
in 1997. Now he's driving an Air Force-backed monster truck!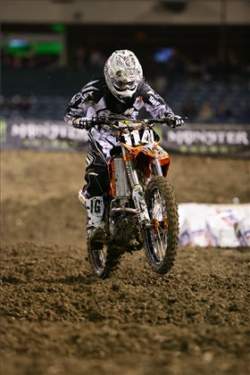 photo: Simon Cudby
Justin Brayton
's story is also pretty cool. He hails from Ft. Dodge, Iowa, just like Chad Pederson and Teddy Maier. After banging away on the arenacross series for several years, then the Motoworld Yamaha team, he finally may have shown his full potential last Saturday night at Anaheim Stadium. Riding an MDK/KTM with #114 adorning the number plates, he was right in the mix. After getting a great start, Justin raced at the front of the pack and eventually came away with the first podium finish of his young career. Of all of the names I heard as possible podium finishers, Brayton's never hit the air. Nice ride, man.. Nice number too!
Other #114 stuff:
Upon my research of #114 I discovered a weird association to filmmaker Stanley Kubrick. Known for his "left of center" style filmmaking, Kubrick had an odd penchant for using #114 in his films. In Kubrick's 2001: A Space Odyssey, the serial number on one of the pods was "CRM114." Then in, A Clockwork Orange, one of my all-time personal favorites, the main character, Alex, was injected with "Serum 114." In his 1964 classic, Dr. Strangelove, they use a device called the CRM-114 discriminator. And most recently, some of you may have seen Tom Cruise and Nicole Kidman get wild in his '99 film Eyes Wide Shut. During the movie, the mortuary was located on Level/Wing C, Room 114.

I'd like to get a cool Redux rolling for #114, so please send me any #114s you may have out there. I know there has to be some good ones. E-mail them to andy@racerxill.com and we'll hook you up.