Kawasaki/Racer X Race Report
Chapter One
Coming into Anaheim I, just about everyone was lost in the talk about defending AMA Supercross Champion James Stewart, and rightfully so, as Stewart dominated the 2007 series with 13 wins on his way to his first AMA Supercross Championship.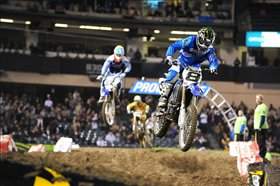 Yamaha's Grant Langston grabbed the Progressive Direct Holeshot, but his lead was shortlived.
However, San Manuel/Fusion Yamaha's
Chad Reed
hasn't exactly been secretive about his desire to no longer be an "also-ran" at the races, and he drew first blood at Anaheim I.
As Team Yamaha's Grant Langston grabbed the first Progressive Direct Holeshot Award of the year, Monster Energy Kawasaki's Stewart found himself on the ground in the first turn and was forced to remount in last place.
Reed has three previous wins in Anaheim, and he grabbed the lead from Langston before the end of the first lap, only to stall on lap two and hand the lead back to Langston, while Rockstar/Makita Suzuki's Mike Alessi assumed second, Monster Energy Kawasaki's Timmy Ferry took over third, and Reed got back going again in fourth.
Reed worked his way back by the front three over the next three laps and took the lead back over on lap five. At that point, Stewart was already running sixth.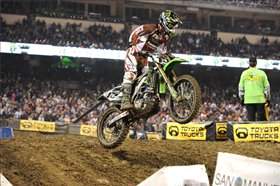 Tim Ferry put his Monster Energy Kawasaki on the podium with a strong third-place finish.
Reed immediately began to stretch his lead out over Langston and Ferry while Stewart tried to find his way by the duo. At the halfway point of the 20-lap race, Langston was forced to single the finish-line double by a lapper, which allowed Ferry to close up on him, but as Ferry and Langston fought it out for second, Stewart jumped past both of them over the track's infield triple to take over the runner-up spot, about 10 seconds behind Reed. Ferry also got by Langston a few laps later, and from there, the race was over.
Reed won the series opener, followed by teammates Stewart and Ferry. Langston hung on for fourth while Torco Racing Fuels Honda's Kevin Windham came home fifth after starting outside the top 10.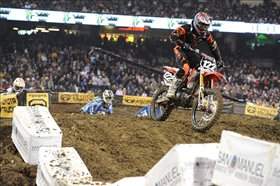 Aussie Dan Reardon found himself with the early lead in the Lites class aboard his Torco Racing Fuels Honda.
Although the 450s didn't disappoint, most pit pundits expected the Lites class to supply the fireworks at Anaheim I, and the small bikes pulled through. Torco Racing Fuels Honda's
Dan Reardon
grabbed the Lites holeshot over Monster Energy/Pro Circuit Kawasaki's
Austin Stroupe
, Rockstar/Makita Suzuki's
Ryan Dungey
, MDK KTM's
Justin Brayton
, Stroupe's teammate
Brett Metcalfe
and Boost Mobile/Yamaha of Troy's
Jason Lawrence
.
Reardon led the first four laps before Lawrence found his way past his flailing competition on the tricky, rutted track, and into the lead. However, Dungey was hot on his heels and found his way by at the halfway point of the 15-lap main.
"Ryan [Dungey] was riding really good, and he was making me nervous back there, so I thought that if I let him by maybe I could force him into a mistake," Lawrence said. "But instead, I forced myself into a mistake."
Lawrence went down only a lap after giving way to Dungey and lost second to Brayton, although he quickly grabbed the runner-up spot back, but by then, Dungey was too far gone and took the series opening victory (just like he did at the start of the Lites East last year as a rookie). Lawrence hung on for second, just in front of Brayton, Reardon and Stroupe.
The riders expect a dry track as the series heads to the covered Chase Field in Phoenix, Arizona. Any anomalies from the mud at Anaheim I should be exposed in a week's time.