Privateer Profile: Logan Darien
"Nate Adams gave me a free month of rent for Christmas," said Logan Darien while watching his friend Craig Rood at No Fear make a set of gear for him. "He asked me what I wanted and I told him I was kind of hurting for money, so he hooked me up. I have him a pair of Nike shorts and he gave me a free month of rent." Logan Darien, who lives in a house in Temecula, California with fellow motocrossers Nate Adams, Jiri Dostal and Andy Bakken, is a full-on privateer. After being shown the door by the Richardson's RV/ECC team he rode for in 2007, the friendly 25-year-old was left out in the cold without a ride and to his own devices. He almost quit the sport, but last month a few pieces serendipitously fell into place and now it's full speed ahead for the starting gate at Anaheim this Saturday night. Having made three 250F main events in 2007 and placing 30th in the AMA West Region Supercross Championship, Darien is a talented, competitive rider who, with a little bit a luck and if the wind is blowing in the right direction, just might surprise a few people this winter.
Racer X: Logan, the first time I met you was last year at the San Francisco Supercross. It was a half an hour before opening ceremonies and you and your teammate Richie Owens were sitting next to a space heater in the Team Richardson's RV/ECC trailer trying to stay warm. How were things going for you at that point?
Logan Darien: The team was good. Things were going good. Me and Richie got along pretty good and everything was cool. Up to that point in the season, at the first round I was doing all right and I crashed and didn't make the main. At the second round at Phoenix I made the main. I was actually in 14th in the main with like seven laps left and I crashed. So I didn't get any points. Then it was back to Anaheim and I made the main again and I got 16th. I was doing all right. I was pumped going into San Francisco. And then the rain came and I didn't make the main. I ended up getting the Asterisk Medic Card there (Note: Darien was fifth in the Lites LCQ).
The track was pretty nasty that night, wasn't it?
Yeah, it was a pretty gnarly track for me. It was pretty hard for me because I ride at [Lake] Elsinore all the time. Elsinore is gnarly and hardpack and dry and never sees water. So then you go to a track like San Francisco and it's all rutty and gnarly, it takes me half the night just to try and remember how to ride the stuff. But it was fun. I like riding tracks like that. I think they're cool.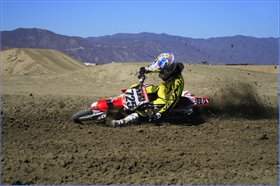 Logan Darien put together a last-minute deal to ride West Coast SX Lites in 2008.

photo: Toby Ogden

How did things go from there?
I went back to Anaheim III and made it in again and got 18th. Everything was looking good from there. I really wanted to get top 20 in points and at that point I really had a chance. And then came Houston where I got in a big first turn pile up in my heat race and bent my bike up. Then, in the LCQ I got in another first turn crash and caught up to seventh and didn't make it there and started freaking out about it. Then it was the same thing at San Diego. In the heat race I got into it with somebody and in the LCQ I crashed in the first turn again and got ran over by a whole bunch of people. So those last two rounds did not go good and I was super-bummed about it, but I still wanted to do good at Seattle, but I ended up breaking my collarbone. So that was the end for me.
Did you do any Nationals?
Yeah, I did Colorado, but I only rode the week before. I shouldn't have been riding yet. The only reason why I did it was that I knew that I was kind of coming to an end with my racing stuff and I really just wanted to ride my hometown race once and say that I did it.
Did you ride a 450F?
Yeah, it was on my old 450. I was on a 2006 450 [laughs].
Did you make it in?
No [laughs].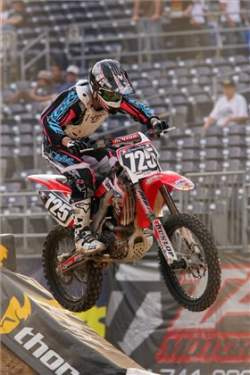 Darien made a few Lites SX main events in 2007.

photo: Paul Buckley

We were under the understanding that you were going to be racing for the Richardson's team again in 2008, but then we heard that fell through. What happened?
When I broke my collarbone I pretty much figured I had a ride with them. From what I understood I was going to race for them again this year. So I pretty much took it easy all summer. When I started riding again I got called in and found out that they did a deal with Suzuki. The guy who watched over the team, Mark Hauser, has always been there for me and he has done a lot for me. It was up to him and if he had any say and could have made it happen for me to stay with the team he would have. But he couldn't. He even told me he'd buy stuff for me and felt really bad about it, so I know it was really hard for him to see it happen. Basically, the way I understood it was that Suzuki was going to be a part of the team and they had certain guys that they wanted to bring (Note: Michael LaPaglia and Adam Chatfield). They [Suzuki] basically said they didn't want me on the team. I was basically out. But Mark Hauser said, "if you want to borrow any parts from last year and stuff, come on into the race shop." So I went in and was able to get some stuff off my old bikes. So he helped me out a lot. But basically at that point I was pretty much over it. I was going to quit. I just couldn't see how I could make it happen without money and stuff. So then I started working and doing graphic design and stuff. I was doing stuff for Twitch (Jeremy Stenberg). He and his wife were starting a new hat company and I was doing all the designing for them. Now I'm also working for a place called Dirt Alliance. I go in five days a week and help them out with ads and fliers and stuff like that. So while all this is going on, I'm living with Nate [Adams] and Jiri Dostal and Andy Bakken and everyone. Everyone was riding every day and training and I was coming home from work and I'd be all bummed out. They'd be like, 'dude, you tripled through that thing!" and they'd be talking about tracks and riding and stuff and I'd be like, "dude, this sucks!" I just wanted to get a bike and ride, even if it was just for fun. This was at the end of November and I'd probably ridden like three times in a couple of months because I had been working. I tried to get a bike and then the guys from John Burr got a hold of me and said, "We'll hook you up and give you a good deal on a bike." So I got a bike and then everyone at No Fear hooked it up to where they're going to pay for my entries and stuff. Then, all of a sudden, the guys at One Industries, who have always had my back, said they would help me. So now here I am going to race. It's a super last-minute deal.
Have you been able to ride and train very much?
No. Training, I haven't had time because I've been riding in the morning and working in the afternoon, so I can't do both. Today was actually my 10th day on a supercross track. That was like my big thing: I wanted to get a lot of riding in before Anaheim I if I could. So I got that in.
Where did you ride today?
Elsinore. I actually designed some stuff for the guys who build the track there, so they let me ride. That's another thing that helps me afford racing.
So you have One Industries Honda CRF250R? Has anything been done to it?
It's pretty much bone stock. I have suspension from MB1. Those guys hooked it up for me. I also have my old Yoshimura pipes from last year on it. That's it.
As far as weather is concerned, the Los Angeles TV stations are making it sound like the world is coming to an end and The Weather Channel.com is calling for "rain and a high of 59 degrees" for Saturday night. Does that concern you at all?
Hopefully, they'll do it like they did in 2005. If the weather does get that bad, they'll take the top 30 for the race. I got 30th in the points last year, so I should be in no problem. Then, hopefully, I won't destroy my bike.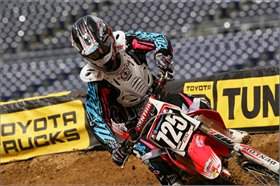 Logan Darien has no pressure in '08.

photo: Paul Buckley

Are you going to do all the West Region rounds?
No, probably just all the close ones: Anaheim, Phoenix and San Diego. I plan to make the night shows, for sure. And I'd like to make some mains. That would be awesome. That would be the best. As far as the first Anaheim, as long as I don't ruin my bike from the mud, I'll be happy.
If you get on the gate and make the show at a race like Anaheim, does that help you at all?
Honestly, financially? No. It's not going to do anything for me. If I'm making mains and stuff, it's more for me and I'd be really happy just because it's just something I did more than making, say, $500. That doesn't help me at all. For how gnarly it is and how gnarly you are if you're making mains, what you make from the AMA doesn't help you at all. It doesn't help you that much.
Will this West Coast run be it for your career?
Yeah, unless a miracle happens and I just light it up [laughs]. Of course I might, you never know. I have no pressure. Normally, I put too much pressure on myself. I don't know. I just want to have fun this last year. I just want to go out and see what happens.
But you still love the sport?
Oh yeah, I love it. Eventually, I want to be working like doing graphic design for somebody in the sport because I don't ever want to get out of it.