Number Cruncher: A1 Winners
Welcome to the Shift Number Cruncher. With Anaheim 1 coming up this weekend we thought it would be cool to go back and look at the winners of the huge event. With Anaheim typically marking the beginning of the season, save for a couple of rounds in Los Angeles and Orlando, the defending champion came out swinging most of the time. And more often than not, a win at A1 bode well for their championship hopes. Although, there were some surprises. Take a trip down your Anaheim 1 memory lane and check out this list of winners and their numbers.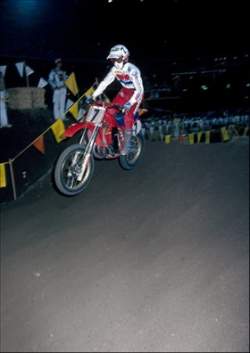 Donnie Hansen won Anaheim in '82.
photo: Dick Miller Archives
1981 – Kent Howerton #2
1982 – Donnie Hansen #7 *
won title
1983 – David Bailey #11 *
won title
1984 – Johnny O'Mara #5 *
won title
1985 – Broc Glover #4
1986 – David Bailey #6
1987 – Jeff Ward #3 *
won title
1989 – Rick Johnson #1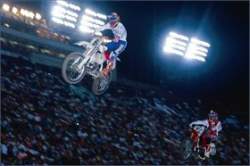 Damon Bradshaw
photo: Dick Miller Archives
1990 – Damon Bradshaw #8
1991 – Jeff Stanton #1
1992 – Damon Bradshaw #4
1993 thru 1996 – Jeremy McGrath *
Won unprecedented four titles in a row
1997-1998 – LA Coliseum
As the season opener returned to "The Big A" there was a new surprise. Multiple rounds. This only made sense being that every Anaheim round would see a packed house.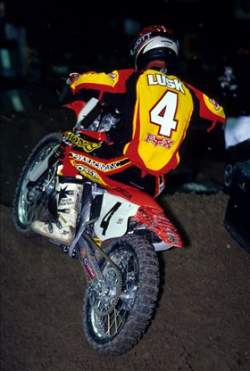 Ezra Lusk

photo: Simon Cudby

1999 – Ezra Lusk would sweep both Anaheim rounds this season, riding a super trick CR250 and ominous black and red Fox/Honda gear. Crashes and more crashes took him out of the title.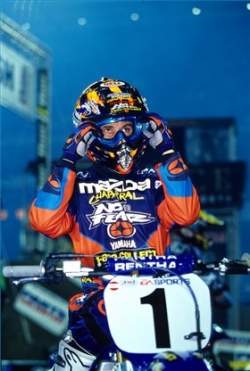 Jeremy McGrath

photo: Simon Cudby

2000 – These seasons marked the full return of Jeremy McGrath. A switch to Suzuki in 1997 saw a runner up finish in overall points. A switch to Yamaha in 1998 saw a slow start, but an eventual title. Then the change of the millennium saw a return of the McGrath of the mid-90's. He was perhaps even better this time around as he swept both Anaheim rounds.
2001 -- There was a lot of pre-race hype about '01 being the year that Carmichael finally took down McGrath. But the 2001 Anaheim opener saw McGrath systematically take the win, while RC followed Lusk, not McGrath home in 3rd. Carmichael would rebound the next weekend to win San Diego, then get beaten by McGrath again at A2 setting the bar on an even keel for the first ever Anaheim 3. We all remember what happened there…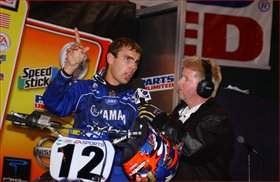 David Vuillemin in 2002.

photo: Steve Bruhn

2002 – This was a wild one. Carmichael gets TKOd and The Cobra gets the win wearing Oxbow gear, running #12.
2003 – Chad Reed makes an announcement that he wants the Supercross title.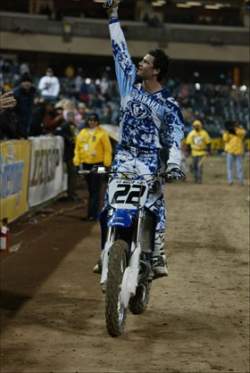 photo: Steve Bruhn

2004 – Reed wins the second season opener in a row and goes on to take the title.
2005 – The muddiest Anaheim 1 ever. Kevin Windham grits out a well deserved victory. You might want to take a good look at this photo above by Simon Cudby, because the holeshot picture from this Saturday night may well look just like this, sans The GOAT.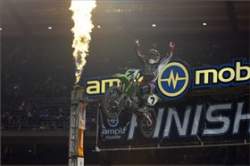 photo: Steve Bruhn

2006 – James Stewart wins wearing #7 in a "New Beginning." He and Donnie Hansen are the only two riders to win A1 with #7.
2007 – James Stewart becomes the first rider to sweep all three of the Anaheim rounds and wins his first Supercross title.
2008 -- ??? *Eight is actually a pretty intriguing number when we look at this Saturday night. Of course, it is two thousand and eight. But if James Stewart wins, it will mark his eighth win in a row dating back to the 2007 Daytona SX. And lastly, If my calculations are correct, the defending champion has won A1 eight times as well.
Trivia
The first three contestants to list the 1976-1979 winners will get a Shift t-shirt
Send your educated guesses to andy@racerxill.com.