Between the Motos: Jason Reed
Jason Reed is the PR man behind the World Off Road Championship Series (WORCS), and this week we decided to give him a call hoping he wasn't too busy.
Racer X: Jason, we see the WORCS Racing press releases starting to come over for the new season. Are they keeping you busy?
Jason Reed: Always busy! We're just getting ready for the 2008 season. I'm sure you know what that's like. We're going to a couple of new tracks this year, so just getting those finalized and putting the final touches on the series.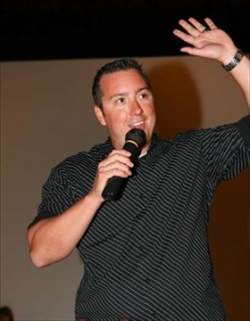 Jason Reed

What new tracks are you taking on?
This year we picked up Pacific Raceways out of Auburn, WA and Round 6 will be a new venue as well. We're still trying to finalize that stop.
Other than the tracks, what's new for 2008?
We'll be running this new Pit Crew Challenge at select rounds, an Endurocross-style set-up at Washington during the Saturday night program, and biggest of all were debuting the worcstv.com HD site. I'm really not clear on the final project yet, but it should be awesome.
You guys have some heavy hitters out there in the west, don't you?
For sure. It was great to see Kurt Caselli get his first ever championship for KTM. Nathan Woods, who has the most wins in WORCS, signed a multi-year deal with Suzuki. Ty Davis switched too after many years with Yamaha. I'm not too sure what's going on with the Yamaha off-road program out west, but Ty is a great guy and we wish him all the luck on the new Suzuki. Of course Ricky Dietrich is super fast along with Bobby Garrison, Bobby Bonds, Destry Abbott, Soule, and from what I've heard Kyle Lewis is rumored to be coming out and riding WORCS this year.
On the ATV side, Josh Frederick, our new 2007 Champion and Doug Eichner always bring great battles to the track.
So do you have any other roles aside from Public Relations?
Yep, I'm the handyman I guess. I announce, write releases, book staff flights, hotels, coordinate race issues, wash the dishes… You know, the normal grunt work. I'm just kidding; these guys are great to work for. Sean and Pepper Reddish do a great job and we have an awesome and supportive staff. I've been here for four years and they have been the best of my industry involvement.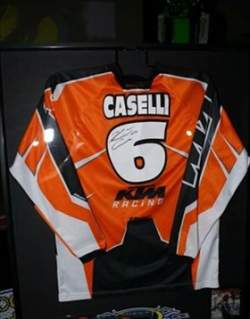 Kurt Caselli is the 2007 WORCS Champion.

How did you get involved with WORCS Racing?
I was announcing for a couple of good friends out here in California. Darin Layton, Darrell Melton and Charlie Comfort own and operate an outdoor motocross facility out here in central California, called Honolulu Hills MX. About four years ago they approached WORCS about holding a race here. So they flew Sean out to Taft, CA, to scope the track. I met Sean there and evidently he called Darin a month later and said, "Hey do you mind if I hire Jason to do my ATV Series?" I guess Sean was looking for a new route to take on that side, so I flew out to Utah and did my first announcing gig with them. Four years later here I am. I still do marketing for the Honolulu Hills MX group and remain close friends with those guys. Those are my roots and where I first started. Darin, Darrell and Charlie are good people and they have a good thing going. I give all of my credit to Layton and Melton; they were the people that got me involved in the industry locally and it just took off from there.
Last but not least, the factories and manufactures are stepping it up in the off-road department. Are you seeing that out west as well?
We couldn't do it with out those guys. The manufacturers are giving huge contingency and Rocky Mountain has been with us from the start. They are a huge supporter of WORCS Racing. Dan Thomas and the staff at Rocky Mountain has us lined out for sure. Motoworks in Lake Elsinore, Maxxis, Rekluse Clutch, GPR, Zip Ty Racing, Carter Powersports out of Las Vegas, Aceribis, Scott, FMF, Pro Circuit, Rekluse, I know I 'm leaving some out and I apologize, but yes we have a tremendous amount of support from all our sponsors. They are the ones along with the racers that keep us moving forward.
Well Jason take care, Happy Holidays and good luck this year with the 2008 season
Thanks Billy. You to and tell everyone at Racer X we said hello.
For more information on the WORCS series, visit www.worcsracing.