First of all, Merry Christmas and happy holidays to everyone out there (and happy 22nd birthday to you, James Stewart!). It's been a long, eventful year for everyone, a strange off-season, and I think it's safe to say that everyone is looking forward to Anaheim 1 starting now more than ever. And in the spirit of Christmas, we're going to run some of the really cool motorcycle-related cards and emails we got this week from our friends in the industry.
First, I have a present to give out. Everyone at
Racer X
appreciate the riders that compete at every level of the sport, but the bulk of our coverage comes from Monster AMA Supercross and AMA Toyota Motocross. With that in mind, we are giving every AMA Pro-licensed rider a free Racer X Digital Edition subscription. That means one year of the magazine, delivered right to their computers, as a way to say thanks for the effort. That way they can keep track of what's going on in the motocross world from wherever they are this season—and there are maybe 500 of these riders right now!
We will be gathering the emails from the AMA as soon they are back from Christmas break. In the meantime, if you are an AMA Pro and want to go ahead and sign up, click
here
. That will forward you to a form to fill in your name, email address and AMA number. In a week or two, we'll verify the list of all who signed up (you really have to have a license) and send out an email to them all with a complimentary code to enter and create their free Digital Edition account.
For all you readers,
Jeff Kardas
put together a gallery of his 50 best shots of 2007 as a present to you.
Check it out
!
Next Saturday at 4:00 PM ET, CBS will air an hour-long preview on the 2008 Monster AMA Supercross Series, and FIM World Championship. Then the following Saturday night, the Anaheim opener will be shown on live television for the first time ever. And after that, some 37 hours of "original content" will be aired from the series between CBS and Speed TV. And as I wrote on Mototalk earlier, 37 hours = all of the the coverage our sport got in the entire 1970s!
The announcement this week of "Throwback Night" in celebration of Anaheim '86 is just super-cool. I already had a friend call me—the notorious "
Megawatt
"—to tell me he was changing his plane ticket to be there and soak up the vibe, along with
David Bailey
,
Rick Johnson
and more. Did you know that four of the top five finishers that night were Hondas? Did you know that
Keith Alley Semar
,
Kevin Windham
's longtime mechanic and team manager, was in that race? Did you know that
Tyson Vohland
,
Tallon
's brother, won the 125 class that night?
Also, Racer X has a few really cool things in the works with Live Nation and Monster that will start showing up right around Anaheim 2.
And "Throwback Night" isn't the only trick that the series organizers have up their sleeve. Turns out that six top riders—including defending champion James Stewart, former champ Chad Reed, Kevin Windham and Tim Ferry—were asked to help design six different tracks. How cool is that? Check out Kevin Windham's layout for the Houston track right here.
With all of the saber rattling going on over the future of the outdoors, it's nice to take our minds off the politics and look forward to some racing coming up quickly.
However, I have to bring up one thing here: In Giuseppe Luongo's lengthy response to John Ayers' interview on Motocross.com, he points out that while the NPG pays a purse—unlike Youthstream—they also charge an entry fee. And then Geoff Meyer piles on with this (pardon the poor grammar):
"The Grand Prix series does not pay their riders prizemoney, what they didn't mention is that the entry fee for the riders in the AMA series is actually paying a big portion of the prizemoney in the AMA Nationals series. While NPG members were quick to point out that the GP series didn't pay prizemoney, they didn't mind hiding the fact that the GP series does not ask entry fee from the riders, or the fact that while GP riders don't get prizemoney, many of the present privateer US National riders actually have to pay to race with little or no chance of making that elusive prize money bracket."
They are both wrong. It's the AMA that collected the entry fees, not the NPG. But the NPG does pay the purse, not the AMA. If I ever get a say in matters—and I hope that I will—there will be no entry fees for the pros, nor will there be mechanics' fees. It's something I have long campaigned for. And even when that happens, there will still be a purse in AMA Toyota Motocross.
One person who has been watching this closely is
Michael Stusiak
, better known as Fresh Top End on Mototalk. He just laid out a
detailed account
from his own perspective of the AMA situation, plus the NPG and Youthstream.
That's all for now. Here's Ping's stuff.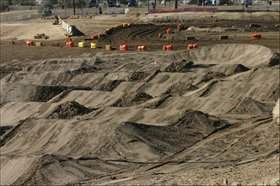 The Perris Raceway SX track.
photo: Ping
I made a trip out to Nevada last weekend for the opening of a new track. That isn't usually the type of thing I drive four hours to attend but for the people of Boulder City, Henderson, and Las Vegas, it is the first time they've had a real motocross track to ride in a long time. Besides,
Carey Hart
was debuting his team riders that day and I thought it would be cool to catch up with
Josh Demuth
and
Troy Adams
as they put the finishing touches on their pre-season.
Unfortunately, Josh tried tripling into a double-double section and came up short. The impact looked like it dislocated his wrist though we haven't heard the official doctor's report. Josh thought it wasn't that bad but
Kenny Watson
and Carey had to make the tough choice of finding someone to ride that bike at Anaheim in two weeks. I found out later that they went with
Cole Siebler
.
Troy Adams
said that he loves his bikes and is looking forward to the opening round regardless of who his teammate is.
Mike Fisher is going to love this part…. There's one spot left on the notoriously successful Monster Energy/Pro Circuit Kawasaki team. It sounds like Austin Stroupe and Brett Metcalfe will ride the western series and Ryan Villopoto is set to ride the east series. Ryan's original plan was to ride the eastern series to get a look at all the stadiums and soil types on that coast before he jumps to the premier class next year. He then hinted that he might ride the west, but after his crash and the subsequent surgeries that followed a few weeks back he is back to plan A.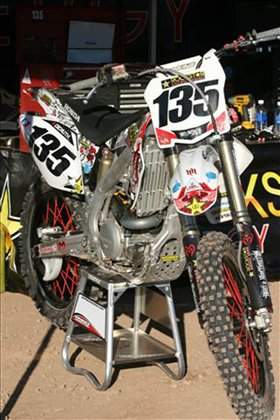 Josh Demuth's bike after the crash. Notice the bent front brake lever.
photo: Ping
So, with
Christophe
Pourcel
reportedly out for at least all of the Supercross series,
Mitch Payton
and the guys have been looking for another rider. They organized a try-out this week at the Kawasaki test track with 2003 Eastern Regional 125cc SX champion
Branden Jesseman
and French Supercross champion,
Benjamin Coisy
. They also tried to get in touch with
Ryan Mills
but it didn't happen in time since Mills was in New York this week. So, after giving both riders a shot on the bike the slot looks like it will be filled by Jesseman (though this is purely conjecture). The former 125cc champion looked comfortable right away and impressed Mitch Payton with his speed and fitness. Branden, who won Orlando last year, will have two months to get ready for the start of the east series.
The first round of the Monster Energy Supercross series may still be two weeks away, but if you live in Southern California you can get your first glimpse of Supercross action this Saturday night at Perris Raceway. The Pro Invitational Supercross is set to happen Saturday evening under the lights at Perris. This event has an incredible history going back to the days when Goat Breker ran the facility. Sebastian Tortelli and Jeff Nordstrom are both excited about the return of the event and plan to grow it back into the prestigious event that it once was.


"A lot of guys like to get a race in before they head to Anaheim," says Nordstrom. "We've got
Marc Peters
building the track so everyone knows that the course will be great. Toyota of Escondido is putting up some holeshot money and we have a pro purse as well. The weather messed us up pretty bad because we were planning on doing this two weeks ago but we had to just roll with it." Click
here
for the flier with all the information.
Robbie Maddison was scheduled to break the world distance jumping record today out at Lake Elsinore Motocross Park but it didn't happen. The wind kept gusting up and Robbie wasn't comfortable jumping in those conditions. You can't blame the guy. When you are jumping close to 300 feet you don't need a 30 mph gust of wind to slow you down or push you. Remember what happened to Seth Enslow when he got an extra push from the wind? He flat landed the jump and split his head open like a watermelon at a Gallagher concert. Robbie plans on breaking the current world record and then breaking his own record at the Red Bull Experiment in Las Vegas on New Years Eve when he jumps a football field at the Rio.

That's it from Ping.

Simon Cudby posted a re-cut of the RC 2-stroke video at www.racerxfilms.com that originally aired on www.foxracing.com. The film on the Fox website proved to be one of the most popular films ever, with a record number of hits in one day.
Check the
www.racerxfilms.com
site this weekend for a look at L&M Racing's
Chad Reed
getting ready for A1. #22 is looking fast as ever, according to Simon, who was out in Florida at Chad's track near Dade City. And there's also a behind-the-scenes look at the Kawasaki Xtreme Team Green program. Simon is getting really, really good with that video camera!

Rex Backman
only shot four races this year, but he still went ahead and put together a wonderful
gallery
of his SX/MX images for everyone to enjoy. "There's not a lot of whips, nor roosts," he wrote, "but there are images that show the true emotion of our sport."
A quick apology for a photo mix-up last week in Racerhead. I found and scanned two cool pics of
Steve Wise
to send to him for his website; I also pulled out a photo from the '82 USGP at
Unadilla
with
Georges Jobe
to announce that he had suffered a back injury while riding in Dubai. When "Bad" Billy posted, he inadvertently flipped the photos, and we ran Steve Wise instead. My mistake, and props to former British GP rider
Rob Andrews
,
Jim Myerson
, and some of the other Mototalkers who spotted the problem!
Reports are still sketchy on how exactly Jobe, a true living legend from his days as a five-time world champion, but he apparently suffered injuries to C2 and C3 in his spine. He was transferred to a hospital in his native Belgium, near Liege, and that he is in good spirits and ready for the long rehabilitation this will follow. We wish Jobe, his family and his friends a full recovery.
Props to YZKen250 (
Ken Lewis
) from Mototalk for posting this secret video of the
Team Suzuki X-mas party
.
Here's a note from an anonymous reader: "I just heard this rumor yesterday from a promoter (pretty reliable source) in the UK that The Des Nations will be held at Mallory Park (
www.mallorypark.co.uk
). They currently do not have an MX track and they are going to build one on 60 acres. It is a road race facility although I do recall that at one time they had a deal where you could actually drive an ex-military tank."
Michael Nasakaitis
, from the new Suzuki City OTSFF Lites team, dropped us this note earlier this week: "Just wanted to send you a peek at what our graphics ended up looking like. They will be available at our website (
www.suzukionly.com
)."
Earlier this week we asked you to identify the rider and year of a certain photo in our
Flash Trivia
contest. The first five correct entries we received are getting a
One Chance to Win
DVD, courtesy of the guys over at
The Motocross Files
. The answer was
Richie Owens
and the year was 2003. Congratulations to the winners below, and the DVD is on the way!
Jeffrey Parker
James Wild
Chase Rosemeyer
Rob Lyttle
Justin Gibbes


Oh, did you see this: The guy who knocked up
Britney Spears
's little sister rides dirt bikes! Read more
here
!
Okay, tonight is the Racer X Christmas Party…. My head hurts already. Merry Christmas to everyone, and look for a special Racerhead next Friday. Thanks for reading. See you at the races.
What are Damon and Picard up to now?