Hello, everyone, and welcome to the Rev Up. This week's edition of the Rev Up comes to you from Pittsburgh International airport. I'm sitting here at TGI Fridays drinking a Yuengling and wearing a huge smile. It's been about as good a day as I could hope for, with the expected holiday travel pains. We made it here early enough for me to sit down and write The Rev, there was no line at security and the flight is on time.


But what I'm really smiling about is the fact that I'm going home. I've lived all over the country, but Emporia, Kansas, has always been home. Christmas is one of only a handful of times I get to be with my brothers and my family. Typically we just get to see each other on race day, but it's always different. We're all racers and race day is, well, race day. Christmas means I get to hook up with Casey and Clint and head out on the town and see all of our old classmates. It's strange to me how I'm so excited about something that simple, but it is probably my favorite thing about Christmas. Having the whole family together sitting around the fire. I mean, that is life in it's purest sense in my opinion. I'm just full of happiness right now. Each year I go home I have new stories to tell my high school friends, but never anything like this year. 2007 was a year I'll always remember. If I hit the Powerball in 2008, I'd gladly trade it in to experience the sights, sounds, and emotions the past 365 days have generated.
But, I don't want to bore you bragging about my happiness. I'm extremely grateful for the things that came down the pike this year, and maybe it's because I'm getting older, but as much as I'm soaking in holiday cheer, my heart is equally saddened when I think about folks that will not get to be together with their families. A couple weeks ago I sent an email to a man over in the sand. I never really expected it to get to him, much less that he would write me back. Sometimes it seems we all get wrapped up in the bubble of our personal lives and turn a blind eye to what is happening outside our immediate radius.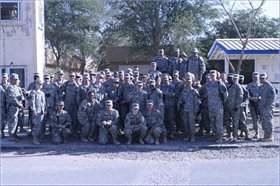 Photo from Mike Leiby
Being a journalist and working at
Racer X
has put me in the middle of this enormous hub of communication. I hear so much news, good and bad. For every hot scoop or major headline, I hear about someone getting injured, or worse. The other day I was emailing my brother, Casey, telling him how excited I was to see him and hang out with him back home, and an email popped up from Mike Leiby, the man in the service I wrote that email to. He isn't getting to go home and see his family. He is over there defending our country like thousands of others. That is the cruel reality of our world. But it's sacrifices like his that allow us to live this beautiful and astonishing life we enjoy and all too often take for granted. We are all so, so, lucky.
So, that's about it. I have to get to the gate and head to Kansas. It's my home. For those of you that are going home, please make the most if it. Go see the schools you went to. Go check out the bar you had your first beer at. Drive over to the make out spot where you had your first kiss. Home is a special place and I'm grateful to be heading back to mine for another Christmas with my family.
Merry Christmas, everyone. Thank you for all of the nice emails throughout the year. I'll use them as fuel to keep you guys Revved Up all year long. 2008 is right around the corner. I promise that every Thursday afternoon you can go to www.racerxill.com and get pumped up about the race to come.
Thanks for reading, see you next week.