Privateer Profile: Scott Kandel
Normally I would be skeptical, if not outright mean, to a guy that parades around in a comic book superhero costume. Most people outgrow that kind of thing by the time they hit Junior High or they get a steady series of ass kickings. But you just have to respect what Scott Kandel and his project, the Wonder Warthog Racing Team, are doing for privateers in Monster Energy AMA Supercross racing. Last year they introduced a program that helped over a dozen riders struggling to break into the world of professional supercross. This year, despite an economy that is circling the drain, they are continuing to grow.
The Wonder Warthog Racing/MDK team presented by DeCal Works will be bigger and better in 2008.

photo: Steve Bruhn

Racer X: How are things looking for 2008?
Scott Kandel: Well, we're actually upping the ante this year. We will have ten riders at every event in 2008. We have five guys riding the 450 class full-time and five Lites riders from each region competing in those series'. Another big development for us is having Heath Voss join the program as the team captain. He will mentor the young guys that don't have his experience. Manuel Rivas is also joining us. He is the Spanish Supercross champion and he didn't have much in the way of a ride. Jiri Dostal and Cole Siebler are two other great riders that are joining us. (Ed. Note- Racer X has learned that yesterday Cole Siebler joined the Hart and Huntington/Rockstar team to fill in for the injured Josh Demuth). Antonio Balbi and Billy Payne were going to ride with us this year and both of them have graduated to other teams. One thing that is different about us is that we consider ourselves a springboard to factory teams. If a guy gets a better deal we encourage them to take it. We want these guys to move on up and succeed. That means that we were successful.
Who else will be under the tent?
We did another tryout and decided on our guys. First up is Ramon Guzman. He is actually putting Manuel Rivas up for the year because he doesn't speak English. The Guzmans speak Spanish and English so they are basically taking care of him for the season. Then we have Mike Horban, who didn't start racing until he was sixteen. He's twenty now and at the tryout he was absolutely flying on a bike that was totally stock; stock motor and suspension on a supercross track! We are excited to see what he can do. We have Kevin Urquhart who actually won our tryout. He is from the Northwest but just moved to Southern California. Also we have Daniel Blair, Billy Jurevich and Tye Hames who should do great this year. Those are our West Coast guys. On the East we haven't selected our complete roster but we have Jase Lewis and Tyson Hadsell ready to go. We'll fill the last three spots here very soon.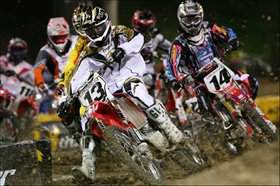 2004 World SXGP Champion Heath Voss (13) will be WWR's team captain.

photo: Simon Cudby

Was last year a success for you guys?
It definitely was but we are raising the bar for 2008. Last year we took 26 riders around and made 35 main events. That is a couple main events every week. This week we are shooting for four or five main events every round and I think we can do it. We had very strict rider criteria this year from a talent standpoint. We have some very talented riders. At the same time, we want these guys to get picked up by a bigger team with more money to spend on them.

What keeps you guys doing this?
My brother Jon Kandel and Darrell Saldana and I just love doing it. Sometimes we ask ourselves if we are crazy for pushing on with this but we just love it. We certainly don't make a dime off of it. I'll tell you that it was really a struggle with sponsorship this year. The industry is down and every dollar we got we had to fight for. MDK really saved us this year. And MMI also stepped up really big. They offered us 50 guys over the season to help wrench on bikes.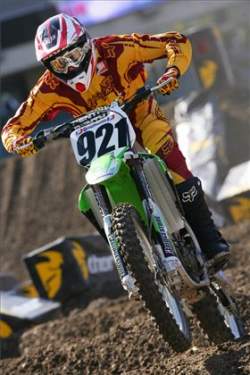 Spaniard Manuel Rivas will be under the WWR awning in '08.

photo: Simon Cudby

So, not only are you giving riders a shot at their dreams but you are giving mechanics that same shot?
Exactly. This sport is pretty tight-knit and it's hard to break into. MMI lets 50 different guys commit to four rounds and get the experience of a lifetime. They jump right into the role of a professional mechanic in supercross racing. They help with pit setup, bike prep, and everything else that goes along with it. We actually found four or five guys that were outstanding and we recommended them to other teams that were looking for mechanics. So, we are placing mechanics into the industry as well as trying to place riders onto factory backed teams.
What other sponsors stepped in or stayed with you for this year?
MDK is the title sponsor. MMI also helped out a bunch. We also got great support from Smooth Industries, MotocrossGiant.com and Decal Works. I also want to thank my brother Jon, Jeff Tomlinson, Walter Molloy, Ron Joynt, Dana K., Mike Koger and Rob Roon. Our program couldn't happen without all these guys.
Sounds like you have a truck-full, once again. Good luck and we'll see you in a couple weeks at Anaheim.
Thanks.