Number Cruncher: Look-a-Likes
Welcome to the Shift Number Cruncher. We're on the cusp of the new season and soon we will get to see all of the new numbers out on the track for the first time. It's always tricky on the eyes the first time you see them and try to decipher who is who. I mean, think back to Bercy when Eric Sorby was out there taking the #7 around on a KX450F, and the guys in the pits were calling him "Bubba!"

I guarantee you there were more than a couple screaming French fans pointing and hollering, "Allez Bubba!" when Sorby rode out for practice.

Who is going to be playing games with our heads at Anaheim? Bad Billy and I were bench racing about this the other evening and we came up with some guys that will be pulling a look-a-like act when they hit the cool Anaheim air on January 5th. Check it out.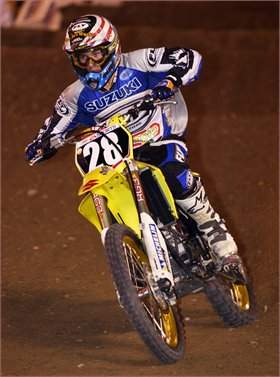 Branden Jesseman
photo: Steve Bruhn
Ryan Dungey
will be running #28 this year which should remind you of Pennsylvania's
Branden Jesseman
when he wore it in 2002. Brando would go on to win the 125 East title in 2003 wearing #26. Dungey came out swinging last year but was inconsistent. Maybe 2008 and #28 will be the number he's looking for! (And I think Ryan Huffman rode a Suzuki with #28, and before that Brian Deegan did "the Ghost Ride" when he won the LASX with #28 in '97.)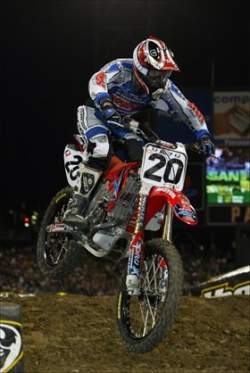 Damon Huffman
photo: Steve Bruhn
A lot of people were looking for
Josh Grant
to kill it in supercross last year but he had a burly crash in the hoops that took the wind out of his sails (and lungs) in practice at Anaheim 1. He'll charge into 2008 wearing #20 on his Torco Racing Fuels Honda. Who else ran #20 on a Honda? "
Huffdiddy
" did back in 2004 with Moto XXX, then went up to Canada for awhile before hanging it up. I'm betting #20 will be good to J-Grant. Perhaps as good as it was to Doug Henry that night in '97 back in Vegas.
Josh Summey
is going to turn a lot of heads when he kicks his Toyota/Gibbs Racing YZ450F to life next month. #24 on the Yamaha brought back memories of a certain
Kyle Lewis
on the cover of the October 2001 issue, as we whipped it the Monday after
Red Bud
for Simon Cudby's camera.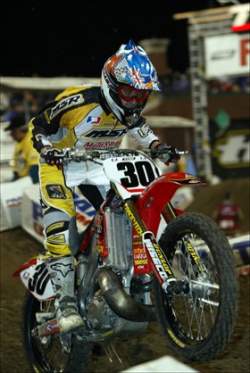 Craig Anderson
photo: Steve Bruhn
Jake Weimer
was on fire at the U.S. Open. Weimer has shown flashes of serious speed throughout his young career and 2008 just might be his breakout year. His #30 Torco Racing Fuels Honda may remind a few of you of the season that 2003
Southwick
winner
Craig Anderson
ran #30 back in 2004.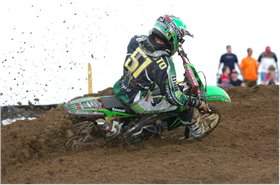 photo: Steve Bruhn
There has already been a lot of chatter about the similarities between RV park and Austin Stroupe. With good reason. Stroupe ran #51 at Loretta Lynn's in 2007 and earned it as his national number for 2008.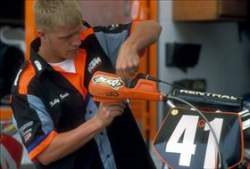 Kelly Smith
photo: Coraggio
Remember, it's pronounced "Ger-key."
Matt
began the 2007 East Region Lites division with a podium at Atlanta, then jacked his thumb at St. Louis. #41 has been a good combination with KTMs;
Kelly Smith
used the combo to nail down the win at
High Point
in 2000—the first-ever national win for KTM.
OK, it's the busiest week of the year around here so I am going to cut this one short. All the same, please send me some more number similarities and we'll try to throw together a redux. Here is one more cool number to check out before I go…6…six more days till Christmas! YEW!!!