Monday Conversation: Travis Preston
December 17, 2007 11:11am
Hesperia, CA's Travis Preston is a former Western Regional 125cc supercross champion (2002) who, as of right now, doesn't have a ride for 2008. He was a full-time Supercross-class rider in 2007 for the SoBe No Fear/Samsung Honda team, and his results looked like this: 4-4-7-11-5-10-12-21-20—then his season was cut short by a shoulder injury following Daytona. It was very late in the game when he found out he would not be returning to the Factory Connection team (now called Torco Racing Fuels Honda), thus Preston was left without a ride. We talked to him this morning to see exactly what's going on.
Racer X: Good morning, Travis. What's going on?
Travis Preston: Hey Billy, I'm just cleaning some air filters.
Well, we're putting the finishing touches on the 2008 Monster Energy AMA Supercross Souvenir Program, and you're not in it. What's up?
Yeah, a bad thing happened this year… Factory Connection, I started talking to them in July, and they said, Oh yeah, we have sponsors knocking down our doors and we have all these deals. So, one by one they kept slowly falling through the cracks. I passed up KTM, I passed up Gibbs—all of these other good teams, and they'd go and hire other riders. So the Factory Connection deal never worked out. They never got a title sponsor and they just ended up hiring Kevin (Windham).
So when did you officially find out that you didn't have a deal for '08?
Officially was probably November 15, but I kind of figured it out November 1—that was when I started trying to figure out something else.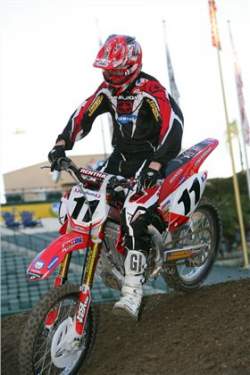 Travis started the '07 AMA Supercross Series with two fourth-place finishes.

At that point it's already kind of late, so what do you do?
Exactly. I called Gibbs and all of those other teams, but they already hired other guys. Then around November 15 I got in touch with Mike Battista from MB1 Suspension, and he said we could do something and we started putting something together. But by the time we figured something out, it was close to the end of November, and it was a supercross-only deal, and I just didn't feel confident with only a month of riding. And I've been off since March of last year, so I just didn't want to go out there. I feel that if I'm going out for supercross-only, my game better be really good. If he would've signed me for both supercross and motocross, then yeah, I'd do it. I'm open for motocross if something comes up, but if not, I'll just wait for 2009.
This is just a shock. Looking back, you started out the 2007 AMA Supercross series with two fourth-place finishes in a row. Take out RC and that's two podium finishes. But then you got injured.
Yeah, the last two races I did in 2007 I crashed out, and then I got hurt the Monday after Daytona.
So what did you do throughout the summer?
Well, I spent five months working on my shoulder. Once I got that healed up I just started riding, and trying to set up a deal for next year, but that didn't happen.
You gave Factory Connection a 125cc West Coast SX title in 2002, and you've had a very good relationship with those guys for several years. Does this whole deal leave a bad taste in your mouth?
Yeah, it definitely does. I was kind of under the impression that this was a package deal, and they weren't going to do the team unless both Kevin and I were there. The funny thing that got me was, I talked to Kenny Watson in like June, way before all of this happened, and he said, "Watch, if this doesn't happen, they're going to hire K Dub and not you." And I said No, that's not going to happen. But it did.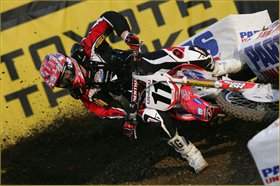 We may not see #11 on the race track till 2009.

You mentioned you're oiling filters, so what are you riding right now?
Transworld loaned me a Kawasaki 450, so I've been riding that. And Honda is working on getting me some bikes, so I'd like to continue riding Hondas, but I have this in the meantime till something else comes up.
So is there any chance we'll see you at Anaheim 1 racing?
No, it doesn't look like it.
If a rider gets injured and a team is looking for a Supercross-class replacement rider, would you consider that?
Yes I would consider that, but I still need time to get ready.
If someone sees this interview and has a deal for you, they can email us at online@racerxill.com and we'll put them in touch with you. Sound good?
Yeah, that'd be a good idea. I would ride supercross all the time right now, but it's just the money out of my pocket for riding at the tracks all the time and rider insurance—that's a lot of money right there and I don't want to dole out that out if I don't have a ride.