The World is a book, and those who do not travel read only a page. ~St. Augustine
Hello, everyone, and welcome to the Rev Up. Today is a big day for me. I've always taken great pride in the fact that I've traveled as much as I have. Growing up in the (flat) wide open spaces of Kansas allows a lot of time for a kid to imagine what the rest of the world is like. At first, merely getting out of state is a big deal. When we would go to the races in Oklahoma we used to always get really excited when we would reach the state line. My dad, my brothers, and I would always sing, "Oklahoma! Where the wind blows through the plains!"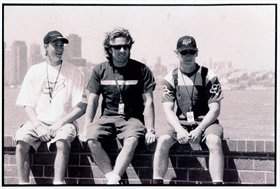 The author (right) in California some years ago...
Then came longer trips to Texas, then Las Vegas, and Florida. I remember waking up in the overhead bunk in our motorhome and peering out the window and wondering what state I was in. It always fascinated me how people talked different, and how the weather was so different. The air in Florida just seemed to be so much thicker than home. I remember my first trip to California like it was yesterday. Everything just seemed to be shinier and cleaner. The weather was so nice it was almost surreal.
The first time I went to Colorado I jumped out of the truck and sprinted up to the hotel door then stopped halfway there because I was out of breath. Then at Mammoth Mountain, a place I had dreamed of riding since I got my first Cycle News, I rode out for practice and was going completely wide open, shredding the berms and hanging my ass off the end of my rear fender going up the long hills. Three laps later I had to pull off because my tongue was in the spokes.
Travel was always one of my favorite things about motocross. So many different places. So many different friends that not only sounded different, they just acted…different. My friends from Texas were wild as hell. My California friends were either super cool, or the biggest punks I'd ever met. Then my boys from Florida and the East Coast just moved at a much slower pace. But they were tougher than hell. I loved having pals all over the country. When we would get to Loretta Lynn's, my brothers and I would jump out of the motorhome, tear our bicycles out of the trailer and pedal to the game room as fast as we could so we could kick it with our friends from…well, everywhere.
As I got older I became a ferocious traveler. While racing the arenacross series I drove across the country three times in one year. I prided myself in that I would never stop unless I needed gas. I could get from Kansas to Texas to California without stopping to sleep. Then I would make it all the way back across to New York and up into Canada. I loved it. My van was my time machine. I could pack up, fill up, then throw in a dip and put myself in another world when I finally put her in park hundreds of miles and dozens of hours later. Motocross did all of that for me, and eventually the sport sent me to Mexico and Chile. Only then did I truly realize how big the world is and how much more traveling there was to do.
So when I woke up this morning, my stomach felt light and I was already tapping my thumb on the comforter. It took a while to remember why I was already so manic, then halfway through my shower I had a sudden craving for fish and chips. 'Oh yeah, that's right I'm going to England today!' It's all crazy, man.
You see, along my travels I met a wild man named, Travis Pastrana. I was with him for his first pro race at Mammoth Mountain, then stood underneath him a week later when he jumped into the bay. That was an amazing time. I'll never forget seeing the Golden Gate Bridge and Alcatraz Island out in the middle of the bay. Later on, I saw his first supercross at Indy when he did the Indian Air on the parade lap over the finish line and cart wheeled out into the TV stand.
Years went by then I met up with him at his house last summer and he talked me into jumping a pit bike 30 feet in the air into one of his trees, then drank 80 beers with him at his beer olympics. Damn, that was a long weekend….
Now, I'm going to England to watch him drive in the Race of Champions event. Why? Well, I'm not sure. Something about how he is the American Rally Champion, he is sponsored by Red Bull, who sponsors the event (and Loretta Lynn's), Jimmie Johnson is his teammate, the editors here don't know car racing like they know motocross, and well, I know a little about car racing. So, I'm going to England to report on
Travis Pastrana
racing against Michael Shumacher, Sebastien Bourdais, and Alister McRae. My passport will now be stamped with Canada, Mexico, Chile, and England.
My prediction for the fight? I predict a four-wheeled version of the MXoN where the Americans reach up and pat their right biceps after taking the checkered flag. Jimmie Johnson, the former R&D sponsored motocrosser is kind of good at driving and Travis is a wheelman in his own right. Either way, I just hope it's a fun race.
It blows me away, my friends. I remember sitting on my motorcycle day dreaming with my elbows resting on the handlebars after practice on my track out in the wheat fields. You can see a long ways across the flatness of the Kansas prairie. I always wanted to go as far as I could. Well, folks, Wembley Stadium is quite a long ways from Emporia, KS. Thank you, motocross.
Thanks for reading see you next week.