Privateer Profile: Tyler Keefe
Don't ever let anyone tell you that motocross isn't a cut-throat sport. Tyler Keefe's dad is the team manager for the newly-formed Team Extreme Kawasaki and his uncle is Troy Lee, who just started his own Supercross team. Still, until this week he didn't have a ride for next year and it wasn't his father or his uncle that came through. Regardless, Tyler is excited about his new deal with All-Access Racing and we called to find out more about it.
Racer X: Tell us about your new ride.
Tyler Keefe: All Access is a company that builds structures for events and concerts. They do all the stages for a bunch of really big concert tours, they do a lot of stuff for Red Bull and they do all the structures for Supercross. They already have a supermoto team that helps Micky Dymond out during that series and they wanted to go supercross racing this year. Mike Bell was in charge of putting things together and his brother, Scott, suggested me. The guy that runs everything at All Access, Erik Eastland, called my house while I was in Germany racing and when I got back they had just about everything worked out.
What is the team doing for you?
Well, I bought my bikes already for this year so they didn't have to worry about that. I'm basically keeping all of my other sponsors and I'm just joining up with them. They are going to take care of transporting everything and having food and drinks at the races. Micky Dymond is going to come out to the track and help me out a little and Mike Bell is going to be helping too. It should be a good program. It will take a lot of the burden that I had last year off my hands so I can focus on racing.
This is just a supercross deal?
Yeah, they are racing supermoto all summer so this is just until Vegas. I don't have anything lined up for the summer but I'll worry about that later.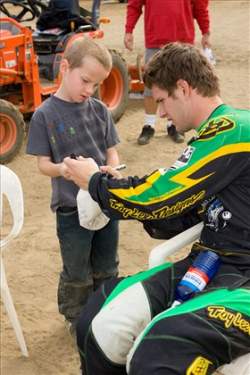 Tyler signs an autograph for a young fan.

photo: Carlos Aguirre

Does it bum you out that you have so many close contacts in the industry and yet you struggle to get a job? Between your dad and uncle you are the one guy that should have some job security.
[Laughs] I joke all the time that the MotoSport team manager comes to my house every night and calls me all the time but I won't ride for him. Seriously though, it is what it is. I guess I was a little bummed when Troy didn't even talk to me about riding for him when he was putting that together because we are really close. But I'm not stressing about it. It just makes me want to beat their guys.
You just won a race in Germany. How was that?
Yeah, it went well for me. I got good starts over there. The past year I've been getting great starts, which is nice. The tracks suck but it's good experience. The tracks are really sticky and rutted.
Were you horrified when you saw porn on the regular TV channels?
I stayed with Casey Johnson over there and he was flipping through the channels and came across some of that. It's pretty awkward when you are staying with another guy and all of a sudden that's on your television.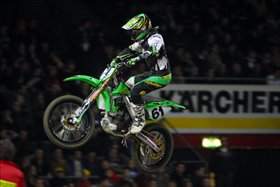 Keefe recently took a win in Germany.

photo: Max Ludwig

What are your goals for the season? You seem to be on a roll right now.
I'd like to be in the top ten every weekend. The west coast is tough but I'm going to do everything I can.
What sponsors are helping you?
All Access, Pro Circuit, Kawasaki, Dunlop, Troy Lee Designs, Dragon Optics, Maxima, Hinson, Hammer Down Inc, Three sons Inc, Taylor Concrete, N-Style, Etnies, Quiksilver, Alpinestars and Dynamic Equipment. I also want to thank Erik Eastland, Scott Bell and Mike Bell. Those guys are really stepping up and making this year a lot better for me.