The futuristic 1980 Mugen ME125 W1 motocross bike never quite made it to the future. Eric Johnson wrote about it in a feature called "Extraordinary Machine," which ran in the April 2007 (Volume 10/Issue 4) issue of Racer X Illustrated. You can purchase that issue here.
But you can read that feature right now, by clicking here. (Adobe Reader Required)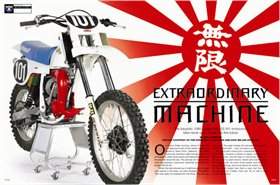 Click to read this feature.