Rev-Up: Winter Wonderland
Hello, everyone, and welcome to the Rev-Up. We had our first snow of the year yesterday. Remember waking up on those mornings? It's almost like right when you open your eyes you already have that sensation that something is different on the other side of the window. I think we gain this innate sixth sense from our days as children when such a wintry morning could produce the glorious "snow day" and we got to stay home from school and play in it.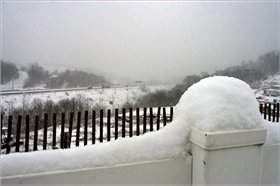 "West by God"
Matt Ware photo
That said, I opened my eyes with a pretty solid gut feeling of what I would see when I turned the cold plastic lever to open my blinds. I was right. A generous blanket of white already covered the ground and thick snowflakes sparkled against the still-rising sun as they fell. I kind of surprised myself as I began to realize I was becoming almost giddy. Easy, there, Jackson, I thought to myself. School may be closed, but there's more than a fair chance the internet is operational at 122 Vista Del Rio. Get it in gear.
I still began my day with a little extra skip in my step. I didn't even mind when the snow fell from the driver's door into my seat and all over the inside of my vehicle. I just swiped it off with a smile. Then it just continued to snow all day yesterday. Some of you folks down south or on the West Coast might not be feeling me, but I know a lot of you grew up with many mornings like the one I just described. I've experienced countless ones in Kansas. But it's different here in the mountains. It's a pretty neat scene around here today.
There are a couple overlooks on the drive to the Racer X HQ that I always take time to admire on the way in. As I looked out across the vast expanse of rolling Appalachian mountains this morning it was like seeing them for the first time, as they now looked like an endless snow-covered rhythm section. If it wouldn't have been 10 degrees I would have stopped and finished my coffee right there on the side of the road because it was so beautiful. Instead I just raised my left hand like it was a dirt bike and pretended I was jumping through them as I drove by. It made me chuckle as I remembered that just a little over 100 days ago I was melting in the crucible of Loretta Lynn's. The seasons and time just seem to move so fast nowadays….
But I have been enjoying this dormant time in our schedule. I love the idea of the world supercross series, but with no Canadian rounds this year, I think I like the downtime a little more. In my opinion, all it has done is build the anticipation even more. No more teaser to what the season to come will look like. The mysteries of 2008 remain intact. What will the new graphics look like? How long will it take to memorize the new numbers the boys will be wearing? How cool is the new gear going to look? Has
Bubba
gotten faster? We don't know, but isn't it fun to think about it?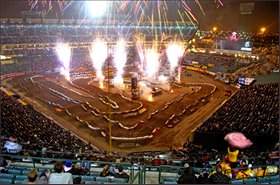 Almost here.
TFS photo
Try to fast-forward to January 5 and imagine the scene before your eyes. Think about the smell that will be floating up your nostrils as you stand, shoulders back, in Anaheim with 45,050 strong. Close your eyes and feel the tingle crawl up your arms as the electricity in the air consumes you when the engine fire to life for the first time.
And then comes spring, more supercross, and summer—The Great Outdoors! With the 2008 AMA Toyota Motocross Championships starting on May 25 (and back at Glen Helen!) we are as far away from outdoor motocross in America at this moment than it can possibly get. But when summer comes, it all starts over again with a second season, and if this one is anything like last season, wow, we're in for an amazing summer!

But not yet, guys. Keep it stuffed down just a little bit longer. This is a great time to relax and enjoy some of the other good things in life before the favorite thing in our lives crawls up from the cellar and fills our veins with adrenaline.

It truly is the most wonderful time of the year. Take some extra time to enjoy it, but keep a trained ear to the tracks. A few of you out there may already hear the first shimmering vibrations of what is coming. I know I do.

Thanks for reading, see you next week.