Welcome to the Shift Number Cruncher. The fascinating #21 has a rich history. We've seen some great names from the past and present race their names into the record books using this number so we dove into the archives to find some. Then, as per the norm, it's fun to simply take a walk around the office and check out how many associations you can find to the number of the week. Of course, another influence on the Number Cruncher is reader feedback. I briefly skimmed over the #21 when we crunched the 2008 AMA top 100 and I left out perhaps one of the most significant #21s of all. A loyal reader lit me up about it, so I owe her one. So, without further ado, here's my best shot at motocross number twenty one.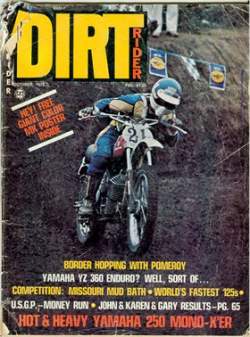 Kent Howerton


Kent Howerton
Now this is old school! Ole Kent here doesn't have much room left between his face mask and his visor to see the track, but he doesn't really need to. All he has to do is point that Husky in a direction, turn the throttle, fan the clutch and hang on!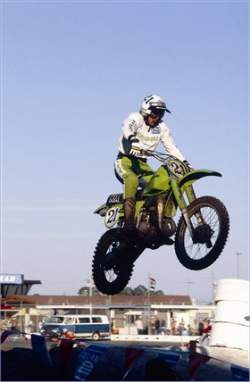 Jimmy Weinert
Photo courtesy of MotoVerte


Jimmy Weinert
It's a safe bet that "Jammin" Jimmy Weinert leaves a special place in his heart for the #21 as he wore it to his last big SX win at the 1979 Daytona Supercross. Check him out running the open faced helmet, no cross bar pad on the bars, and the head to toe Kawasaki gear. The green fork boots are sano flush as well!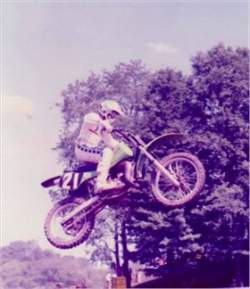 Ricky Ryan
Photo courtesy of onthepiperacing.com


Ricky Ryan
This is a really cool shot that regular contributor Daniele Sinatra e-mailed me that he found on www.onthepiperacing.com. It was pretty tough to look cooler than this in 1985. Tricked out KX125 with all white Fox gear with the open faced lid and Jofa face guard. Ryan used to be the holeshot master back in the day.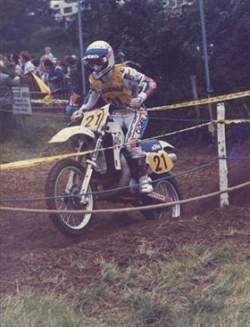 Danny "Magoo" Chandler
Photo courtesy of adrenalintrip.com
Danny "Magoo" Chandler
Here is another shot from Daniele that he grabbed from
www.adrenalintrip.com
. This time it's Danny "Magoo" Chandler ringing the gills out of a big bore KTM in the 1985 500cc World Championships.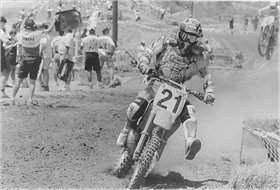 Steve Lamson
DC photo


Steve Lamson
Steve Lamson rode the 250 supercross and outdoor nationals for factory Honda in 1993 and didn't win anything. He moved back to the 125 class in 1994 and started winning a lot. Guess how many 125 outdoor wins he has? 21, baby. That puts him fourth on the all-time list behind Stewart, Carmichael and Mark Barnett.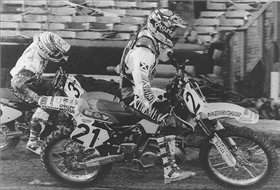 Jeff Matiasevich
DC photo


Jeff Matiasevich
As Jeff "Chicken" Matiasevich was winding down his career he rode for NCY Yamaha, wore extreme riding gear, and ran #21.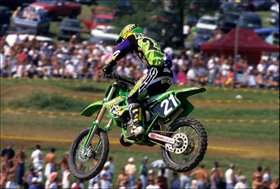 Chad Pederson
Fran Kuhn photo


Chad Pederson
Chad "The fly'n Iowan" Pederson was one of the fastest riders to ever come out of the Midwest. He won the 1993 Tampa SX and a bunch of arenacross races before retiring.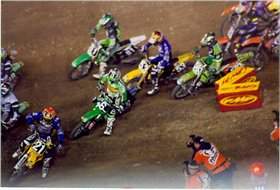 Robbie Reynard
Larry Whitner photo


Robbie Reynard

Robbie Reynard won the last outdoor national of his career wearing #21 in 1998 at the venue his won his first outdoor national;
Steel City
, PA. This photo, from the '98 AMA 125 Supercross at Pontiac, should have marked his one and only AMA Supercross win, but
Ricky Carmichael
(#6) ran him down again after crashing while out front.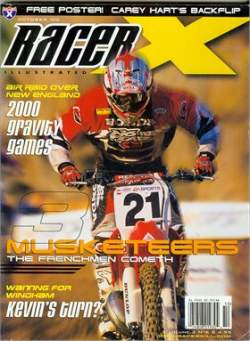 Sebastian Tortelli


Sebastian Tortelli
It's a bummer that Sebastian Tortelli had such rotten luck. He wore #21 in 2000 and won
Red Bud
national, but should have won many, many more. The former two-time world champion should have challenged RC for some motocross titles, but he always seemed to get hurt in supercross.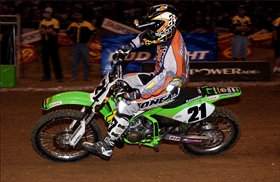 Stephane Roncada
TFS photo


Stephane Roncada
Mrs. Sue Schultz is a huge Roncada fan and when I left him out of my mention of the #21 a few weeks ago I did her and all Roncada fans a disservice. In 2001 Stephane became the first AMA permanent #21 when he rode for factory Kawasaki. '01 didn't produce much, but 2002 saw a spicy exchange between he and
Ricky Carmichael
at
Hangtown
that left RonRon with a smashed left ankle.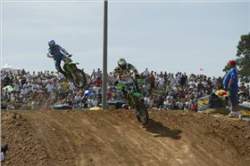 Stephane Roncada leading Stewart
TFS photo


Stephane #21 (leading Stewart at Hangtown)
Aside from his 2000 season where he won the east coast championship and almost the 125cc outdoor title, the two weekends "RonRon" spent pestering
James Stewart
through the '04 Las Vegas SX and the
Hangtown
National that followed were career highlights. James hadn't been challenged, much less, passed to that point and Stephane gave him all he wanted for a while.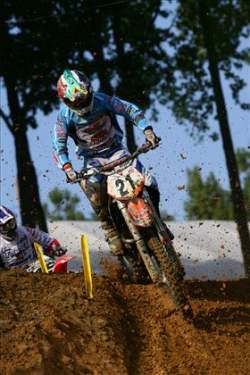 Wyatt Avis
Simon Cudby photo


Wyatt Avis
23-year-old Wyatt Avis wore the #21 in the open class at the 2007 Red Bull Motocross of Nations, while riding for South Africa.

Tyler Bright
Tyler bright came out of nowhere and took the #21 to victory at the Albany round of the Toyota AMA National Arenacross Series.

Air Nautiques Wakeboard


Wakeboard
Air Nautiques is one of the coolest sponsors ever. Not only do they showcase their incredible line of watercraft at Loretta Lynn's, they also award wakeboards to the class champions. This one from 2004, designed by Marc Estebrooks, sits right behind staff photographer, Matt Ware's desk and just happens to have a #21 character leading the pack.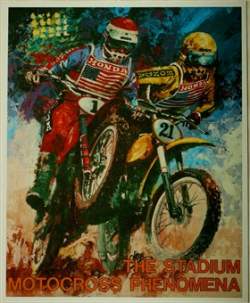 Motocross Painting


Art Work
This cool piece is attached to the wall right behind Bad Billy's desk. The Stadium Motocross Phenomena is preparing to take the world by storm in about 30 days.
Notable #21's
- Steve Stackable in 1974: This fast Texas won four 500cc nationals
- Chuck Sun in 1977: Won 8 outdoor nationals between 1980 and '81 riding a Honda.
- John Savitski in 1980: Would go on to become one of the most famous track builders in the world.
- Phil Larson in 1984
- Jeff Hicks in 1986
- Doug Dubach in 1988. He competed on a YZ490 in the '88 500 nationals, won the '91 San Jose Supercross, and the Senior +40 class at the 2007 Air Nautiques/AMA Amateur National Championships.
- Keith Bowen in 1989. Rode Tuf Racing sponsored machines with Apico riding gear.
- Micky Dymond in 1990
- Dean Matson in 1991
- Ray Sommo in 1992
The big two-one is a cool number in so many ways. While being the century we line in, I still remember the first time I threw down my ID in front of a bartender and said, "Jack and Coke, please." The number pertains to much more important things too. It's how many guns shots you hear when we lay our most important Americans to rest. 21 grams is a heavy movie with Benicio Del Toro and Sean Penn that toys with the idea that a person's soul weighs 21 grams. Stanley Kubrick's A Clockwork Orange had 21 chapters. Then of course you're always looking for this number in blackjack.
And before we close this one, we at Racer X would like to pay our respects to the #21 jersey of fallen Washington Redskins safety, Sean Taylor.
If you have some other #21's send them to
andy@racerxill.com
.