Between the Motos: Darryn Durham
Yesterday we received a press release from Dunlop Tires titled: "Durham Wins Dunlop Silver Tire Award at AMA Winter National Olympics." They were of course referring to 18-year-old Darryn Durham of Butler, PA, who has been a top local racer for the past several years.
The press release went on to say, "Every year we present the Silver Tire Award at the Mini Os to the top-scoring rider in the expert divisions and Darryn really shined out there," said Dunlop Vice President Mike Buckley. "He was the top-scoring rider from all the divisions, which underscores the effort he put out this year."
It has been a very good season for the young Rockstar/Cernic's Suzuki rider, so we gave Darryn a call today to talk about his season and the future.
Racer X: Darryn, what's up with your ringtone?
Darryn Durham: [Laughs] Oh, I still have Beethoven on there—the orchestra stuff. But I'm switching it to Rudolph the Red nosed Reindeer.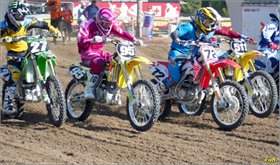 Darryn Durham (95) was the top performing expert rider at the 2007 Winter Olympics.

photo: Courtesy of www.lantzermx98.com

You have that Holiday spirit. That's good to see. Anyway, you're coming off probably one of the best weeks of your career down in Florida at the Winter Olympics. Did you think you'd come away as the winner of both the Pro Circuit Platinum Pipe and the Dunlop Silver Tire awards?
Well, when the week started I just wanted to be consistent, because that's always what I struggled with in the past. So I met my goal of being consistent, won some motos, so it all turned out pretty good.
What was the big difference going into the Mini Os this year compared to the past?
I was a lot more prepared this year. I actually rode my 2007 bikes down there this year instead of trying to struggle to get used to the 2008s.
What was your favorite part of the week?
Winning that 250 Expert Stock title was probably the best moto. I struggled with my starts, so I was coming from like mid-pack every moto.
Who was your toughest competition?
I don't know, everyone was real off and on. It was whoever got the start, really. P.J. Larsen was going fast, and Vince Friese beat me in one of the supercross motos. Everyone was going fast; it was just whoever got to the first turn first.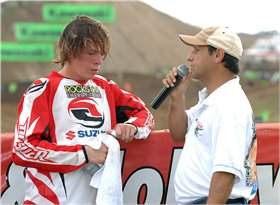 Durham was also impressive at Englishtown back in October.

photo: Carl Stone

From what I can tell, you've really stepped it up in 2007. At the Spring nationals in Texas you were a bit off the pace, but by Loretta Lynn's you were on top of your game. Speaking of Loretta's, you came pretty close to getting your first title there in the Four-Stroke class. What happened?
Yeah, I just made some mistakes and let the pressure get to my head and kind of blew it. But I got this year to make up for it I guess.
Yeah, you were tied with Blake Wharton going into the third and final moto, weren't you?
Yeah, I had a 1-2 going in, and in the third moto I passed him for the lead but just made a few mistakes and let him get by.
After that Blake entered his first-ever AMA Pro National at Freestone, and although he got injured before he could race, I think he had the ninth fastest lap time in the AMA Motocross class coming out of practice.
Yeah, his lap times were pretty good. When I saw that I was pretty pumped, because my speed was definitely faster than his—I just made mistakes and fell in both of those motos at Loretta Lynn's.
After Loretta's you did the Race of Champions in Englishtown. You had some good motos there, too, right?
Yeah, Englishtown was good. The motos were long and I won a few. After that I did the amateur national in Branson, Missouri, and I had some good races there and beat Wharton in both classes, so that was good to redeem myself like that.
You've been on Suzukis for as long as I can remember, but you've only been on their amateur support team for a couple years.
Yeah, this is my second year on their "A" team.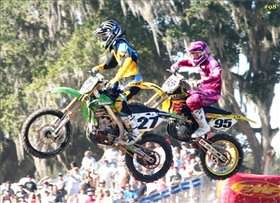 P.J. Larsen (27) is one of Darryn's biggest competitors.

photo: Courtesy of www.lantzermx98.com

You grew up racing in Western Pennsylvania and it looks like you're following in the same footsteps of two other notable riders from the area--Broc Hepler and Branden Jesseman--who like you were both amateur Suzuki riders supported by Jeff Cernic. You look up to those two guys?
Oh yeah, for sure. I rode with both of them a lot this past summer, and it's just cool to ride with them and learn from them because they're both really fast.
Looking ahead, what's your plan for this winter? Are you going to do some arenacross racing or just take it easy?
No, I'm actually heading out to California on Monday till the amateur races start in Texas in the Spring. I'm staying with Lindsay Wadsworth, who works for Pro Taper. I can't wait.
So the plan for 2008 is to do the amateur thing again, then turn pro at the end of the summer?
Yeah, I'm going to do all of the amateur nationals, but I'd also like to race the High Point National, just to get my feet wet. After that I just hope to get a support ride with a team.
Will we see you at Loretta's again?
Yeah, my goal is to win both titles there this year. I'm going to work really hard and get it done this year.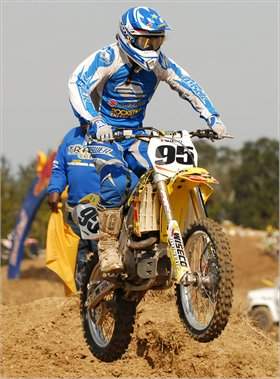 Keep your eye on Durham in 2008.

photo: Phil Alford

Your Dad used to be a former pro racer himself; does he ever give you any tips?
[Laughs] No, not really. I guess he tried to race pro back in the day, but I'm not sure how he did. But he used to ride a lot and he really enjoys going racing.
He's also part owner of PR2 racing. Do you ever help him out working on engines or suspension?
I can do fork seals and stuff, but that's pretty much it.
Is he your full-time mechanic?
No, actually, I'm pretty much the full-time mechanic, because he's too busy doing suspension and stuff. My brother, Shane, helps me out, too.
Looking back on the 2007 season, would you say you've met or exceeded your expectations?
Well, it didn't quite accomplsh what I was hoping for. It started slow but I ended strong, so that's good.
Well, once again, congratulations on winning those two awards at the Mini Os, Darryn. Who would you like to thank for helping you out this past year?
I'd really like to thank American Suzuki, Rockstar Energy Drink, Cernic's, PR2, Answer, Pro Taper, Scott, Gaerne, One Industries, Dunlop, RK Chains, CTi2 and my family for helping me out.