Bench Racing Ammo: AX Update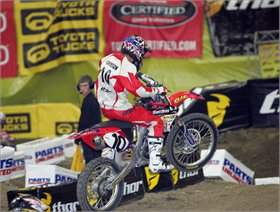 Chad Johnson is the current AX points leader.
Five events are in the books, and the 2007-'08 Toyota AMA National Arenacross Series is everything we've expected it to be, as far as the action goes. The racing has been very exciting, and all of the riders we thought would be title contenders are in the top 10 in points. Though it's a little surprising that the defending champion, Danny Smith, is sitting in seventh, but he's well within striking distance, as he's only 32 points behind the leader, Chad Johnson. Hart & Huntington's
Josh Demuth
has the most wins—three—with Chad Johnson and Brock Sellards trailing him with two apiece.
We talked to the Director of Arenacross, Jayme Dalsing, about the season thus far. "So far so good," said Jayme. "Over the five events we have had five different winners. One of those wins went to a relative newcomer in Tyler Bright. He went from getting 21st last year to winning a main event this year, and I think he's the biggest surprise so far in the series. The other winners include
Josh Demuth
, Chad Johnson, Brock Sellards, and AX first-timer
Dan Reardon
. I expect to see at least five other main event winners by the end of the year."
This past weekend we saw two different races, (Rockford, IL and Rochester, NY) both counting toward the same championship. Some people are curious as to how this works out, but Dalsing feels that having split races like that is a vital part of keeping the point chase as close as possible. "I think with the talent pool, being as deep as it is, we will see some competitors going to other rounds to gain points almost every weekend.
"This is working out to be one of the best seasons of AX ever," adds Dalsing. "
Josh Demuth
decided to mix up the points a little but will forfeit the rest of the season to pursue his supercross career.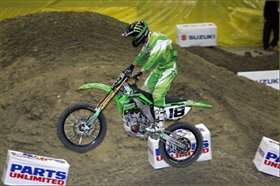 Brock Sellards is coming off of a win.
"That leaves Chad Johnson on a mission. If he keeps up to speed and continues to make every main event he could once again be our AX Champion.
"Also looking impressive is Kelly Smith," added Dalsing. "Now that he has the feel for Arenacross tracks he will be force to reckon with. Only 53 points separate 1st from 10th, and that could be made up in a couple main events."

Updated Points

1. Chad Johnson (2) 130
2. Josh Demuth (3) 127
3. Kelly Smith 117
4. Jim Neese 113
5. Brock Sellards (2) 111
6. Kevin Johnson 100
7. Danny Smith 98
8. Teddy Maier 90
9. Keith Johnson 87
10. Nathan Skaggs 77
11. Robbie Reynard 74
12. Tyler Bright (1) 73
13. Tommy Hofmaster 66
14. Gray Davenport 51
15. Dan Reardon (1) 43
16. Zach Ames 42
17. Billy Laninovich 34
18. Damien Plotts 33
19. Dave Ginolfi 27
20. Ben Ritter 27
For more information, check out www.arenacross.com.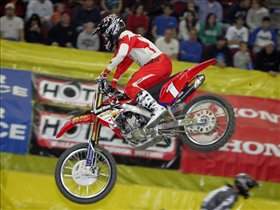 Don't count Danny Smith out just yet.