Monday Conversation: Steve Ramon
Three GPs into the MX1 world championships, Belgian Steve Ramon was suffering from bad luck and his title hopes were fading as fast as Josh Coppins was pulling away. Ramon never gave up and got it together, only to hurt his wrist and struggle to make the podium at the end. Coppins' fate was a bit worse, and he had to pull out, giving Ramon a chance to finish on top for his first MX1 world championship.
Ramon is a regular at the MXoN each year as a key member of Team Belgium. We spoke with him about his year as he was waiting to go in to the FIM Off Road Awards in Monaco at the Monte Carlo Bay Hotel.
Racer X: Thanks for taking a second to chat before the FIM Off Road Awards tonight Steve, how are you?

Steve Ramon: Fine, I am great, thanks.
What kind of a year was this for you; is this your first world championship?

It was my second title. In 2003 I was MX2 champion, so this year MX1 champion. It was a difficult year for me. The beginning of the season started not so good, with not such good results. Josh Coppins was really strong at the beginning of the season and had a good points lead. After about three GPs, I knew it would be difficult to take the title. It's a pity he crashed, but that's the sport and in the middle of the season I was doing better and had some good results. Near the end I crashed also and hurt my wrist and the last few GPs were very difficult for me. Finally at the end, I took the title.
After the first three GPs when Coppins had that big lead, how does that change your confidence at a race? Do you think "I don't care, I am winning starting now," or something else when you are on the gate?
You always start to win. The first GPs were really difficult. I had some bad luck. Crashes and things happened that I couldn't do anything about. Mentally it was not easy. I never gave up and was consistent all year and here I am.
What kinds of things did you do in the middle of the season, if any, to improve your program?

Nothing really. Everything stayed the same. I just had bad luck at the beginning and bad starts and crashes. I knew one day things would change. By the middle of the season, my confidence was better also. My riding was getting better. As far as training and practice, I kept everything the same.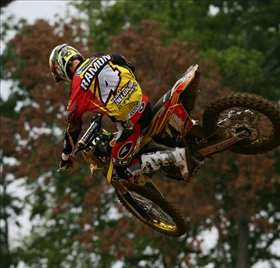 Steve Ramon at the Motocross of Nations

photo: Simon Cudby

When did you start to realize this was going to be your season to win it?

When Josh crashed I did not know how bad it was. I expected him to be back at the next GP. He missed two then he tried at Donington Park and at that moment when he had to give up in the second moto I knew I had a good chance to take the title. My wrist hurt a lot. Everyone was looking at Josh and knew he was injured, but no one knew I was injured also. It was really difficult to even get on the podium in the last few GPs. I had to tape it every race, every practice. The last GPs were really hard.
How would you describe you trip to America for the Motocross of Nations. How did you talk about it when you got back?
It was fun there and it was good. It was nice to be there. The racing was good. The atmosphere was really good, too. The track was good to ride. It was a really good trip. Of course I was a little bit disappointed with my result there. I wanted to do better, but on Sunday I was a little bit sick and on Sunday those things happen. Many people are watching you and you are world champion going to the U.S., so they expect a lot out of you.
There were comments about the preparation of the track as US-style, cut deep and watered deep, so it's soft in the beginning and digs to deep and rutty. RC wants tracks that way. Cairoli struggled with it. Villopoto doesn't seem to notice the difference! How was it for you?
Yeah, normally they are different in GPs. The cut them also but not so deep. I like it the way it was at
Budds Creek
. It makes more ruts and more lines. Some riders like it, some riders like a harder track and no ruts. For me it was OK and a good track. I don't mind if the track is that way. I like deep sand so, no problem.
I assume your goal next year is to defend this title?

Yes, that is my goal. Also for me it was great to win the title but it was a great season for me. I want to do better next year and go for GP wins and more podiums.
I heard you will go to new engines like 350s in two years. Do you care or like that idea?

I don't know. We have to wait and see how that is going to be. Of course it is going to be new bikes.
Is the 450 too much?

Too much, I don't know. If you are well prepared and physically good you will be OK. I don't think this will change that so much.