Hello, everyone, and welcome to the Rev-Up. I always thought this time of year was cool. There are all of the overseas supercross races like Geneva, Bercy, and Barcelona, then there used to be the big races in California like the Perris Invitational. Remember all of those shots of the guys jumping that huge double with the side of the mountain in the background? Then they would give the winner a briefcase full of cash. California also used to have the Golden State wintertime races like the muddy one that Ron Lechien and Rick Johnson went to fisticuffs in. Cali still has some cool events like the Day in the Dirt that went down last weekend, where some dude was out there busting out laps on a knobby-tired Harley-Davidson! I thought that was super cool, but you just know that guy's lower back is toast this week.
Enough about California, how about that little dust-up they had in Gainesville? Wes Williams caught it all on tape with some of the best videos I've seen to date over at www.vurbmoto.com. The supercross track looked really cool, then it was a bummer Gatorback got dumped on. Man, I've seen some mudders in my time, but that one was burly. But all of that is just a set up for the beast that is approaching. Patient and confident, ready to strike, savoring the meal to come. Yes, that is a line from the movie 300, and yes I am talking about the upcoming 2008 season. Boy, is it going to be a feed, ladies and gentlemen. We also have some new structure to our classes for the local racing scene and Loretta Lynn's--250cc two-smokes now a part of the Lites class? Hmmm. With that in mind, let's do some revving-up about some of the cool things we have on the board in the season to come.
To F or Not to F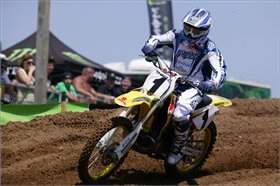 Will two-strokes make a comeback in 2008?
There has been a recent buzz about this topic, but most of the feedback I have seen so far is positive. I remember when the 250F first came to fruition and people were like, "Man, that thing is way faster than a 125. It seems almost equal to a 250 two-stroke!" Upon the announcement of the new Lites structure, I saw some reactions like, "Oh, man, a 250cc two-stroke will kill a 250F." I'm not so sure about that. Some of the appeal of a 250F is that you can hammer the thing for thirty minutes and not get arm pump, where an RM250 will rattle your bones if you pound through a chopped-out inside run for a long moto. But heck with that: look at the fact that you can now ride the bikes in either class. That's what I'm talking about! I tell you, personally, this news and the opportunity to hit up a local race and sign up in the Lites, Open, and old-man class has me really thinking about buying a 250cc two-banger and dusting off the old #77.
2008
This is going to be such a good season. I think it kind of marks the onset of the new beginning. Things kind of evolved with the four-stroke revolution, then it was RC vs. Reed vs. Stewart, and now I think the focus is finally transitioning into the great era of parity. I think the good ol' days of the mid-1980s have slowly crept up on us. It's hard to say this without sounding negative, but the only thing standing in the way of this is James Stewart and Chad Reed. If you throw those two guys out of the upcoming supercross series, we could have 10 guys with an equal shot at winning races and the title. Then again, having superhuman talent like Reed and Stewart helps sell tickets almost as much as a four-rider freight train.
Man, how are those two going to shake out this year? Reed was off last year, it seemed. It seemed like he didn't have his stuff at the supercrosses Ricky was at. With RC retired and only James to focus on, maybe Reed will be stronger. All the same, that #1 on the KX450F is going to be simply incredible.
Look behind them, though! Tedesco on a factory CRF450R, Alessi on a fuel-injected Makita Suzuki RM-Z450, DV12 on the same ride, the second coming of Tim Ferry, Andrew Short, Davi Millsaps, Nick Wey, Michael Byrne…man, oh man, what a posse.
And mark my words: Grant Langston will show up ready to blow up. The man can ride supercross and is on one hell of a roll. If he can stay healthy, I think he's a very, very legitimate title contender.
Then look at the Lites class. Holy smokes! I have some plans for a full preview for both classes on the board for you folks in the next couple of weeks, but for now I'll just leave you with the aforementioned words to hopefully light a spark to start getting you guys pumped up.
Thirty-seven days until Anaheim.
Thanks for reading, see you next week.