Between the Motos: Katherine Prumm
Katherine Prumm first turned motocross heads when she came over to the U.S. to contend the California rounds of the WMA Nationals in 2006. She won the first three motos of the championship and then broke her wrist in the fourth moto (at Hangtown). She returned to New Zealand and healed up to come back and race the next two rounds of the WMA Nationals winning Thunder Valley in Lakewood. Unable to contest the final rounds of the championship, she left many womens motocross fans wondering what would have happened if she had finished the season in the States. She spent the 2007 season successfully defending her FIM Women's World Championship title and finishing school. When the opportunity came to race in the U.S. at the off-season WMA Drill Tech Cup, Prumm was in. Although the weather conditions were less than desirable, Prumm demonstrated, once again, why she is a champion. It was too cold and too late for an interview after the race, so I checked in with her on her way from Texas to New York. Here's what she had to say…
Racer X: Congratulations on your win. Can you take the readers through your race?
Katherine Prumm: The first moto was at 2:00 p.m. I lined up on the inside of the gates. The start was concrete and I spun up on the line really bad, but I pushed my way into the first turn and didn't back off at all. I went around the turn in second behind my teammate, Elizabeth Bash. I had a good line on the first lap and quickly moved into first place and put a gap of seven seconds over the next place rider. There still was light rain falling during the moto and I ran out of tear offs half way through the race and had to use my thumb as a windscreen wiper so I could see. I felt a bit stiff on the bike for the majority of the race but the last three laps I felt more relaxed and pulled a much larger gap over Sherri Cruise.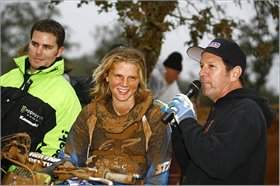 Katherine Prumm was all smiles after the race.
In the second moto I lined up in the inside start gates also and spun a little on the line, but not as much as before. Again I didn't back off at all on the start and I got the holeshot. The track was still really smooth and a lot of people were going quick as there were no technical aspects to the race. On lap two I had around seven seconds over the next rider but I dropped the bike out the back of the circuit and dropped back to second by the time I got going. I quickly caught back up to Tatum Sik who was then leading. I had no tear offs left though, and after getting roosted for a lap I had to take my goggles off. I couldn't see anything and the mud was all in my eyes. I was struggling to make a pass and with three corners to go I made an opportunity when a lapped rider was in a corner in front of me. At the end of the race I was absolutely covered in mud and my eyes where stinging from the dirt in them.
Conditions were probably not what you expected from Texas, it rained all night before the race and was in the low 40s, but the Cycle Ranch crew worked hard all morning trying to make the track as good as possible. What did you think of it?
The track had really strange soil; it was like a red clay mixed with a sand base so it didn't get heavy in the mud like the soil back home, but it also meant that it was sloshy and never formed any deep ruts or bumps during the day. I was really hoping that the track would get rough and technical, but it remained smooth all day, which meant that a lot of riders could get around the course quickly. Back home we do have a bit of mud but the track surface was really different than anything I have raced on before, so I just tried to adapt to the track.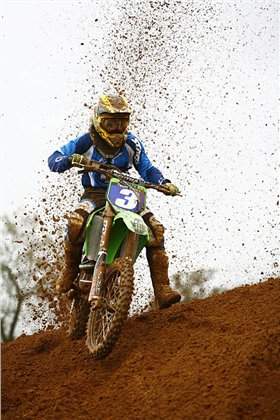 Prumm went 1-1 at the AMA/WMA Drill Tech Cup

You rode a stock Kawasaki 250F in the race; were you concerned about that at first?
Kawasaki did an awesome job of organizing a bike and support at the race for me. It was pretty much a stock bike but I just tried to ride it as best as I could. I felt that I was stiff during both races and didn't flow around the track like I hoped to, but the end result was good.

I am sure you were looking forward to racing Jessica Patterson, but she was not able to make the event. What did you think of the other competition and did any rider stand out to you?
I was really hoping for all the WMA Pro riders to be at the race but I heard that Patterson got hurt at Mini Os so she couldn't make it. It was a tough day to really judge speed as the track stayed so smooth, but there are some good young riders like Ashley Fiolek coming through.
The AMA/WMA Drill Tech Cup is a big race for female racers but doesn't have all the fanfare of an FIM World Cup or an AMA Toyota Motocross National. Do you still enjoy doing races like this?
I think an event like this should attract the big names of the WMA Pro races in the future. It's a shame it clashes with the Mini Os because I think there are more girls that would come to the race if it were a week later or earlier. I enjoyed the event a lot and there is a lot of potential for this event to grow in the future.
Did you get to watch any of the amateur girls race?
It was freezing outside and most of the time I was just trying to keep warm but I got to talk to a lot of the amateurs around the paddock and the numbers in the amateur classes are growing a lot, so I think that the future will be strong for Women's Motocross.
You mentioned you were staying in the U.S. for a bit; where are you off to now?
I am off to Florida to see some friends for a few days before heading up to Europe for the FIM World Championship Awards in Monaco, France, on December 1st.
You picked up a few thousand dollars for winning the event. That's pretty different than a FIM event right?
In Europe there is no prize money at the event because it has been set up the same way as the MX1 and MX2 World Championship where riders will organize bonuses through their teams and other sponsors. In this way it is hard to make money, but the sport is growing a lot and sponsors are starting to see the importance in Women's Motocross and see the exposure that the girls are getting over there.
Who would you like to thank for helping you?
I was happy to have won the AMA/WMA Cup this weekend as it was my first race in the States for 2007 and Miki Keller did an awesome job of helping to run the event and get me out here. I also have to say a huge thanks to Reid Nordin and Matt Leach from Kawasaki Team Green for all their hard work in getting the bike and support organized for the race. Also a big thanks to Alpinestars for the cool new gear and to One Industries and Scott Goggles for all there continued support. It was really great to have a Kiwi supporter out there helping me; Craig Behl kept all my gear clean between races and it was a big help to have him out there helping me. Thanks to Motorcycle Trader and News, Star Insurance, CTi2, Pro Circuit, MR Motorcycles, Sparc, and all of my other sponsors for their continued support through the year.