Between the Motos: Charles Dao
Charles Dao is a regular on the Racer X Virtual Trainer website. He is also one of the most educated trainers in the motocross industry, holding a bachelors degree in kinesiology, with emphasis on physical therapy and athletic training, from Cal State University of Fullerton. He was accepted into the doctorate program at Azusa Pacific but opted to start his own training company. Since then Charles has worked with some of the best motocross and freestyle riders in the sport. His life has been full of change over the past year so we thought it would be a good time to check in with him.
Racer X: You left the gym that you have been working with since moving out of Orange County. Tell us about your new venture.
Charles Dao: I decided to branch out on my own and set up shop at the Carlson Gracie Brazilian Jiu Jitsu Academy in Murrieta. I really wanted to make a special niche for myself and focus on the action sports industry which would include mixed martial arts. He's is a living legend so if I was looking to get into the MMA or cage fighting or any mixed martial arts, this is the only place to go. He is one of the only Gracie's in Riverside or San Diego County. So, I'm fortunate to be involved with him. I am heading up his entire strength training program here. I wanted to make it a facility where we could do any and all types of training for action sports.
Why did you get involved with a martial arts facility?
Well, as you know, that is my background and my passion. I study Jiu Jitsu, muay thie kickboxing and judo. I am a firm believer that the philosophy of martial arts is applicable to any sport in terms of core stability, control, strength and explosive power. I think that having that core strength is crucial when you are racing. Rick Johnson is a big believer in martial arts if you ask him about it. He is very involved in Jiu Jitsu.
I know you've trained a long list of riders over the past couple years. What guys are you training right now?
In the amateur ranks I'm working with Travis Baker and Tommy Weeck. I have Twitch, Ronnie Faisst and Jeremy Lusk in the freestyle side of things, and I'm going to be working with Ryan Villopoto and Nick Wey this year in the pro moto side of things. I will be handling both of their strength training programs.
How did you and Randy Lawrence come together on that one?
Well, Randy is unequaled when it comes to going riding with the guys and working with them on their road bikes. I feel like I have a lot to offer in the gym on the strength training side of things where he doesn't have much experience. So, we decided that we should combine our strengths and give our guys the best of both worlds. We are still working out the details but we are planning to start a motocross program together that will lay out an entire schedule for people. It will include daily and weekly guidelines for riding, cardio and strength training combined. We will stay in contact with our clients via emails. It will offer the average rider something that right now only the sports elite have access to or can afford. I think it is going to be great and we should be getting out a press release about the joint venture very soon.
What is the name of your new training company?
Icon Sports Performance and Wellness Alliance.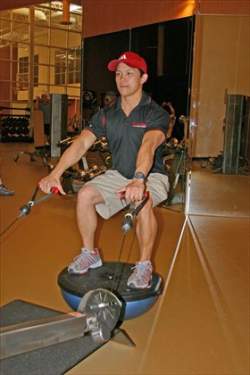 Charles Dao

You mentioned that you are working with some new equipment in the gym now.
Yes, Greg Hammond contacted me about the Concept 2 Rowing machine and I've been amazed at how effective it is. In fact, in the gym we only have three pieces of cardio equipment: the Concept 2 rower, a spin bike and a jump rope. With just those we can keep it fun and keep your body guessing. But the rower is an incredible workout and something I don't think many people use enough. I'm also continuing my relationship with the Cyto Sport family. Cytomax, Muscle Milk and all of their products are the best you can get and I really believe in them.
On the personal side of things you have been busy as well. You have a new wife and baby as well as a new job.
Yeah, I got married and we have a little baby named Brooklyn. It's been busy lately, man. I'm not getting a lot of sleep. I am also working on getting my website up and running. Its www.iconsportsalliance.com and it should be functional soon.
How can those interested in training contact you?
My website will be operable soon but I can always be reached at 714-742-0603.