Rev-Up: Turkey, Trucks and Triples
Hello, everyone, and welcome to the Rev Up. There's a topic I want to jaw about before we get into the race weekend to come. I think most of you will relate to it and possibly produce a chuckle or two. Suffice to say I have been watching a painful amount of television for the past, ahem, 35 weekends. Primarily ESPN and the Speed Channel, with some CBS Sports and ABC sprinkled in there on Sunday. Watching that much weekend TV will reward you with a vault of knowledge about the commercials in between programs. While there are several that are cute, like the Geico commercials with the kid in the go-kart (who Dick Miller's grandson did the stunt-driving for), the pick-up truck advertisements is where the action is. We have some racing action spread out across the country to get Revved Up for but I'm going to shake up the template this week because I've been wanting to write about these nutty truck advertisements for months.

Trucks
Let's just start with the Ford F350 truck commercial. Gratuitous big, tough guy wearing hiking boots with NFL football coach voice boldly stands arms-crossed beside a huge black truck. You kind of ask yourself, 'What the hell would I need a truck that big for? I guess if I needed to pull a 747 out of the ditch, I'd be prepared.' As that thought crosses your mind they show said pick-up truck drop out of the back of a gargantuan cargo plane with a chain attached to the front bumper so it can, that's right folks, use its oversized brakes to stop the mega-ton aircraft. Tough guy bellows something like "You might not need to pull an airplane, but at least you can stop one." Thanks for that, Buck.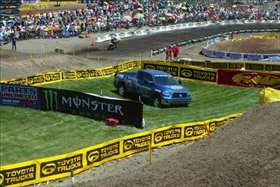 The all-new Toyota Tundra.
photo: Steve Bruhn
Or, how about the Nissan Titan commercial where they show the KTM450 in the bed that is strapped down so tightly that the truck can literally be turned upside down and shaken and the bike will remain steadfast. They actually build a Pepsi Challenge style contraption to illustrate this. Sure enough, the KTM machine in the Titan is safely strapped to the bed while the bike in the "other brand" truck dangles in the air like your first loose tooth. You have to like it that the company is aiming directly at us motocross folk. All the same, if you get upside down in your Titan on the way to the track, you won't be racing that Sunday anyways.
Ah, but the mother of them all are the Toyota commercials! The other companies have just been trying to match and keep pace, while the new Japanese brand of ass-kicking pick-up truck just seems to blast them all to shreds. Toyota skipped the big tough guy and instead went with simple narration consisting of a voice that sounds like a 1930s', mid-Depression dairy farmer that had been gargling nails for a year leading into the voice over. They've done everything. They've dangled the Tundra off the end off the Grand Canyon, shot it through a closing gap in a concrete wall and narrowly escaped complete annihilation by completing a stop and go sequence in between a pair of gazillion pound, 200-foot long I-beams that swing inches from the front and rear bumpers. Sweet. The people that created the
Glen Helen
track this year and the men in charge of these commercials must drink morning coffee together. But I digress, let's get to the racing action.
Mini Os
In my travels last weekend I ran into a man that I used stand in complete awe of when I was a kid. All I wanted to do was grow my mullet out the back of my helmet, tear the sleeves off my t-shirt, and paint a skull and cross bones on the top of my helmet. The man was Damon Bradshaw. Well, he was just cruising the pits at Phoenix and hanging with his Pops, Randy, who now drives the motor home for Chad Knaus. So odd that life landed us in the same square foot of asphalt after first meeting more than 20 years prior.


The first time I saw Damon Bradshaw was at the Mini Olympics in Gainesville, Florida. He was #68, he was wearing the tight
Fox Racing
gear—fully sponsored as a mini rider! – and he was the epitome of cool. Well, I hadn't seen him in person for almost 20 years yet I ran into him on the eve of the 36th annual Mini Olympics at Gatorback Cycle Park.
Most of the American motocross contingent will be there this weekend on their new 2008 machines. They'll race together and share Thanksgiving together. It's how most of us, including Damon Bradshaw, grew up, and the event remains a very special part of our sport.
All of the little big men will be there:
Ian Trettel
, Adam Cianciarulo,
Justin Barcia
, Lowell Spangler, The Durhams,
Eli Tomac
,
Les Smith
,
PJ Larsen
, and the rest of the new-school youth gone wild. "Wild" Wes Williams will be in the house to get it all on video, so check back with us next week for links.
Reno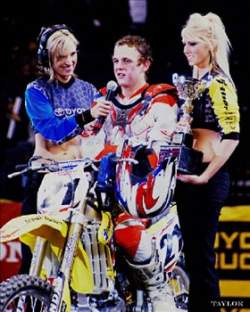 Tyler Bright
photo: Courtesy of arenacross.com
The 2008 Toyota AMA Arenacross Series is off to a great start, After two rounds we have experienced some downright amazing race action and seen some neat stories. How about
Tyler Bright
throwing down and winning at Albany last weekend?! You can almost feel it when he says, "Man, this is a dream come true. Last week I didn't even make the night show and here I am winning the main event." Hey folks, winning is winning and there is nothing in the world that comes close. Tyler beat the best arenacross riders in the world in front of thousands of spectators. Congratulations on your victory, brother. Here's a couple chest thumps right at'cha. I love hearing about that kind of shit. Gets me pumped.
Meanwhile Chad Johnson rode well again and as the series heads to Reno, the 2005 AX Series Champion has his kung-fu grip nestled tightly around a 15-point lead over Brock Sellards. Des Moines had the Demuth drama, Albany produced the glorious Tyler Bright story, what will the headline read after Reno?
Toyota
Ok, before I go I want to touch back to the Toyota people. When I finish paying off my beloved Nissan Frontier I am hauling her to a Toyota lot for a trade-in and I'll tell you why. Their people are top notch. Last weekend I sat with Scotty LaLonde, who works with Toyota to implement their TMX program, and watched the Busch race with him after he dialed me in with passes to the Toyota Zone. Toyota was the title sponsor of the outdoor nationals—the AMA Toyota Motocross Championship—and they are the title sponsor of the arenacross series, plus they fully support Loretta Lynn's. In fact, at the end of one day at Loretta's I was on the verge of hallucination from the heat when a couple Toyota folks brought me a cooler full of ice cold Coors Light. Now that's how you sell a pick-up truck, folks. The motocross industry is lucky to have Toyota.

Plus, their commercials fully dominate.
Thanks for reading, see you next week.