Bench Racing Ammo: EuroTrip
November 15, 2007 11:13am
Overseas races are in full swing now, and this past weekend there were four big supercrosses in Europe: Stuttgart, Germany; Madrid, Spain; Milan, Italy and the Bercy SX Classic in Paris, France. American riders were very successful at three of the four events, so let's start with the latter, Bercy.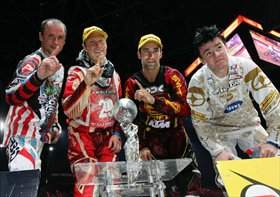 The winning American team in Bercy.
photo: Simon Cudby
Although the American team of
Andrew Short
,
Justin Brayton
,
Mike Brown
and
Josh Grant
won the team event, the Bercy-Paris Supercross was dominated by one rider: Australian
Chad Reed
. His 5 wins in 6 main events, plus 18 perfect "match race" starts, was very impressive. "It does feel good," said the new King of Bercy in the Monday Conversation on Racer X Online. "It was a great weekend. I had a lot of fun."
Chad's closest competitor was his best friend,
Grant Langston
, who got the better of him in the very first race of the weekend when #22 stacked it up in a tight whoops section.
However, Reed is going to have to go back there a few more times and dominate in order to match the best Bercy run ever. That belongs to David Vuillemin, the French SX hero who was absent this time around as he preps his new Makita Suzuki. DV12 had a very impressive run at Bercy for a few years.
"I won the 125 class in '96 and '97," Vuillemin told us. "Then I then won on the 250 in '99, '00 and '01, and then I won on a 250F in '03. I won also won two main events in '06 but DNFed the first night."
And let's not forget that
Andrew Short
is also a two-time winner of Bercy, in 2004 and '05.
Winning Bercy is a pretty major accomplishment no matter how you cut it. It even gives you bragging rights of winning something—maybe the one thing—that
Ricky Carmichael
never did. He only rode it once in '99 on a 250. DV12 told us, "He raced the first night, don't remember what he got, and he broke his collarbone in practice the second day."
Moving due east to Stuttgart, Germany, American riders were very dominant there, as well. Florida's
Jason Thomas
, who rides for the DNA Energy Drink/BTO Sports/ Rick Case Honda team here in the States, used a 2-1 showing to take the overall win. In fact, it's "JT Euros" third consecutive win at this particular event. Even more peculiar is that fact that he's won it every year with a 2-1!
Here's the overall results from the SX1 class in Germany, which show a lot of U.S.-based riders on working vacations over there:
SX1
1. Jason Thomas (USA, Honda), 27 points
2. Florent Richier (FRA, Kawasaki), 23
3. Rodrig Thain (FRA, Suzuki), 17
4. Joe Oehlhof (USA, Kawasaki), 17
5. Bryan Johnson (USA, Honda), 15
6. Jeff Northrop (USA, KTM), 15
7. Cole Siebler (USA, Honda), 12
8. Daniel Siegl (GER, Suzuki), 11
9. Doug Dehaan (CAN, Honda), 8
10. Vincent Berthome (FRA, KTM), 7
11. Manuel Chittaro (GER, Kawasaki), 5
12. Jacob Saylor (the USA, Kawasaki), 4
13. Stefan Ludwig (GER, Kawasaki), 3
14. Joaquim Rodrigues (POR, KTM), 2
15. Antoine Letellier (FRA, Kawasaki), 1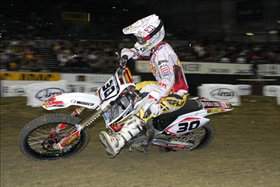 That's JT "Euro" Money in Germany.
photo: Max Ludwig
Moving Southwest to Madrid, Spain, where several American riders made the trek to try and win the Madrid Supercross. The list included riders like
Davi Millsaps
,
Nathan Ramsey
, and
Daniel Blair
, but it was
Mike Brown
taking the win. He then flew over to Paris and competed in Sunday's main event at Bercy, helping Americans take the win. (Brownie also gave his first-place trophy to DC as a souvenir, and it's now in the Racer X lounge!) Here are the top 10 results from the Madrid SX:
1. Mike Brown
2. Manu Rivas
3. Davi Millsaps
4. Nathan Ramsey
5. Tyler Bowers
6. Jonathan Barragán
7. Álvaro Lozano
8. Xavi Hernandez
9. Adrián Garrido
10. Daniel Blair

And finally, all though there weren't any Americans competing, there was another SX race in Milan, Italy, in which the 2007 MX2 World Champion Antonio Cairoli took the win. Check out the results:
Final
1. Cairoli Antonio (ITA, Yamaha)
2. Degli Esposti Davide (ITA, Suzuki)
3. Izoird Fabien (FRA, Honda)
4. Bill Julien (SUI, Honda)
5. Dami Stefano (ITA, Suzuki)
6. Cinelli Alessandro (ITA, Honda)
7. Maddii Marco (ITA, KTM)
8. Valade Mike (FRA, Honda)
9. Ramette Thomas (FRA, Kawasaki)
10. Ferrari Fabio (ITA, Kawasaki)