Between the Motos: Jeff Cooper
November 14, 2007 10:31am
The fifth and final round of the 2007 No Fear Moto X America Tour is going off this weekend at the Oak Hill MX Park in Decatur, Texas, so we decided to call up the promoter of the series, Jeff Cooper, to learn more about this first-year tour. From what I've heard, it's quite an experience and is a ton of fun for racers and families, alike. For more information on the series, visit www.motoxamericatour.com.
Racer X: Jeff, I understand you're the guy behind the 2007 No Fear Moto X America Tour.
Jeff Cooper: Yeah, I wanted to do something like this for a few years. I've been promoting races in California for about eight years, and I just wanted to do something different. I was given the number of the owners of No Fear, Brian Simo, and I called him and he put me in touch with Britt Galland, No Fear's Vice President of Marketing, and we went from there.
So you don't work for No Fear…
No, I'm a promoter, and I also work with other promoters with events like amateur supercrosses, Grand Prixs, etc. So that's my niche—working with promoters and having my own events as well.
What are some of the other events you worked on in the past?
I did a couple amateur supercrosses for Clear Channel before they stopped doing them; I did the last Anaheim and the last San Diego ones. I do a race up in Kern River once a year called the Kern River Summercross.
So was it hard to get No Fear on board for this tour?
No, not at all. I called Brian and pitched him on event marketing, and he said absolutely. He put me in touch with Britt, and he went through some of my references and did a background check, and next thing you know we were working with their art and web guys working on a theme, and then we started picking locations.
Was it difficult setting dates with the various tracks, because this tour is nationwide?
The most difficult thing was trying to identify the weather patterns, because we felt good weather was very important in having a successful event. Skip Norfolk helped me a lot because he travels a lot. Also, we didn't want to compete with other events, so we put a lot of time into trying to nail down a good date where we wouldn't be in competition with other events.
Well, this weekend is the last round of the series in Texas at Oak Hill; is everything set to go?
Yeah. In fact, the phone has been ringing off the hook. We'll have online registration open till tomorrow night, and then you can register all day Saturday morning. It's looking good and the track is in excellent shape.
What is your official role at the event? Are you basically the go-to guy for everything?
I'm the event director, so I run the whole thing. I show up with my crew, and then No Fear sends a few people out to kind of make sure the drink gets out. We set up about 4,000 feet of No Fear repeater banner, so we try and make it look like a National.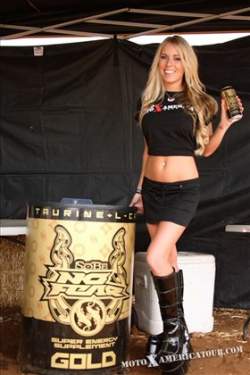 The SoBe No Fear beverage is plentiful at every tour stop.

Is this the biggest project you've undertaken in your promoting career?
Probably other then the Elsinore Grand Prix getting thrown into our lap two weeks ago—that was a fun event. But this tour is definitely right up there.
Do any manufacturers offer contingency for these races?
No, but we would love it! So if any of the manufacturers are listening, we're really looking for factory contingency for 2008.
Overall, how do you feel the tour has gone in its first year?
This tour absolutely met my expectations. The turnouts have been good, but next year we hope to double them. The biggest reward is just seeing the smiles on all the racers and families' faces. And afterwards we get a lot of feedback on how it was one of the best events they ever races. We wanted to give them something different, but at the same time the competition is really stiff.
What sets these races apart from your typical local motocross event?
We do a two-day format, so if you race three classes you don't have to race six motos in a day. And after the first set of motos on Saturday we do a team race that you switch riders every lap, and on the last lap you ride double. So that's really fun and it gets the dads out there. We then have a moms' race where all moms can race. It's an open class Then we do a pit bike race. After that we do a tug-of-war contest and we build a big mud pit on the starting line and we give prizes away for that. We then do an egg-toss contest. Then on Sunday, after the final set of motos, we do a traditional awards ceremony. A lot of these kids don't have an opportunity to do an awards ceremony, so their parents get to take their picture on the podium, so it's pretty cool.
Wow, those seem like very cool, fun events.
Yeah, I grew up as a racer and have been putting on events long enough that I just try to pretend that I'm the racer, so what would I want?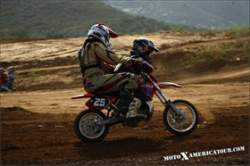 The doubles race is a blast!

I understand you guys give out a lot of prizes and awards—even holeshot awards!
Yes, we give plaques to the top five finishers, no matter how many riders are in the class. We give prize packs for the top three, and then we also do a giant raffle during the awards ceremony, and you get one raffle ticket for every class you ride, so we have pretty good-sized raffle. Next year we should have even more prizes.
Are all the standard classes offered?
Yes, but another thing we do is offer a true "first-timers" class, and it's for riders who have never raced before. That's for the guys who see the Beginners class and still see riders hitting big jumps. That class is really monitored, too. Aside from that, we do a two-moto format.
Is it AMA sanctioned?
No, we didn't want to get into any membership restrictions or anything like that.
What was your favorite event this past year?
I would probably say the Albany, Oregon round. We had a great turnout and the promoters were really great. I think that was the best one. Next year we're adding three more events to the schedule, including Kern River, CA, which is one of my favorite races to do. I just want everyone to know about that track.
Besides new venues, any other changes planned for 2008?
Not necessarily. We want to try and get factory contingency and more prizes from our sponsors for the prize packages. No Fear is going to be on board, so I just want to really thank those guys. Thanks to Brian Simo, Britt Galland, Eric Johnson and Skip Norfolk, and all of the Real Sports staff who have helped me build this company to where we can take on events like this.
If someone wants to find out more about the tour, they should just go to the website, right?
Yeah, they can learn more or pre-register online at www.motoxamericatour.com, or they can call me directly at 760-419-4092.