Kawasaki/Racer X Race Report
Chad Reed
won everything on the last night at the Bercy Supercross in Paris Sunday, wrapping up three days of super cross celebration at the event's 25th anniversary.
Reed and
Grant Langston
were part of a four-man "Rest of World" team, but USA rebounded on the last night to fill 3rd through 6th, edging out the world to win the tournament score for the overall. Langston said that the world team riders were first and second, and last and second to last. J.S. Roy from Canada was having trouble with his shoulder, and the young Belgian Jeremy Van Horebeek is just learning supercross. He got coached by the right people this weekend.
McGrath stepped out a night early to get to the Baja 1000.
Mike Brown
flew in for Sunday after winning the supercross in Madrid, and was 6th in the main.
Josh Grant
was on a not-so-factory 250F and wasn't enjoying being hammered by 450s, but he got stronger every night, even as the three nights of racing wore many of the others down.
Justin Brayton
was a good pick to represent KTM here, and his last night's finish was 5th.
Andrew Short
had the honor of leading the winning American team, which wasn't that impressive considering Reed and Langston won everything. Short was consistent each night and just missed the podium once.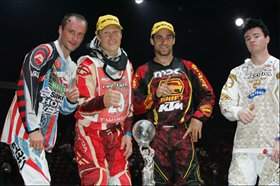 The American team won the overall.
Overall, the American team turned a disastrous opening night into a win, because they were stronger in a supercross where that really mattered by the third day.
The French tough guy
Ben Coisy
got wore down by the end, and a crash slowed him down more. Three days here meant a lot of riding for anyone doing double duty (He also raced the SX Tour class). Taking the top honor for the French in the King of Bercy score was Cyrille Coulon, on a two-stroke! Seb Pourcel crashed out hard on the last night but was up walking.
The freestyle show didn't have a double-seatgrab backflip like the night previous, but it was awesome just the same and was a last Bercy for Manu Troux and Ronnie Renner, the crowd-pleasing token American.
Bercy celebrated its 25th anniversary last weekend. It's a unique event created by a French magazine and customized for a light and sound stage that stays in one place. It started out as the rock concert stage that can have a motorcycle race, and it's filling seats three times in a weekend after 25 years. It's loud and wild and anything can happen in Paris.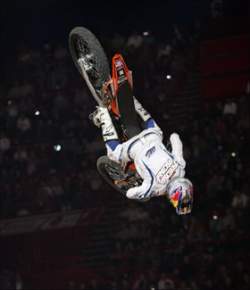 Ronnie Renner kept the crowd on their feet!