Kawasaki/Racer X Race Report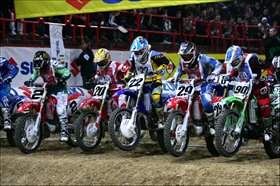 The main event gets underway in Paris.
The opening night of the legendary Paris-Bercy Supercross went off late Friday at Omnisport Palais here on the southeastern side of Paris. Team Yamaha's
Grant Langston
and L&M Racing's
Chad Reed
split the wins in the two main events, with Langston taking the first 12-lap race over Reed, who had crashed early on and was forced to climb back through the field. Reed kept his momentum going through the second main event (this one a little longer at 15 laps). It was Langston's turn to crash there, and he could only make it back to third. The runner-up here was the surprising French kid
Benjamin Coisy
.
In between main events, Reed also took the win in an elimination race that included the other top U.S.-based riders on hand—
Andrew Short
,
Josh Grant
,
Justin Brayton
and Jeremy McGrath. They rode in heats of eight riders, with the top four in each advancing, then the top two from each advancing there, down to a single 2-lap sprint between Reed and Langston, which Reed won handily.
The evening began with the usual Bercy pomp and circumstance, though the late cancellation by
Ricky Carmichael
dashed the original program. After the introductions of all the major French stars on hand—Jean-Michel Bayle, Sebastien Tortelli, Mickael Pichon and a still visibly ailing
Christophe Pourcel
—seven-time AMA Supercross Champ Jeremy McGrath took a lap of honor with the 85cc riders on hand. Missing from it all was the favorite son of Bercy, all-time King David Vuillemin, who is back in California testing his new Suzuki for the AMA Supercross and AMA Toyota Motocross Series. There were a few DV12 banners in his honor (as well as one really odd one that read, "God has a son and it is you Ricky.")
The rest of the Americans came out in a Hummer, then an Australia "aborigine warrior" and two Zulu warriors came out in honor of the international riders, who were led by Reed (Australian) and Langston (South African). And of course pompom-waving cheerleaders were everywhere, and so were laser lights and pyrotechnics.
Still, all of the razzle dazzle could not make up for what were basically uninspired races. Maybe some of the riders were still jet-lagged, but they did not get into much battling out there. Fast-qualifier Langston grabbed the start from an outside gate and pulled away as McGrath, who was not on the pace of the Yamaha riders, briefly held second while Reed raced up to third, only to crash. Visibly faster than everyone else through the whoops, Reed climbed back through past Grant, Short, McGrath and
Benjamin Coisy
, but he ran out of time to cut far into Langston's lead.
Reed got the start over Langston in the last main event and really dropped the hammer. Langston would crash, and Short and Grant just didn't have their top speed tonight. That allowed the superb Coisy to get the most applause of the night with a solid second-place finish in the last race of the night. Langston tried to catch him but ran out of time. Short ended up fourth.
Tonight, it all starts again. There's a rumor that it's going to be shown live on Euro Sport, which will put it live online. If I can find out where and when, we will post a Breaking News.
Results

1. Reed (AUS, Yamaha)
2.Langston (AFS, Yamaha)
3.Coisy (FRA, Honda)
4.Short (USA, Honda)
5.McGrath (USA, Honda)
6.Coulon (FRA, Yamaha)
7.Musquin (FRA, Kawasaki)
8.Grant (USA, Honda)
9.Sorby (FRA, Kawasaki)
10.Paulin (FRA, Kawasaki)
11.Frossard (FRA, Kawasaki)
12.Brayton (USA, KTM)
13.Aubin (FRA, Yamaha)
14.Van Horebeek (BEL, KTM)
15.Roy (CAN, Yamaha)
16.S.Pourcel (FRA, Kawasaki)