Between the Motos: Michael Holigan
You probably remember Michael Holigan. He was the man behind the now-defunct Holigan Walters/BooKoo race team effort. Michael has something new up his sleeve, so we decided to get the scoop from him for today's Suzuki Between the Motos.
Racer X: Michael, it's been a busy week, but it's good to finally get in touch with you. It looks to me that you and Merge Racing are growing by the day.
Michael Holigan: Yeah, we're kind of shocked how it took off. I'm really pleased this weekend with race support—we swept first through fifth with Merge-equipped motorcycles, both Friday and Saturday night in Des Moines, so that was another shocker.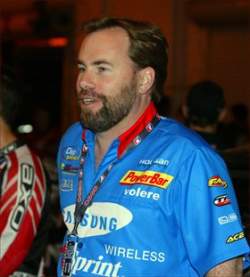 Merge Racing's Michael Holigan

photo: Steve Bruhn

Now let's start then with the genesis of the company. Merge is a partnership between you and Jim Lewis, right?
That's correct. After the BooKoo thing blew up, Jim had moved out here to run R&D for us, and later took over as team manager. His family really liked it here in Texas, and we talked, and the whole idea at Holigan racing was to one day develop parts and sell to the public. So we decided to go ahead and go forward with that and go racing.
And this was mid-summer of 2007, right?
Yeah, Jim stayed on after the BooKoo debacle and started selling off all of our equipment, and we started talking about it over the winter. And then in January and February he really started doing some design work to come out with our first project—the adjustable leak jet—among other stuff. We were in production by the summer and shipped out the first group in August to Tucker Rocky.
I know at the Motocross of Nations at Budds Creek you had over 20 different KTMs equipped with your products.
Yeah, it was a lot of fun. We hit it off really well with Red Bull KTM, and they started using our product in the summer and Mike [Alessi] had a great run in the Nationals using our product. We saw that they were going to take care of all 23 KTM riders themselves, and asked if it would help if they had our product, and they said yeah, it would be a lot quicker to tune them up. So, we shipped them 23 units and we were on 23 motorcycles. We got fourth and seventh overall, so we were thrilled.
How exactly does the adjustable leak jet work?
Basically when you wick the throttle of the four-stroke and that slide opens up, you suck a lot of air into the carburetor, and that's what causes that minor bog or hesitation. With the adjustable leak jet, it's really easy to stick a screwdriver in there and adjust your leak jet to the proper setting to work with the altitude, atmosphere or temperature you're riding in, because when any of those things change, so does your throttle response. All you have to do is reach in there with a screwdriver, adjust it to where you like the response, and you're good to go—no bogs, no hesitations.
That sounds like the magic bullet in getting rid of that bog.
Well, fortunately a lot of the guys at KTM, Honda and Kawasaki believe it is, so we're really happy to be working with those guys.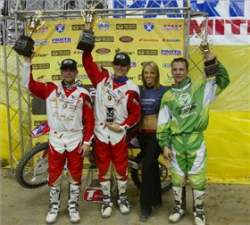 The top five AX riders this past weekend were aboard Merge-equipped motorcycles.

photo: Steve Bruhn

Backing up, you mentioned the Toyota AMA Arenacross this weekend, so, who isn't using your products?
Ah, the Suzuki 450 with the EFI are not using our products.
Not a problem in arenacross!
Not a problem there. We were fortunate that Tuf Honda has been testing with it, and they loved it and started using it. And Babbitt's Kawasaki started using it, too. And of course Josh Demuth has been testing with us back since it was a prototype, and he was using it, so we got first through fifth both nights.
Now, you've known Josh Demuth for a long time. He's one of those guys that was a BooKoo Arenacross rider, and you were a BooKoo/Holigan Walters team manager. What happened to BooKoo's affiliation with motocross and supercross?
Well, they were brought in the summer of 2006. Up till then, everything was going great. They always paid us on time and were a pleasure to deal with, and a venture capitalist came in and bought them in the summer, and everything changed. All the contracts were ended and they pulled out of everything. It was just a different mindset. Before the people were wondering 'How do we grow the company and reach new markets who drink energy drinks?', and the new guys are financial guys and they just had different goals.
By locale I'll ask you this: What the heck happened to the BooKoo Arenacross series and Mike Kidd?
I had lunch with Mike about a month ago, and he said that the BooKoo guys came up to him and said that he hadn't run enough races the previous year, and that his contract called for additional races, so they weren't going to pay him that last part of what they owed him, so they're not longer doing races together. I think they made an offer to him if he wants to do a per race deal in the future. But I think Mike is just playing it cool right now, and he's just remodeling homes over in Ft. Worth, doing that kind of stuff right now.
Not to deviate into a whole different area, but a lot of people don't realize that times are kind of tough in the AMA motocross/supercross business, and with the dollar down and our whole housing market suffering, we're not quite in a boom period, are we?
The economy definitely took a turn, and it's bad that it happened right then, because supercross has really stepped it up with their television package, and they got a much better deal. The outdoor nationals improved too, going from Versus to Speed, and I especially like the live broadcasts on the 'net. It's a great time for sponsors to be coming in the sport; unfortunately the economy is kind of tough right now. So it's kind of running adverse to each other.
I know that some people on the outside probably don't realize just how good the nationals have been, and certainly supercross. And from what I understand, the moves to the 250Fs, the arenacross series was quite a show this weekend.
Yeah, from what I've heard and read on the reports from Andy Bowyer, it was a great race.
Well, I'd have to say that you guys have grabbed a serious holeshot coming into this business. So what's next and how are you able to keep up with the sudden success of this company?
Well right now, when we launched the product, it was right in the middle of the season, and that's a hard time to get anyone to test or try something new. We were really fortunate that KTM was very sensitive to the leak jet and how their bikes responded, so they jumped on and started using it, which was a big plus for us. But this off-season, we've been testing with a lot of teams, so that's a big push. We're also finalizing all the prototypes for our new products, which are going to launch in January. We have an exclusive deal here in the States with Tucker Rocky, and we're going to be in the catalog with five products next year. It's going to surprise people, but a couple of our suspension products are items that people have never seen, so I think it's going to be as much fun as the adjustable leak jet was this year.
I look forward to that. One more thing: You've hired Tim Ferry's former man-friend, Steve Matthes. Does that mean Ferry will be using the product, or that he will not be taking phone calls from Texas?
Oh, we've gotten all kinds of promises from Matthes, so we'll see.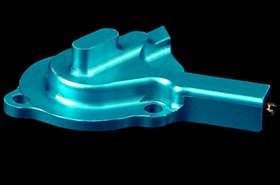 The Merge Racing Adjustable Leak Jet

Steve came over from Parts Unlimited where he was the brand manager for FMF. What does he bring to the table, other than a huge lunchbox?
Well, we're hopeful that with Steve's other jobs, he's traveling to all the races and he knows a lot of dealers from his time working with FMF. So he's going to be visiting dealers for us, talking about our product, and of course working with the teams. We have a lot of different teams now using our product, and Jim and I can't be at every single race, but we wanted someone who could be, so that's why we brought Steve on.
What about your team? I know that ended abruptly with BooKoo as your sponsor. It's been a year, so are we going to see something in the future, or is this the direction you're taking for now?
For now, this is what we're doing in 2008. We're supposedly going to have our hearing at the end of January 2008, and I'm really looking forward to presenting our case in front of the Judge, as well as our peers. So, until we get through that, no plans to go racing. Once we see the results of that, then we'll start talking about 2009 and making plans.
Well, that should do it, Michael. Where can people learn more about your products?
They can check out www.mergeracing.com.