Privateer Profile: Kelly Smith
As a well-traveled pro motocross/supercross rider the past ten years, Michigan's Kelly Smith now sets his sights on a new adventure: Toyota AMA Arenacross. Throughout his career, from complete privateer, to full-on factory rider, the 27-year-old has been a battler. Now he plans to move to the smaller arena confines, and start fresh with new excitement. Signed on with the championship winning Monster Energy/Babbitt's/Kawasaki/Moose Racing team, I caught up with the 2000 High Point 125 overall winner just before the Des Moines opener.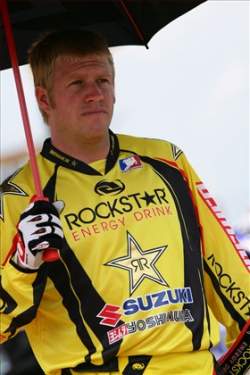 Kelly Smith is going arenacross racing.

photo: Simon Cudby

Racer X: Kelly lets begin with your new racing career.
Kelly Smith: Well, I knew that getting a ride in the Lites Supercross/Motocross class again would be tough with several of the teams—like our team (Rockstar Suzuki) and MotoSport Kawasaki—falling apart, so I wasn't even looking in that direction. I thought about doing supercross and motocross if I could do it on a 450; and even talked to a couple teams. But most of those teams didn't have any money; so I was not even really considering that much either. Last year I almost did an arenacross deal, so I knew I had that in my back pocket. I then began getting the word out that I may want to do arenacross, and I instantly had a couple teams that were really interested. So the logical choice for me was Arenacross. I signed with Babbitt's; I know that they've won a few championships with Darcy Lange and Josh Demuth, and figured that would be a great route to go.
How have things been going so far?
I didn't even really know Eddie Babbitt prior to this. Of course I've gotten to deal with him a little now, and he seems like a good guy. Everything's been going as planned, and I'm glad that I made the decision I did. We did our testing in California, and I have a bike that handles unbelievably well. I'm ready, and I'm feeling very confident. I really want nothing less than to be a contender for the championship. I want to go in there and win races, but have that add up for the championship.
You've done an occasional Arenacross in the past right?
Yeah, I did some Arenacross back in 2002/2003 when I was a privateer. I did well, and got on the podium almost every time, so I don't see it being a tough transition. It will be a little different, and a little bit of an adjustment, just because it's so intense for short periods of time. But I don't think it's going to be a problem at all. I'm really feeling good about the way I'm riding right now, and I think it will be a really smooth transition.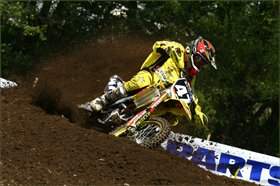 Smith is excited for his new challenge.

photo: Matt Ware

Based on your riding style of getting good starts and being aggressive early, Arenacross should really suit you.
Yeah, for sure. As I said, when I did them before, I was pretty successful. As long as I get decent starts, and be super aggressive right away, it should be good. I know that the key to doing well is getting out early away from everyone - because I know a lot of times there's a lot of bumping and banging. I'm going to have to probably dish out my fair share of aggressive moves. The biggest thing is that I'm healthy right now; I just want to get good starts, get out away from everyone, and stay healthy. I don't want something dumb happening where someone comes in to take me out just to take me out - that's one thing that I worry a little bit more about in Arenacross. But my good friends Danny (Smith) and Brock (Sellards) have been doing it now for a while, and they've been able to stay healthy, so I don't see this as being a sport where everyone's out to just kill you. As long as everyone is halfway considerate, there won't be any problems.
You're pretty excited about this aren't you?
Well Jim, I've been doing like the East Region Supercross, and outdoor nationals for quite a few years now. This is something new that's going to be really fun and exciting. I just can't wait to get started this weekend. I've really had no down time; I instantly built my arenacross track right after the nationals finished and I found out I was going to do this. It's been all about something different for once. I'm really excited to get going, and I think I'm going to surprise people. I think everyone expects people to take a while to get used to the arenacross thing. Sometimes you see people who don't do quite as well when they come from Arenacross to Supercross, but I'm going to make the transition instantly and surprise some people.