Yamaha's Monday Wake-up Call
FACTS NIGHT of the JUMPs
8th Contest FIM Freestyle MX World Championships
Riga, 27th October 2007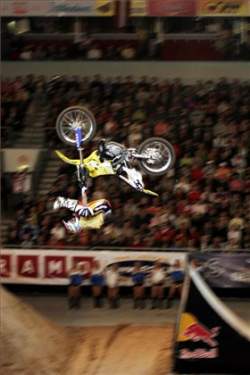 Libor Podmol finished second overall and also scored the highest jump of the night.

Photo courtesy of IFMXF.com


Results Qualification
1. André Villa NOR NMF Suzuki 277 Points
2. Ailo Gaup NOR NMF Honda 268 Points
3. Sebastian Wolter GER DMSB Suzuki 243 Points
4. Fabian Bauersachs GER DMSB Kawasaki 240 Points
5. Libor Podmol CZE ACCR Suzuki 239 Points
6. Lukas Weis GER DMSB Suzuki 234 Points
7. Fredrik Johansson SWE SVEMO Suzuki 226 Points
8. Nick Franklin NZL MNZ KTM 225 Points
9. Massimo Bianconcini ITA DMSB Honda 210 Points
10. Oystein Kjorstad NOR NMF KTM 215 Points
11. Jussi Seljas FIN SML Honda 193 Points
12. Martin Koren CZE ACCR KTM 172 Points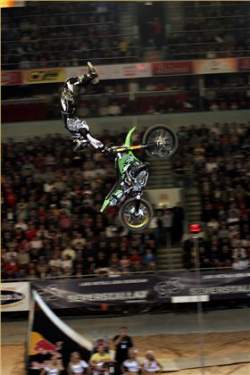 Fabian Bauersachs executes a tsunami on his way to a third-place overall.

Photo courtesy of IFMXF.com


Results Whip Contest
1. Lukas Weis GER DMSB Suzuki
2. André Villa NOR NMF Suzuki
3. Sebastian Wolter GER DMSB Suzuki
4. Massimo Bianconcini ITA DMSB Honda
4. Martin Koren CZE ACCR KTM
4. Nick Franklin NZL MNZ KTM
Results Highest-Air-Contest
1. Libor Podmol CZE 7,70 Meter (1st attempt)
2. Florian Menge GER 7,70 Meter (2nd attempt)
3. Lukas Weis GER 7,30 Meter (1st attempt)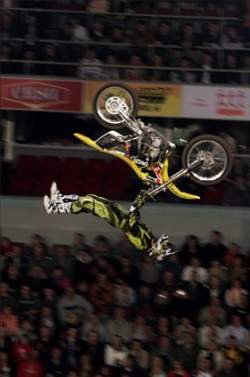 André Villa was the Superman of the evening.

Photo courtesy of IFMXF.com


Final Results
1. André Villa NOR NMF Suzuki 331 Points
2. Libor Podmol CZE ACCR Suzuki 307 Points
3. Fabian Bauersachs GER DMSB Kawasaki 287 Points
4. Sebastian Wolter GER DMSB Suzuki 281 Points
5. Lukas Weis GER DMSB Suzuki 273 Points
6. Ailo Gaup NOR NMF Honda 224 Points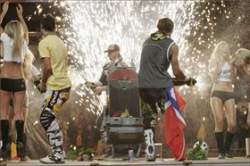 The riders celebrate atop the podium.

Photo courtesy of IFMXF.com


FIM Freestyle MX World Championships
Final Ranking (after 8 contests)
1. Ailo Gaup NOR NMF Honda 143 Points
2. Libor Podmol CZE ACCR Suzuki 122 Points
3. Remi Bizouard FRA FFM Yamaha 115 Points
4. Fabian Bauersachs GER DMSB Kawasaki 91 Points
5. Lukas Weis GER DMSB Suzuki 76 Points
6. Romain Izzo FRA FFM Honda 76 Points
7. Fredrik Johansson SWE SVEMO Suzuki 71 Points
8. Oystein Kjorstad NOR NMF KTM 67 Points
9. Mat Rebeaud SUI FMS KTM 58 Points
10. Sebastian Wolter GER DMSB Suzuki 43 Points
11. Mike Mason USA DMSB Honda 38 Points
12. Brice Izzo FRA FFM Yamaha 34 Points
13. Jimmy Verburgh BEL DMSB KTM 33 Points
14. Bart Oglaza POL PZM Suzuki 28 Points
15. Freddy Peters GER DMSB Yamaha 21 Points
16. Adam Jones USA DMSB Honda 21 Points
17. André Villa NOR NMF Suzuki 20 Points
18. Kevin Burcklen FRA FFM Suzuki 16 Points
19. Massimo Bianconcini ITA DMSB Honda 15 Points
20. Martin Koren CZE ACCR Kawasaki 14 Points
---
Dutch Open
Francorchamps, Belgium
October 28, 2007
1st Moto
1 Eddy Seel Belgie Suzuki Team Rigo Suzuki
2 Marcel van Drunen Eindhoven Yamaha Yamaha Maxxis Team
3 Kevin Villerooye Belgie Suzuki Seel Racing
4 Mikkel Caprani Denemarken Aprilia Team Aprilia Denmark
5 Theo Bouchee Geldrop KTM -
6 Remy van Rees Alphen ad R. KTM Vos Racing Team
7 Ruurd van Roozendaal Steggerda Honda Team Van Roozendaal
8 Luc Smeesters Belgie Suzuki -
9 Andreas Mikkelsen Denemarken KTM MX Shop Racing Team
10 Matthew Pope Engeland KTM Pope Racing
2nd Moto
1 Eddy Seel Belgie Suzuki Team Rigo Suzuki
2 Marc Fraikin Belgie KTM Lucky Time Racing
3 Kevin Villerooye Belgie Suzuki Seel Racing
4 Mikkel Caprani Denemarken Aprilia Team Aprilia Denmark
5 Marcel van Drunen Eindhoven Yamaha Yamaha Maxxis Team
6 Theo Bouchee Geldrop KTM -
7 Remy van Rees Alphen ad R. KTM Vos Racing Team
8 Ruurd v. Roozendaal Steggerda Honda Team Van Roozendaal
9 Andreas Mikkelsen Denemarken KTM MX Shop Racing Team
10 Mario America Belgie Husqvarna Bike Service Hoepertingen
Podium #10 at Spa-Francorchamps:
1 Eddy Seel Belgie Suzuki Team Rigo Suzuki 100
2 Kevin Villerooye Belgie Suzuki Seel Racing 82
3 Marcel van Drunen Eindhoven Yamaha Yamaha Maxxis Team 81
Dutch Open Supermoto Championship after 10 of 11 rounds:
1 Marcel van Drunen Eindhoven Yamaha Yamaha Maxxis Team 827
2 Remy van Rees Alphen ad R. KTM Vos Racing Team 785
3 Theodoor Bouchee Geldrop KTM - 684
4 Ruurd van Roozendaal Steggerda Honda - 607
5 Mario America Belgie Husqvarna Bike Service Hoepertingen 582
---
International Oceania MX
Barrabool, AUs
October 28, 2007
Overall results: Pro Open class
1. Josh Coppins
2. Daryl Hurley
3. Ryan Hughs
4. Craig Anderson
5. Daniel Mc Coy
---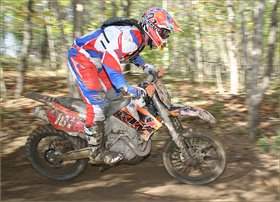 After a tough battle with Charlie Mullins early in the race, Knighter pulled away for his 7th win of the season.
Hooper photo


Klotz Ironman GNCC
Crawfordsville, Indiana
October 28, 2007
XC1 Pro
1. David Knight (KTM)
2. Charlie Mullins (Yam)
3. Paul Whibley (Hon)
4. Garrett Edmisten (Kaw)
5. Dustin Gibson (KTM)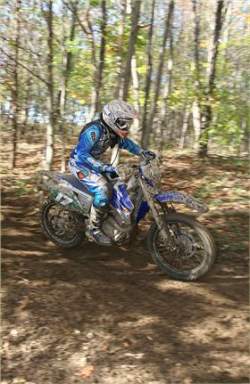 Thad Duvall made an awesome come-from-behind charge to take the XC2 win.
Hooper photo

XC2 Lites
1. Thad Duvall (Yam)
2. Scott Watkins (Kaw)
3. Justin Williamson (KTM)
4. Wallace Palmer (Kaw)
5. Ben Kearney (KTM)
Final GNCC Point Standings
Overall
1 David Knight 282
2. Barry Hawk 231
3. Charles Mullins 221
4. Jimmy Jarrett 199
5. Garrett Edmisten 197
XC2 Lites
1. Justin Williamson 205
2. Scott Watkins 192
3. Rodney Smith 189
4. Josh Weisenfels 181
5. Thad DuVall 180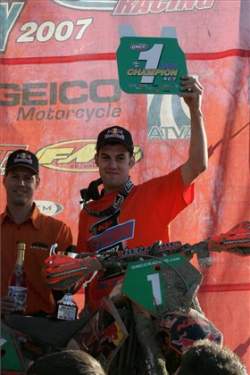 Justin Williamson is the first-ever GNCC XC2 Lites class champion
Hooper photo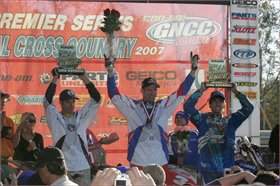 David Knight clinched the 2007 GNCC Championship with a win, and was joined on the podium by Charlie Mullins and Paul Whibley.
Hooper photo
For road racing results visit www.roadracerx.com.

If you are a race promoter and would like to see results from your event on Yamaha's Monday Wake-Up Call, please contact Gregg Lowley at gregg@racerxill.com.