Monday Conversation: David Knight
Red Bull KTM's David Knight has done what many expected him to do, and that's win the 2007 Can-Am Grand National Cross Country Championship. The standards were set high for Knight, since his predecessor on the KTM squad, Juha Salminen, had dominated the GNCCs in the two seasons he rode here, and Knight himself had won just about everything in Europe during the same stretch of time. When Salminen moved back to Europe, Knight was expected to take his place here, but he had to deal with plenty of bad luck, from injuries to bike troubles that eventually led to him getting a new mechanic for the last four rounds of the series. But the bad is all behind him now—Knight ends his first tour of duty in the U.S. with seven wins and the GNCC title. Here's what he had to say about it all.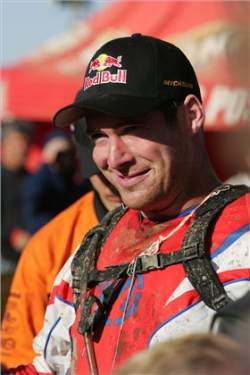 Red Bull KTM's David Knight.

Racer X: Okay David, we'll get to the championship in a minute, but first, tell us about winning this race.
David Knight: I got a pretty good start and got into second pretty quick. I got in behind Charlie [Mullins] and followed him on the first lap. But I was looking at him more than the ground and I hit a rock and crashed! Whibley got past me. The first lap, it's hard because everyone is going different ways and there are places where you get lost a little bit. The second lap, in the big fields, I was keeping the revs down a little bit and trying not to rev it too hard, and not strain the bike because of the championship. I thought I seen Barry on the side of the track, and I didn't know if it was right or not. I think it was the third lap when I got a board saying that Barry was out [Ed. note: Barry Hawk, the only rider with a mathematical shot at the title, broke and chain and did not finish the race.] Once I knew Barry was out, that was it, and I just hammered the thing. Charlie was going well; I was just following him. I was quicker in some places and Charlie was quicker in others. I just thought I'll just leave it, and follow him until later on. Then I got a good line through some mud hole, and Charlie got a little bit stuck. I got passed him and just pinned it, and I seemed to get away a little then. I backed off again, and he started catching so I thought I'd better speed up again
Everyone likes this track here; what did you think?
It was probably one of the most enjoyable races of the year because we were just riding together and riding fast as well. It was really fun to be able to ride with someone. It was a fast track anyway. A few trees were going past a bit quick sometimes!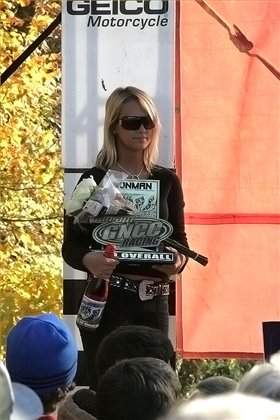 That trophy belongs to Mr. Knight.

You've had some bad luck this year, so the title was not a guarantee today. Now that it's over, can you admit if you were nervous before the start?
Actually, I was more worried about me not pushing on hard enough, or crashing into a tree, something like that. That was what I was concerned about more than anything. You never know, you can crash into someone, snap a brake line off, or just anything silly. When you are not pushing, you can start day dreaming and crash. This track is so fast, it keeps everyone together, and twelfth place isn't that far behind. Once I seen Barry [Hawk] was out, I didn't know what to do really at first—maybe just stop and just lie in the hedge somewhere and get drunk! I just pushed on, and could hammer the bike a bit; it didn't matter what happened.
For you, I know the season wasn't as easy as you would have hoped. You've dominated races all over, but you had a lot of bad luck to overcome this season.
Yeah, it's been a long, long year. Thirteen races is hard work. I've enjoyed it. It's something different for me. It takes a little bit of learning, and not just for me, you know, but everyone getting used to me and how I work. Everyone's different. We had a lot of problems through the year. I got Timo [new mechanic] in for these last four races just to make sure everything was right, and this is his as much as mine. To get on the bike and know that you can thrash it as hard as you can and be confident, that's a big part of it. It's just experience at the end of the day, and the whole team's done a great job. Shawn [previous mechanic] did a great job at the start of the year—he's new to it, and it really just came down to having more experience. Everyone from the pit guys out there with signals to the guys radioing in, everyone just had to learn. I would get the pit board and one would say 35 seconds, and the next one would say 45, then 50, then 35 again, so we all had to learn about that and get together on it.
What has it been like here in the U.S?
The fans have been great, really, even a little better than I expected. It's always hard, you know, coming over from Europe racing here, but I would say everyone over here has been very supportive, although it's weird because everyone over here knows me, I'd say 95 percent of them, from the Red Bull Last Man Standing. Hardly anyone here knows about World Enduro. It's like to some people I just came out of nowhere! It's a little harder getting used to the lifestyle here than it is going around Europe, even though you can speak the same language. It can get very lonely out here very quickly. And at the end of the day, home is home and I like to be there.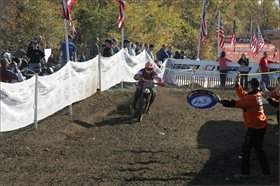 Knight capped off the 2007 Can-Am GNCC season with a win in Indiana.

Yeah, you actually still live in Europe and you fly in for these races. How many transatlantic flights have you taken so far?
Well, it's 13 times I think, so that's 26 flights across the ocean.
Man! Do you at least fly first class?
At first I didn't and I was just packed back in coach! Now I have a travel agent handling it all.
So now that it is over how does it all feel?
To be able to do this in my rookie season, it definitely means more to me coming from World Champion to GNCC Champion than what it would have if I hadn't have won it and won it next year. You know, Juha did win it in his first season, but he is obviously a very special rider, you know? I am really happy to be able to do this, and now that we've learned so much, it should be easier to come out stronger next year.