Kawasaki/Racer X Race Report
When you're a world-class off-road talent like David Knight, getting 12th place should be easy. Honestly, the Red Bull KTM Factory Off-Road rider from the Isle of Man pretty much only finishes first when he races, including dominant performances in the World Enduro Championships, the ISDE Overall, the Red Bull Last Man Standing, the Maxxis EnduroCross, Australian Four-Day Enduro, Weston Beach Race and on and on. But for some reason, grabbing the '07 Can-Am Grand National Cross Country Championship has not been nearly as easy. On some weekends Knighter is every bit the dominator, winning by massive margins with an unbeatable combination of skill, speed and strength. But on others the man seems truly cursed, with bad luck sidelining his championship efforts.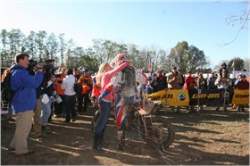 David Knight: 2007 Can-Am GNCC Champion
"A lot of the others riders have been going on about their bad luck this year," said Knight before the final of the GNCC Series in Indiana. "Well if they had my luck this year, they would know what bad luck is all about."
Coming into the GNCC finale, Knight had collected six wins in 12 rounds, but he also failed to score points twice after dealing with an injury in Georgia and bike trouble in Pennsylvania, along with other assorted snags that kept him off of the podium and kept the competition in the hunt. In addition, Knight found adjusting to American life and racing a bit more challenging than expected, but he was still all but unbeatable when he was on his game.
He won enough to hold a big points lead heading into the Klotz Ironman GNCC finale, and he only needed to finish 12th to clinch the title even if his primary rival, Am-Pro Yamaha's Barry Hawk, won the race. Would the bad luck come one more time? "I was more worried about me not pushing on hard enough, or crashing into a tree, something like that," said Knight. "When you're not pushing sometimes you start day dreaming. You can crash into someone, or snap a brake line off, just anything silly. This track is so fast, and twelfth place isn't that far behind."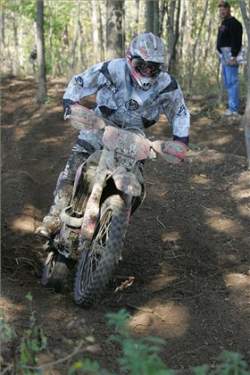 Honda's Paul Whibley grabbed the Racer X holeshot on his way to finishing third.
Fortunately for Knight, Hawk never had a chance to apply pressure. Before the race, Hawk pointed out his bad luck throughout the season, which included running out of gas due to bike trouble in Georgia. The gremlins returned in Indiana when his chain broke on the second lap. With the veteran GNCC champion out of the race, Knight was going to win the title no matter what.
By the time Hawk's day ended, Knight was in second chasing Am-Pro Yamaha's Charlie Mullins. The duo set a blistering pace early and pulled a big gap on the rest of the field. By lap three Knight got the word that Hawk was out, and he was free to put in a charge and try to win the race. Mullins made a mistake and opened the door for Knight to get the lead.
"It was a fun race," said Mullins. "I was leading and David was behind me. It seemed like we pulled away and kind of rode in our own groove. It seemed like after I got gas, I made a mistake and I fell down, and he got by me."
Knight put the hammer down and pulled away, eventually winning the battle and the war. After dominating the GNCC tour with Juha Salminen for the last two years, the KTM squad had experienced a little more drama this year during Knight's star-crossed run. Chalk Knight's troubles up to luck, and the much-debated question over which KTM star is the better rider and champion will be debated forever without a real answer. "To be able to win it in my rookie season here, I know Juha was able to do it but he is obviously a very special person," said Knight. "But to win it in my first year, it means a lot more to me than if I had not won it this year and then came back to win it next year."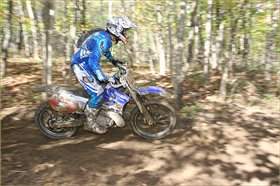 Am-Pro Yamaha's Charlie Mullins battled Knight for the win, but had to settle for second.
Mullins ended the race in second and third in points behind Hawk. Parts Unlimited Moose Honda's Paul Whibley was third after collecting the Racer X Holeshot, gathering some arm pump, and then settling in during the stretch of the three-hour event.
KTM wasn't done collecting GNCC titles in after Knight's triumph. The hotly-contested fight for the first-ever GNCC XC2 Lites title (for 125s and 250Fs) came down to consistency. There were multiple winners and contenders throughout the year, but by the end 20-year-old Justin Williamson nailed the number-one plate down for the orange marque by finishing on the podium at the last nine races, as well as collecting three wins.
Williamson made history as the first number one in the new class, but the competition is already hungry for 2008. Monster Energy/Pro Circuit/FAR/Kawasaki's Scott Watkins blitzed through the early laps in the XC2 lead, but on the last lap Am-Pro Yamaha's Thad DuVall put in an all-out charge to catch him. "I rode my guts out today," said DuVall. "I wanted it so bad, I was on the edge, feet off the pegs, Thad DuVall-style out there. If I would have crashed, I would have gotten hurt, but I wanted to win and show everyone what I can do for next year."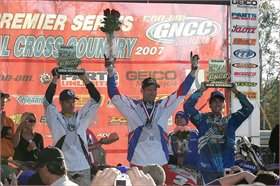 The XC1 podium.
Williamson rode a steady race for third, displaying again the consistency the rest of this hyper-aggressive class is trying to learn.
After the race the Red Bull KTM crew invited fans over to their factory semi to celebrate with Knight and Williamson. With Halloween coming up this week, there was no better time to celebrate a job well done for the orange and black squad.
Klotz Ironman GNCC
Crawfordsville, Indiana
October 28, 2007

XC1 Pro
1. David Knight (KTM)
2. Charlie Mullins (Yam)
3. Paul Whibley (Hon)
4. Garrett Edmisten (Kaw)
5. Dustin Gibson (KTM)
XC2 Lites
1. Thad Duvall (Yam)
2. Scott Watkins (Kaw)
3. Justin Williamson (KTM)
4. Wallace Palmer (Kaw)
5. Ben Kearney (KTM)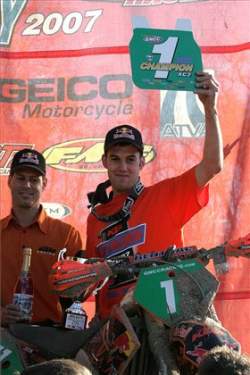 XC2 champion Justin Williamson

Final GNCC Point Standings

XC1 Pro
1 David Knight 282
2. Barry Hawk 231
3. Charles Mullins 221
4. Jimmy Jarrett 199
5. Garrett Edmisten 197
XC2 Lites
1. Justin Williamson 205
2. Scott Watkins 192
3. Rodney Smith 189
4. Josh Weisenfels 181
5. Thad DuVall 180