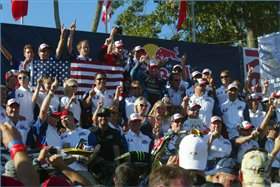 Red Bull MXoN. 8:30 p.m. Outdoor Channel. Tonight. Watch it.
photo: Steve Bruhn
Let's start with the 2007 Red Bull Motocross of Nations: It's finally airing on TV in the U.S.! It's showing on the Outdoor Channel tonight, Friday, Oct. 26, 2007 at 8:30 p.m. ET. I can't wait to see just how fast
Ryan Villopoto
was going, because I still can't believe my eyes from that afternoon last month.
Same goes with what I saw on TV this week from California: Wildfires everywhere. It's almost like watching the aftermath of Hurricane Katrina on TV a couple years back, though thankfully, not nearly the death toll or the damage. But a large part of the American motocross industry is located in Southern California, which means that while it was on the other side of the country from West Virginia (where, cruelly, it's been raining all week), it still hits close to home. So we rounded up some firsthand accounts from around out there.
"My house seemed pretty far from where everything is happening, but when we woke up this morning, it looked like Independence Day!" Jeremy McGrath told me on Tuesday. "It was all foggy and smoky and just crazy out. It's kind of unsettling. Victor Sheldon really helped me out; we went out and got most of my stuff out yesterday, just in case. The last few days have been pretty crazy."
photo: Chris Simmons
"The mountain behind my house caught fire last night," said
Ping
on Wednesday. "It was the backside but it is creeping over. I'd say it's about six or seven miles from me. The wind is what is gnarly for us. Trees ripped out of the ground, my patio furniture was completely destroyed. It was made of bamboo … I couldn't even tell what it was when I went out there today. Just living in a scene from
Mad Max.
…"
"This is an awesome picture of the fire that is directly above Oakley, CTi and etnies, taken by my best friends Mom from Lake Mission Viejo," wrote Mark Rodgers. "Those are multi-million-dollar homes on that lake. This is where I grew up, and every summer as a kid we would go swimming at this lake. It is just sick how it happened. This fire was started on purpose by an arsonist."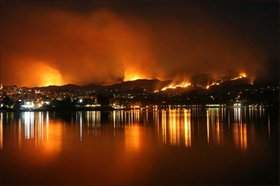 Lake Mission Viejo

photo: Mark Rodgers

Sondra Peters reported on Mototalk that her family had lost a house her father built near San Bernardino back in 1972 from scratch: "I am just glad we didn't have personal items there; we had removed them from the last fire up there. We are lucky for sure but man I feel bad for all the people on the mountain, this is going to be devastating for the economy in San Bernardino County. Southern California is being hit hard. Crazy times."
Lea Moncrief passed along a story about the Wyvern Motosports, which was set up in an old field house near some oil wells. As the Castaic fires came over the canyons near Piru Lake, team manager Brandon Thomas and mechanic Mike Williamson snuck back into the canyon to retrieve personal belongings from the house, but instead they ended up using the water truck to fight the fires themselves, all night long.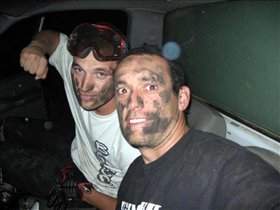 Brandon Thomas and Mike Williamson

photo: Lee Moncrief

Simon Cudby wrote: "I was driving home on Sunday evening from the WORCS race at Pismo Beach. The Santiago fire had just started at sunset as I was nearing home. This fire has traveled along the hillsides, scorching everything in its path, until I could see the flames from my backyard Tuesday night. Everyone in the neighborhood was obviously wound pretty tight wondering what the night would bring. The sky was full of smoke, and everything outside has a thin layer of ash on it."
Andy Parsons went on a trip around the OC on Thursday to see how the area was effected by the fires: "My first stop was Oakley. The Santiago fire burned Whiting Ranch Wilderness Park right up to Glenn Ranch Road. This is directly across the street from the massive Oakley HQ. I stopped in and was told that they did evacuate earlier this week, but all is back to normal. By the looks of the surroundings, I thought I was in Berlin after a WW2 bombing raid! Good news is that the cool MX track did not suffer any damage.
"I drove past Ricky Johnson's pad to see if he was around (he lives right up the street from Oakley). No sight of RJ, but there were two hoses stretched up on to his roof. Looks like he may have been one of the people who took saving their property into his own hands. No damage could be seen, so he must have been successful!
"Finally, I stopped by Kawasaki and spoke with Reid Nordin, manager of Team Green, who said they were not able to test earlier this week due to highway closures and poor air quality. When they were to test at Cahuilla Creek MX Park, the gates were locked upon their arrival. Reid did assure me that James Stewart is 100 percent and he and the rest of the Kawasaki riders will be ready to roll in January at A1."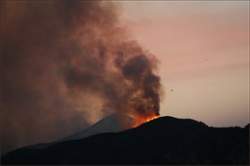 From Simon Cudby's backyard.
photo: Simon Cudby
And finally, read this from
Eric Johnson
's Wednesday trip to work:
Southern California is burning. As I write, four major fires are burning San Diego County and over 500,000 people have been evacuated. Fires also rage in San Bernardino County, the Santa Clarita Valley, Ventura County, Malibu, Lake Arrowhead—the list goes on. The start all lined up to create a perfect fire storm: 70 mph Santa Ana winds, three percent humidity, and 90 degree temperatures. At the desk I sit in Carlsbad, California, everything around me (including my co-workers) smells like smoke. In fact there's ash on my desk, in my hair, even in my teeth.
As a reporter on KFI radio said this morning, "These fires have affected, in one, way, shape or form, every single person in Southern California." He had it 100% correct. Simon Cudby was worried that a fire up near Lake Forrest right where Oakley is located was creeping towards his home. Not long after, I spoke to Jeff Surwall, who was up all night worrying that the home he had built by hand in Lake Arrowhead was about to burn to the ground.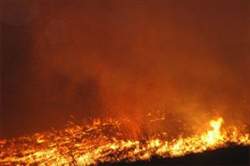 photo: Chris Simmons
I had not seen the fires myself until this morning. Driving south on the 5 out of Orange County, I couldn't believe what the skies above looked like. It was surreal. It was
Apocalypse Now
! Crazy streaks of chocolate brown, battleship gray and crushed-velvet red were in the sky. Then, a few miles north of Oceanside, the sky pretty much went dark, and as I looked over, I noticed the opposite side of the 5 was empty. No cars, like a ghost freeway. Then I saw the flames. Bright orange flames leaped from the ground, with plumes of black smoke and bright red ambers everywhere. Fire trucks and police cars were parked all over the highway shoulder. For the most part, the men who operated them stood around as nothing could really be done about it.
I drove on for miles seeing fire and empty asphalt. Upon arriving in Oceanside, I could see over 30 police motorcycles and cop cars, lights blazing, parked stationary on the 5. Behind them, as far as the eye could see, were passenger cars and freight trucks with their engines off, all just sitting there. The temperature on the dashboard read 90 degrees. The wind was blowing, ash was everywhere, and I immediately had a coughing fit. I walked toward the entrance of work and wondered how I was going to get home.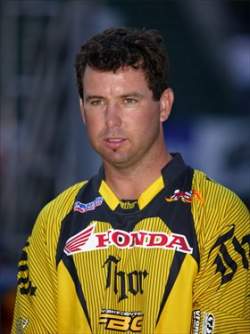 There may not be an RC in Bercy, but there will be an MC.
photo: Steve Bruhn
Okay, that's enough about the fire. Is
Jeremy McGrath
really going to race the Paris-Bercy SX? Yes, he is. MC told us about this a while back, but we kept it on the DL until the promoters could get a release out.… Well, all of us except
Ping
, anyway.
"Yeah, I'm going to race Bercy," MC told EJ. "I'm going to go see the French fans one more time. Andrew Short is going to race and I'm going to go over and bang bars with him. It should be a lot of fun. And right after I get home from Bercy, I'll go straight to Mexico to do a leg in the Baja 1000. I guess there are 20 spec cars available — kind of a pay-to-drive deal— and Monster has three or four cars entered and I'll drive one of those. I'm going to drive about 400 miles.
"You know, I've lived my whole life around San Diego and I've never been down to Baja," added the all-time-winningest rider in SX history. "I'm really, really looking forward to it."
Also going to Paris-Bercy will be Chad Reed, who made his announcement to the French fans back at the U.S. Open. Here's a video from our friends at Moto Verte.
And while we're on the international stuff, here's a video we spotted on Mototalk (thanks for posting it, Colonel). It's Ryan Villopoto doing an exhibition ride at a track in South Africa during his recent safari down there. We also got a CD from Thor/Parts Unlimited's Jeff Fox, who accompanied "RV2" on the trip over. There's a few shots of Ryan, an avid hunter, with some of his prize "harvests" from the hunt.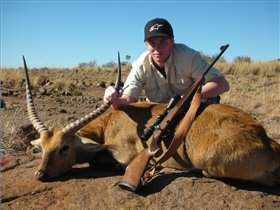 RV poses with one of his trophies.
photo: Hylton Beattie
So how did Villopoto crash and hurt his shoulder a while back?
"It was my first day back, so it wasn't like I was rusty or my timing was off or anything like that," RV told us. "I went off this 3-3-3 in a rhythm section, and I three'd in, and I just clipped the top, but I didn't think it was a problem because I had clipped the top before, but this time when I clipped the top, my foot had slipped off the peg. The next takeoff is really close to the downside of the first landing, so this time when I went in, I couldn't get my foot up to catch the brake in time. I went down into the take-off, G'd out with the bike, and it just three me over the bars."
As for the shoulder injury, Ryan said, "It's no big deal." He's back home in Washington, enjoying a little time off before it's on again. East or West? Still up in the air. But he will not be riding a 450 on the opposite coast, as many expected. He's doing the full three years in the 125 class, just like James did, and RC maybe should have done (based on all those crashes he had in '99 … but then again, they were out of his system after that!).
More Kawasaki news: Tim Ferry is looking for a practice-bike mechanic. This is a full-time position in Florida. Resumes can be faxed to: 714-639-6105 or emailed to sharon.richards@omssports.com.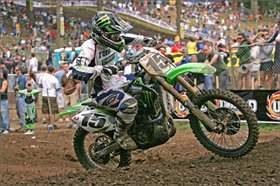 Tim needs a practice bike mechanic.
photo: Steve Bruhn
Also, in case you missed it on Bench Racing Ammo yesterday, what does McGrath think of Villopoto choosing #2 for the rest of his career? "If anyone should have my number, I suppose Ryan is the guy who should have it," Jeremy said. "He's always going to try hard, he's a really cool kid, he's got a good family, and he represents the sport well, so I think he will represent the #2 well.… However, I'm not going to stop running it just because he has it now! Either that or I will have to switch back to #1 now."
If you're in Ohio, Rupert X. Pellett has a little shindig planned Friday: "Category 5 – Mother Of All MX PARTIES!"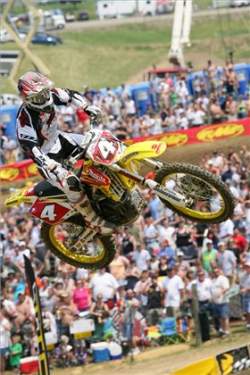 RC at Morris Mountain. Rupert X is in heaven.
photo: Simon Cudby
It's a combination RC Tribute Party/Motocross of Nations TV deal at The Goat Restaurant in New Albany, OH, tonight beginning at 7:04 p.m. "Door prizes, dance contest, face-painting, celebrities and motocross," wrote Rupert. "Women & hot chicks – No cover charge! This party will be PASTRANA-level whacky, be prepared!"
Terry Good is at it again. When Bob "Hurricane" Hannah is honored at the White Bros. Vet World Championships coming up at Glen Helen, he's going to roll out this bike to commemorate the moment.
That's the bike that rocketed Hannah to stardom in a way that's still never been matched for the sheer velocity of Hannah's rise.
Last week, I mentioned the birth of my daughter Sloane and same of the things we went through trying to come up with a name. Here are a few really cool replies I got on the subject:
"My little boy's name is Kicker, not after a famous moto person but part of a jump (maybe we should have put more thought into that one :) )."
- Jim Fiolek (Ashley's dad)
"Our oldest son, Dallas, was named after a flat-track racer we knew, Dallas Babcock. Our youngest son, Layne, was named after Lane Frost. We did not spell the name the same, but we had followed the career of Lane Frost and his tragic death. We were glad that the movie 8 Seconds was made so we could show Layne who he was named after. I cannot watch that movie without tears coming to my eyes."
- Brian Fleck (Dunlop)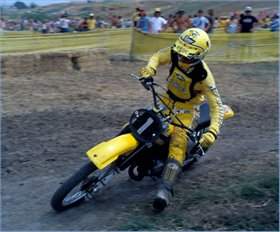 Broc Glover has a cool name.
photo: Dick Miller Archives
"You had mentioned the name Broc for boys' names. I named my son after Broc Glover. My son gets a lot of compliments on his name—and old motocrosser's already know I spell it without the 'k.'"
- Dan Geery (Fox Racing Shox)
Now here's Dave Brozik with an update on the First Annual Dave Brozik Scholarship Fund Essay Contest:

We've found our fourth and final Golden Ticket and her name is Becky Polaski! Becky's essay took the competition by storm and secured her spot in the final write-off next week, not to mention $25 of my karaoke greenbacks from Wednesday. Thank you very much to all who entered, even though there can only be four finalists and one grand-prize winner, you're all number one in my heart (tear, sob). Keep your heads held high and Don't Stop Believin'. (you can Limewire that after you read the rest of Racerhead.)
If you missed Becky's essay, along with the others, click
here
to check them out. The TWENTY elements this week were:
Where's the beef?, donate, squirrely, aggressive, faceplant, skull, Bill Gates, toot, top-end, spoke, uranium, Teddy Pendergrass, apologize, Las Vegas, Halloween, duty-free, Heikki Mikkola, Mad Libs, hooligan, and elephant.


Now onto the
Grand-Finale
Round of the Dave Brozik Scholarship Fund Essay contest.
First, congrats to all of our weekly winners:
Josh Phillips
,
Paul Freeman
,
Sam Wappelhorst
, and Becky Polaski. Their mastery of the English language have placed them on the same pedestal with
William Shakespeare
,
Walt Whitman
,
Dan Brown
,
Maya Angelou
,
Ping
, and
Gary Larson
.
Secondly, each writer will submit a 1000-word max essay by 5:00 (EST) this Tuesday, October 30. However, our "Suitcase (and UPS boxes) Full O' Swag" are so overstuffed, that I'm upping this week's mandatory elements from 25 to THIRTY! Three Oh! Trust me, it's worth it. (And since I make the rules, I'll do what I want, hehe).
Thirdly, voting will be the same. Any reader can vote from Wednesday until noon (EST) on Friday, November 2. Click all you want, but your vote only counts once. Winner will be posted to Racerhead later that afternoon. Tickertape parade will be handled by the winner's town mayor.
Lastly, here are the THIRTY, yes 30, elements needed for this weeks' essays. I'll post them for everyone to see, but only the Final Four can submit an essay (I'm sending them a link to a secret e-mail address, just in case).
Here are the elements: dynamic, "June 6, 1982" [counts as one element], moon, treestand, Will Farrell, step-up, wide-open, knuckle, french fries, Bactine, neon, manfriend, warped, tickle, spode, euphoria, zoom, Charlie Daniels, comic book, zealot, Gobi Desert, stomp, bag of nickels, Urkel, one-million dollars, Clifford Adoptante, melon, fizzle, kickstand, and throttle. Now write like the wind!
As always, thanks to mine/our sponsors for adding a little more pizazz to our fun. Without doing the math (that's why I went into art) I'm guessing I have around $2000 worth of swag to send out to our grand prize winner. I offer a big Cheers and Thanks to all of my industry friends who sent in the goods.

Last but not least, here's Ping:

There's isn't much happening in Southern California in the motocross world this week. Because of the fires, schools have been closed, businesses are shut down or running part time and doing any type of exercise or riding outdoors right now is very unhealthy. The good news is that the Santa Ana winds have stopped and the humidity is back up so fire fighters should be able to get things under control now. The bad news is that there is a layer of fine ash coating everything and just walking outside to get the mail will leave you smelling like a campfire.
I saw my orthopedic surgeon, Dr. Reiman, this morning to get the cast off my arm and it was like a small industry get-together. Ryan Morais walked in sporting a fresh lump on his left shoulder. He crashed in some whoops and separated his AC joint. He's planning on riding the east coast for the YoT crew again so he has plenty of time to heal up. Then Ryan Newton, a local privateer, came through the door with a broken ankle. He had just gotten surgery and is having a cast put on (poor bastard). And apparently I just missed Ben Townley who was in recently getting his shoulder checked again and had Dr. Reiman relay a message to me that, in case I had forgotten, 101 was still his number. Maybe we'll get to the bottom of that someday.
It feels good to be typing with both hands again, albeit with four new incision scars that have healed up nicely. There hasn't been another supermoto round since Oregon, where I was injured, and the next round is in Galveston in a week. I'm thinking I just might be ready to ride by then. I know it's a long shot but I'm only 19 points out of the lead with three rounds to go. You never know.

Thanks Ping.
Someone sent us this note earlier this week: Known as the sports medicine doctor to action sports athletes and official healthcare provider of the Houston Supercross, renowned board certified orthopedic surgeon Dr. Mark Sanders of the Sanders Clinic for Orthopaedic Surgery and Sports Medicine was recently named Chief of Orthopedic Surgery for Surgery Specialty Hospitals of America, Southeast Houston Campus, in Pasadena, Texas. Congrats, Doc!

Check out this PR from Hammerhead Designs' John Clark.

Okay, that's all for this week. Thanks for reading Racerhead; see you at the races.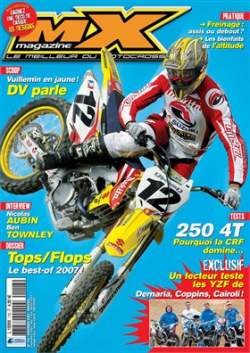 DV already made a cover on his new Suzuki!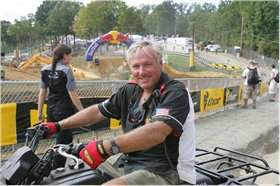 Jonathan Beasley is busy tonight at 8:30 p.m.
photo: Steve Bruhn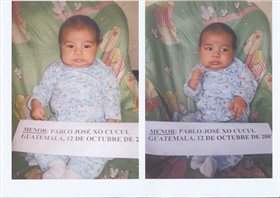 Mateo Davis is the newest addition to the Throttle Jockey family.
photo: Matt Davis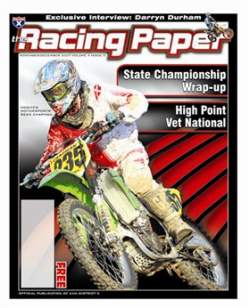 The new TRP is out! Pick one up at your local Western PA dealership.