Between the Motos: Jeremy McGrath
Moving a piano and instructing some young neighbor kids on how to drive a Rhino ("This thing don't turn too good and be sure to stop at the signs or they'll run you over") wasn't exactly what I expected Jeremy McGrath to be doing when I tracked him down on a Saturday afternoon in late October. But there he was, relaxed and happy to be home, his abbreviated NASCAR Late Model stock car racing career now over and his traveling—the approaching Paris-Bercy Supercross not withstanding—over and done for the year. Truth be told, there isn't much left to say about Jeremy McGrath that hasn't been said before. Yes, seven AMA Supercross Championships and seventy-two career supercross wins were the exclamation marks on his remarkable career, but more than anything, Jeremy McGrath is remembered for being, well, Jeremy McGrath.
Now an axiom, Ricky Carmichael is known as The GOAT (Greatest of All Time), and the number of wins and championships next to his name is likely to never to be touched. Jeremy McGrath, however, is "Showtime," because his actions on the racetrack were actually superseded by his charming, larger-than-life personality. Throughout the course of history, every major sport has been graced with an athlete who almost single handedly took their sport, put it on their back, and through talent, grace, and goodwill, carried it to higher ground. Baseball had Babe Ruth in the roaring 1920s, NASCAR had Richard Petty in the 1970s, hockey had Wayne Gretzky in the 1980s, basketball had Michael Jordan in the 1990s, and supercross had Jeremy McGrath, also in the mid-to-late 1990s.
Since he's now officially retired from the sport and back in California after taking a shot at one of NASCAR's junior divisions, it seemed obvious to us that the time was right to find Jeremy McGrath and have him weigh-in on the sport and his place in it. The interview you are about to read took place over the course of a few hours, and with each question posed, McGrath seemed to have his answers ready and waiting. In other words, some time had passed since he'd lined up behind a starting gate, and he had more than a few things he was ready to address and elaborate on. To that end, we bring you Jeremy McGrath.
Racer X: Jeremy, you've called time on your Late Model stock car racing career. From what I could ascertain, it was a decision you made for yourself. True?
Jeremy McGrath: What happened—and it's all good—is that I put it all on hold. I was having a really hard time with the traveling. Flying from here [California] to Charlotte was tough, and I figured that out really quickly. It was working out well. The whole thing was set up as a try-out and I was doing well and had a deal for next year. I did five races and flew back for six, but we got rained out one time. From the flying and the travel, I started thinking that I wasn't sure I wanted to do this. Basically, it was a great opportunity and everyone at JR Motorsports, everyone from Junior to Kelley, were just great to me. I just kind of said, "Thanks, but no thanks." I mean, I live in California and in all honesty I wasn't really looking for a second career. I'm having a blast being at home and being a dad with a wife and a kid and another kid on the way. My life is great.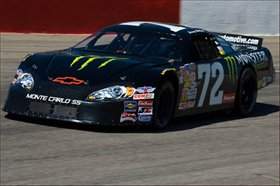 MC enjoyed his time on the asphalt, but is moving on.

photo: Roddy MacLeod

Did you enjoy the time you did spend racing Late Model cars?
I have a lot of respect for those guys. I really enjoyed my time in the car. However, if you're not committed 100 percent of the time and not committed to learning as fast as you can—learning things like car setup—you're wasting your time. It's the same as bikes: If you're not on it 100 percent of the time, you're not going to be successful. And in all honesty, at my age, things were going to have to happen quickly. Also, Late Model racing is small. We raced in front of very few fans and to be honest, it wasn't keeping me interested.
Do you think Ricky Carmichael is going to come to the same conclusion?
Well, one thing that'll make it easier for him is that RC is from Florida; he lives much closer to Charlotte. His lifestyle change won't be as severe as mine was. Being closer to home may give him a better chance of staying with it than it did for me, I don't know. It was nobody's fault that I decided to stop. Maybe if Ricky moves up quickly into a bigger car and onto bigger tracks, it'll keep him interested. For me, there wasn't as much action as I was used to. I wanted to succeed, but after killing myself for ten to fifteen years on the bikes, I wasn't ready to do it again. However, car racing does not require you to be nearly as physically fit. It's a different lifestyle. Who knows? Maybe Carmichael will do good. If he hangs in there, he'll probably succeed. One thing that will be different for him is that RC was so focused on racing during his career, he left a lot of PR stuff on the wayside, and that's what NASCAR is all about. But like I said, I loved driving the car, but it didn't keep my interest as much as I thought it would. But ten years from now I won't be saying, "I should have tried that." I did, and I came to the realization that it's not for me.
Okay, getting back to motorcycles. Have you been riding seriously?
I've been testing. All my injuries are behind me and that's good. I raced Mammoth Mountain in June and that was a sweet, full weekend there. From there, I've tested five or six times over the summer. I'm working with Honda and the testing will begin hot and heavy soon. I enjoy Honda and will continue to work with them in full-force through 2008. I'll be the testing guy and alleviate some of the pressure that's on the other riders. I can go out and do stuff that they won't have to waste their time on. It has worked out real well. I love being with Honda. It's great.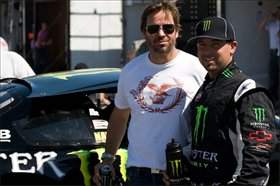 Jeremy and Scott Sepkovic at the track.

photo: Roddy MacLeod

When the season-opening supercross at Anaheim comes around, will you be in the stands or lurking around the Honda trucks?
Yeah, I'll be in the stands and at the trucks. I'll also do the track walks with Andrew [Short] and Ivan [Tedesco]. I'll take a role of, if they need something explained, I'll help out. I'm not the kind of guy to be out there going, "Do this and do that." I'll just be available to them. I'll also be available to the Factory Connection kids. I'll be at the Honda test track during the week helping out behind the scenes.
Will the McGrath Invitational race be coming back?
We've been in talks. I'm sure it's going to come back; it's not going away. We've talked to a bunch of different sponsors and a number of them are interested, so I think it'll come back bigger and better. We're working on things and I'm confident we're going to be back in 2008.
What did you think about the supercross race that was held in conjunction with the 2007 Summer X Games?
[Pause] I think that for the X Games and for supercross it was a good thing. As far as the event itself, they were pretty limited with what they could do with the track and the track was easy for the guys. The show was good, but I think they need to be careful. I don't think supercross is an X Games sport—supercross is its own sport.
Did you follow the 2007 Supercross series closely, and if so, what was your take on it?
I followed it pretty closely. James [Stewart] looked to have a good handle on it. RC also showed he was working hard. I was really impressed how he came in and out of the series. But as far as the championship was concerned, James did a good job. Not too much else went on. Chad [Reed] didn't have the season he wanted, and everyone knew what happened with RC.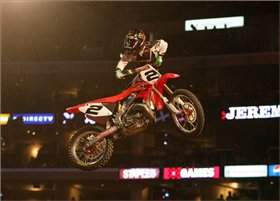 Jeremy 's signature trick: the Nac-Nac.

photo: Paul Buckley

Do you think Chad Reed can come back and race with Stewart in 2008?
I think it'll be difficult for him. Chad, in my mind, has the talent and the physical conditioning and has tasted victory and he knows what he wants, but sometimes it seems like Chad has a chip on his shoulder and it's distracting him from his racing. He's a little different now than when he first got over here. I think he needs to relax and have fun. He's not having fun; you can see it in his eyes. I mean, it might just be me looking in from the outside, but I think he needs to be more carefree. He might be struggling, but he has the talent and he has seen what RC has done when he's put pressure on James.
After a few part-time seasons, you're now done racing for all intents and purposes. How do you feel about that?
I am 100 percent content. The reason you saw me on the gate was that I was not looking for a pat on the back; I was only doing it for myself. I love the sport so much that I would miss it at times. The past few years of racing have been kind of a hobby for me, but I love the sport as much as when I started. After I crashed at my Invitational race—that was my last race anyway—the urge was gone. I thought to myself, Okay, it's time to sit on the sidelines. Now I am totally content to sit on the sidelines. I love the sport as much I ever have. I'm as big a fan as anyone. When the crowd cheers for a guy, so am I.
There's been a lot of talk about the ups-and-downs of the AMA Nationals. What's your take on all of it?
My take is that I definitely didn't mean to be the guy who started the snowball of riders not wanting to race the Nationals. However, not doing them extended my career. The way it worked out was that I was a supercross guy. But you know what? I would have been better in supercross if I had raced the Nationals. Every year I didn't race the Nationals, I would find myself a little bit behind when I got on the starting gate for the first supercross. And where are the Nationals going? I think the promoters who do the Nationals are doing a good job. Yeah, guys are dropping out and not riding them and that sucks. But with the amount of press and sponsorship priority put on supercross, it elevates supercross a lot. It's not just the riders. A lot of riders are making a lot of money now and supercross has become the priority.
There's a group of young, very talented, hard-working racers coming up. Who do you see being in the mix in the next few years?
I think, in all honesty, I'm really impressed with Ryan Villopoto—everyone is. Not only does he have the riding skills, but you can tell he's ready to work to win both indoors and outdoors. I've been impressed with him since he was a little kid. There are some other guys…. Ben Townley wants it bad. I think it's cool these new kids are coming up—kids like [Trey] Canard and Austin Stroupe. It's interesting because there are some guys, guys like Josh Grant, who have been at it for two or three years now and are in the same pattern they were before.
Okay, the question I've been waiting a few years to ask you…. In the lexicon of motocross, The GOAT means Ricky Carmichael. He certainly deserves the nickname and his records may never be broken, but in the eyes of some, myself included, you too could be considered the greatest of all-time for the things you did as a racer, an entertainer, and an ambassador of the sport. What do you think about all that?
I think people do mention that RC is the GOAT a lot, and my friends kind of laugh at it. RC and I are friends; we've been friends since he was a kid. He's won a lot of races—more than double what I have. I'm not taking a single thing away from RC, but I'd like to think that I contributed even to RC's success. I tried to raise the bar and bring the sport up. To me, as you know, I was lucky to be in the position I was. I mean, I have almost two times as many supercross wins as he does. It's funny to hear he's The GOAT. He certainly is by the numbers, and RC was the next guy in line to do what he did. Everyone can't be like me. If I were Ricky, I would have done some of the personal and fan stuff a little differently, but I don't have the number of wins he does. One hand washes the other, you know? He has all my respect in the world. RC is The GOAT, but I know the deal: He has all the numbers. I'll have people ask me, "Hey MC, what do you think about The GOAT?" If you look at just the numbers, he is the greatest. However, people who know the sport know that the numbers can come from different places. My time has come and gone and I feel good about the luck and the victories and the success I've had.
What's next for Jeremy McGrath?
As you know, I've been racing off-road trucks on and off. In 2008, I hope to do the CORR [Championship Off-Road Racing] series full-time. I was very close to having a deal to drive with Steve Barlow of the Red Bull team last year, but everything went a different direction. Not long ago I drove one of the Baldwin trucks. It was only my fourth time racing a CORR truck and I almost won. [Ed Note: McGrath will compete in the CORR season finale in Primm, Nevada, on November 3-4. 2007.] In 2008 I hope to keep my competitive urge under control by racing the entire CORR series. What's cool is that there are eight or nine races and they're all on the West Coast.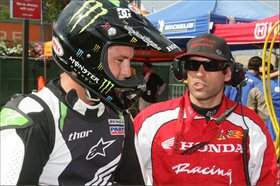 MC prepares for X Games Supermoto this past August.

photo: Simon Cudby

A few CORR drivers have told me you're a natural in the truck.
Everything you can do on a motorcycle, you can do in a CORR truck—it just has four wheels. All the lines on the track and all the jumps are just like motocross. And with 800-horsepower on dirt, you hit the gas and it's an awesome feeling. In the air, you can use the brakes and the gas just like a bike. For me, it's a very slight learning curve. In fact, there is no real learning curve. It's not like a stock car to me—driving the truck just comes natural. So that's my plan for 2008: to do all the CORR events and get my racing buzz.