Monday Conversation: Davi Millsaps
"You're not putting words in my mouth, it sucked!" answered Davi Millsaps when this writer assumed that due to a broken femur and severe inner ear infection the 19-year-old had a miserable racing season in 2007. After breaking his femur in a pre-season practice crash, Millsaps was forced to the sidelines, only to return at round number eight at the Georgia Dome. It took him a while to get up to speed, but at the series' penultimate round at Seattle, he placed an outstanding second overall. A great result heading into the opening round of the AMA National Motocross Championship, it appeared to be ready, steady, go time for #118. But that wasn't to be the case. Despite a podium placing at Mount Morris, Millsaps results began to become erratic as the season began to progress. Something was amiss and nobody — Millsaps included — knew what was up. Then on August 16, American Honda announced that Millsaps was suffering from a puncture in his inner ear and would be out for the season. Now he's back. A recent two-fold operation allowed doctors to repair his ear as well as remove the rod in his leg, and after healing up, Millsaps has just begun to pound out the laps on his 2008 Honda CRF450R. Recently, we caught up with the teenager for today's Alpinestars Monday Conversation.
Racer X: Davi, what do you have going on today?
Davi Millsaps: My day is actually already done.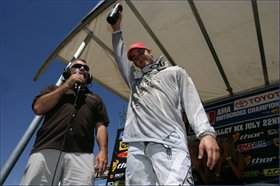 Millsaps won his first MX moto at Lakewood this past summer.

What did you do today?
I got up, I went swimming, and I rode for a while and then went on a bike ride.
How long have you been back on the motorcycle?
Today was my sixth day back on the bike.
How do you feel on the bike?
I'm actually going pretty good. I need to pick up my corner speed and work on my endurance, other than that I'm golden.
You also had the rod you had in your femur removed, correct?
Yeah I did and the leg is fine. I'm back in shape from all the time off the bike and training and everything feels good.
Stepping back, did you feel good when the 2007 AMA National Motocross Championship began?
No, I didn't feel 100 percent At first I wasn't doing too bad, but then things started to get worse. I got really sick a few races into the series and things started to snowball and go downhill.
How did your sickness affect your riding?
On the bike, I could not see in front of me and the turns seemed farther away then they really were. And the vertigo was really bothering me.
You kept going, though, and actually won the opening moto at round number seven of the series at Lakewood…
At Colorado, honestly, after the first moto I felt that something was really wrong. I just couldn't tell what it was. Before the start of the second moto, I went out to do the hot lap and felt really weak and dizzy. When we went to Washougal for the next National, I couldn't even ride.
Then on August 11, it was announced you would be out for the Millville National…
Yeah, I went to go see a doctor right after Washougal. The doctor tested me and they found out I had — and this is the medical term — "Perilymph Fistula". There was a hole in my inner ear and the ear was leaking and causing me to lose my balance. It was in my right ear and I was really weak on the right side of my body. I was really dizzy whenever I got on the bike and couldn't even ride it.
Was the team aware of the dire straits you were in?
They didn't know what was wrong. They had no idea. I'd go home and try to ride and couldn't even go one lap. I was so dizzy when I got off the bike that I'd fall over.
How did the doctors get your medical problem sorted out?
After I tested positive for Perilymph Fistula with the ENT [Ear, Nose and Throat] doctor, they sent me down to Gainesville to have the surgery done. While they were operating on me they found out that a lot of scar tissue had also built up and they cleaned all that out. They actually took some skin from behind my ear to patch it all up. I've been good since I had the operation.
We ran into you behind the starting gate before the final moto at the Glen Helen National. What was your take on how the 2007 National Championship played out?
Honestly, once Ricky Carmichael and James Stewart went out, it all depended on who was the strongest and most consistent. I was not surprised that Grant Langston won. In fact, I wouldn't have been surprised if someone else won. Once James Stewart left, it was like, "Oh yeah, I can win!" Either way, my hat is off to Grant Langston for winning it.
If you would have been healthy, could you have won it?
I feel I would have been right up there to win the championship, for sure. But it's all could of, would of, should of.
We understand you have a race in Spain coming up…
I have a race in Madrid on November 11. The organizers contacted my agents to see if I was interested in doing it and I said, "Yeah, let's do it."
You raced 80s as a kid in Spain, correct?
Yeah, I raced the FIM Junior Cup in 2001. I blew my knee out there.
Do you have any sort of plan for the race in Spain?
Just to go and get warmed-up and get a race under my belt. From there I'll go home and get in race mode and practice mode.
Who do you see mixing it up for the 2008 AMA Supercross Championship?
It's anyone's guess. I can't really tell you. Whoever was up there before will be right up there again. Whoever was going good in 2007 will be going good in 2008.
What are your goals for the supercross series?
My goal is to be right up front in every race. That's my goal. This will actually be my first full year in 450 supercross and I just want to get in the mix and run up front.
I don't want to put words in your mouth, but I'm going to go out on a limb here and say 2007 was a rough year for Davi Millsaps…
[Laughs] You're not putting words in my mouth. The year sucked. It was a rough one. I guess everyone has one of those.
Team Honda will have a pretty full house in 2008. How do you feel about your teammates?
For one, I've been with Andrew Short the last two years. I've raced Ben Townley in the outdoors. And I'm good friends with Ivan Tedesco. I guess to answer your question, we all get along good.
So with the femur and inner ear struggles now behind you, all is well with Davi Millsaps' world?
Yeah, it is Eric. I feel really good and I'm ready to get back into it. Baby steps, you know?