Kawasaki/Racer X Race Report
Sunday started off 80 degrees and sunny, a luxury this time of year in the mountains of Tennessee. We've attended this race during rain, sleet, snow and frigid temps., but can hardly remember weather where you could wear shorts. We took it as an omen that Sunday's fight for championships would be just as appealing as the weather, and we were right. From Zach Osborne and P.J. Larsen swapping plastic all day, to a nail bitter in the Intermediate class, Sunday turned out to be a day for spectators.
Above, P.J. Larsen and Zach Osborne fight for the inside over a step-up double in the first 450 Pro moto. These two gave the crowd there money's worth as they battled relentlessly all day. After coming up short on Saturday, Larsen seemed determined to show Osborne what he had on Sunday. By days end Larsen would wrap things with the overall in the 125 Pro class, giving the 250 Pro title to Osborne.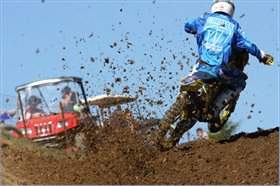 Kyle Corman
While Mini O's may be his first real test since breaking out of his mold at Ponca and Loretta's, Kyle Corman (above) showed that he may just be the kid everyone has been saying he is over the last few months. In what was only Kyle's second appearance at Muddy Creek, he rattled off two championships in both 125 and 250B.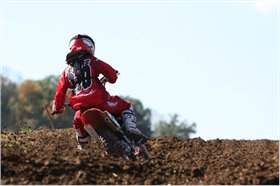 Kyle Peters
As impressive as anyone this weekend was North Carolina's Kyle Peters (above). Whether on his 85cc, 125 two-stroke or 250F, Kyle was up front all weekend long. A 1-1 in Supermini and a 2nd overall in Schoolboy had Peters floating on cloud nine by Sunday's end.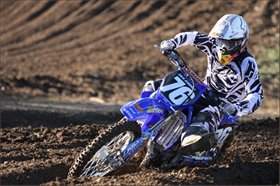 Zach Osborne looked good on his new Yamaha.

Sunday's results:
125 PRO
1- P.J. Larsen - Kaw
2- Michael Willard - Honda
3- Zach Osborne - Yam
4- Kevin Walker - Yam
5- Jim Neese - Suz
250 PRO
1- Zach Osborne - Yam
2- P.J. Larsen - Kaw
3- Kevin Walker - Yam
4- Adam Britt - Suz
5- Steven Houser - Yam
For more results, check out www.victory-sports.com.