Welcome to the Shift Number Cruncher. We have a fascinating number for you this week. When you stop and take a look around, there is an almost spooky amount of things in the world that are comprised of this number. It's the number of fingers and toes we are born with; it's the height of a basketball hoop in feet, the length of a first down in yards; a decade in years. It's the amount of frames you bowl; it's what Bo Derek will always be. There are this many millimeters in a centimeter and it was the name of Pearl Jam's first and most popular album. But my personal favorite association to this number is that it is the score that Billy Bob gave the stripper/History teacher in Varsity Blues. "I give it a ten!! An effin', TEN!"

Okay, enough of that. Let's check out some motocrossers that have raced with this big number.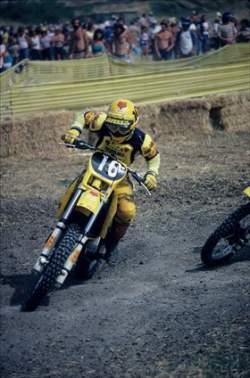 Mark Barnett
photo: Dick Miller Archives
DC pulled this gem out of the archives and when he laid it on my desk my jaw hit the floor. Check out the Superfox visor and over-the-front-aggressive riding style. These were the glory days of
Mark "the Bomber" Barnett
chasing after Broc Glover before he finally won his first of three straight AMA 125cc National Championships (which followed three straight for Broc, by the way).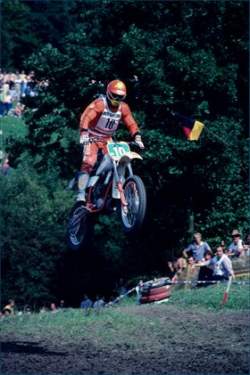 Kees Van Der Ven
photo: Dick Miller Archives
Here we have the Dutch sandmaster
Kees Van Der Ven
hucking a big bore KTM at the 1982 MXoN. The smart money says he bottomed out when he landed here. This is from the year where Danny "Magoo" Chandler swept all four motos at the Motocross and Trophee des Nations.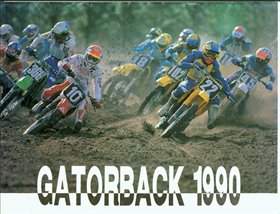 Guy Cooper
Man,
Guy Cooper
is one of my all-time favorite riders. Here he is holeshotting at Gatorback in 1989, then making the cover of the 1990 event program. Coop was pretty crazy. Remember when he broke his femur at that overseas SX when he tried to touch the banner that went across the finish line? He came back from that to win the 1990 AMA 125cc title and 16 125cc outdoor nationals before he retired. And one of the big injustices in the history of the sport is that Super Cooper never won a 250 SX Main Event.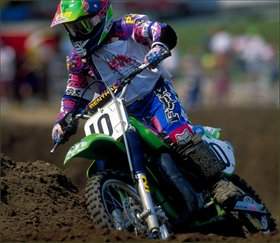 photo: DC
This is when people really began to look at
Ricky Carmichael
. We parked beside him this year (1992) and he showed up with his trailer almost burnt to the ground. All his new Fox gear was toast and his bikes were chargrilled. That's OK, Team Green and Hicks set him back up and he carried the ten to the 85 (12-13) stock title.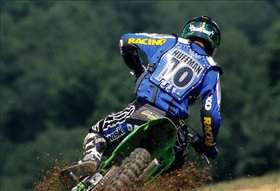 Damon Huffman
photo: Fran Kuhn
It's been ten years since
Damon Huffman
won the inaugural U.S. Open of Supercross. Pretty cool to look back and realize he was AMA national #10 two years before that—and he won the Atlanta SX that year over Jeremy McGrath!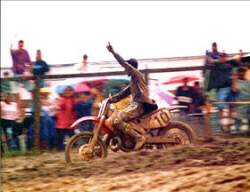 Damon Bradshaw
photo: DC
We turned this one over to Weege:
"High Point was Damon Bradshaw's track. After retiring suddenly in 1993, he made a comeback in 1995 and selected that race as his first race back. But post-retirement Bradshaw never found the pace that made him a world-beater as a teenager. His only moment of glory? It happened in 1997, at High Point, of course, when it was really muddy (which we could almost say "of course" to as well). Riding with national #10 on his Manchester/Factory Connection Honda (the forerunner to today's Sobe No Fear/Samsung Honda team) CR250R, Bradshaw slithered to third in the first moto behind Ryan Hughes and John Dowd. It was even muddier in moto two, and Dowd and Hughes struggled while Bradshaw got to second behind Larry Ward. It was raining really, really hard, but the High Point faithful had done some math and realized that if Bradshaw could pass Big Bird and win the moto, he could win the overall. So he went after Ward, and finally made a triumphant pass in the right-hander behind the starting gate, which was basically a lake. The fans were wet and muddy, but they exploded when Damon made the pass and took the win. I was one of those Bradshaw fans there that day, and somehow I managed to get to about six spots on the track each lap to cheer him on, even though the track is a mile long and every hillside was covered in mud. That's the kind of adrenaline a Bradshaw fan gets when he hasn't seen his guy win a race in four years! Bradshaw never delivered on his promise as a motocross racer, but that only made his win at High Point that much more special."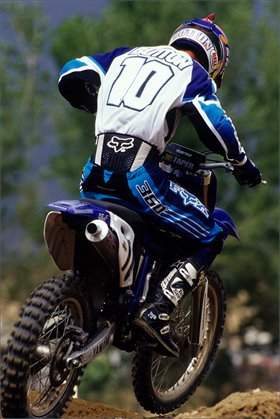 Jimmy Button
photo: Simon Cudby
Jimmy Button
was just beginning to peak when he was struck down in San Diego. It's pretty incredible how he fought back to an almost full recovery and remains working in the industry as an agent. Button is just a cool, cool, guy and always fun to hang with in any situation.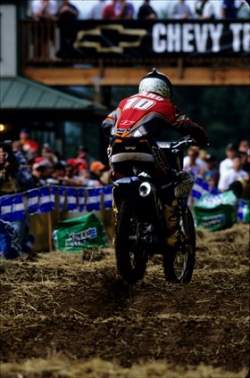 Larry Ward
photo: Hal Kennedy
2001 was a great, great year for
Larry Ward
. He was kind of over it at this point, but when Yamaha came out with that YZ250F he took one for a spin and realized he could ride the thing for 40 minutes with no arm pump. He pulled about a dozen holeshots this year and ended up winning the overall at
Red Bud
, making him the only rider in AMA Motocross history to win a national in three different decades: the '80s, the '90s and the '00s. He also became the first four-stroke rider to win a 125 National that day at
Red Bud
.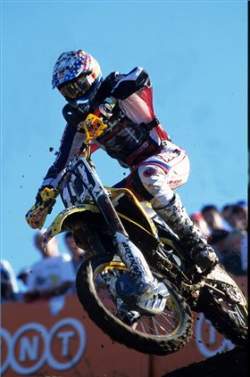 photo: Racer X Archives
I think people have forgotten how fast
Travis Pastrana
was on the race track. He was incredible on this day at the 2000 Motcross des Nations in St. Jean D'Angely, France, jumping over Stephane Roncada's head on that huge downhill. He could show up at a supercross right now and get a top ten or better. He's doing it the way he wants to though, and that has to be respected.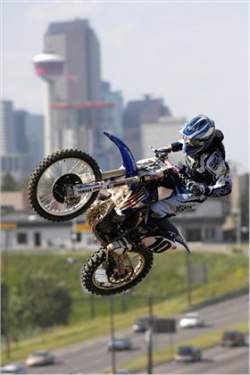 Colton Facciotti
photo: James Lissimore
This from
Racer X Canada
's Danny Brault:
"Who ran #10 in the Monster Energy Motocross Nationals this year? It was Team Toyota/ Yamaha/BlackfootDirect.com/Fox Racing's Colton Facciotti! "Lightning Bolt" Colt as some refer to him as, put in his best season yet in the nationals, winning his first overall and moto in the MX1 class at Regina and then nailing down second in the championship behind Paul Carpenter. Facciotti will be backed again by BF Yamaha in the 2008 Canadian Nationals."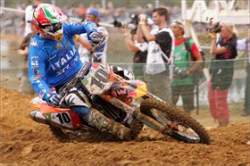 David Philippaerts
photo: John Clark
We have to throw some love across the seas to Italy's
David Philippaerts
at the 2007 MXoN. David rode well all day long and came in 7th overall in rider points, while Italy finished 4th overall.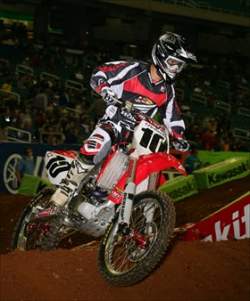 Ernesto Fonseca
photo: Simon Cudby
Jimmy Button gave me an
Ernesto Fonsecac
#10 sticker at the 2006 Detroit Supercross. I stuck it on my wallet and it's been there ever since to remind me of The Fonz. Ernie is still making some progress on his condition after his tragic practice crash last spring and was wearing his signature smile at the Rockstar U.S. Open last weekend hanging out. I had a picture of him there, but I wanted to run a shot of him racing because folks need to remember he was really, really fast. He still holds the record for winning the first five supercrosses of his career.
More #10 stuff:
Scott Wallenberg wrote in to remind us that Jimmy Ellis rode a #10 Can-Am in the 125 class in 1976 and Jim Pomeroy was #10 in the 1978 Trans-AMA series on a 500. Racer X Online manager, Jason Fleming, wrote in to tell me that #10 stands for, ahem, a half pack of cigarettes. David Brozik chimed in that the second most common socket you use on your bike is a 10mm, the 10-Commandments of Loretta Lynn's, and reminded me of my favorite album 10-thousand days.
DC added that Heikki Mikkola wore #10 when he won the 1972 Honda Hills Trans-AMA—the first pro race DC ever went to, apparently—and that Tim Hart wore #10 two years later. Chuck Sun wore #10 in 1981, and Alan King wore #10 in 1984 when he won the Hangtown AMA 250 National while riding for Team Tamm. And didn't Kurt Nicoll wear #10 at Roggenburg back in 1994?
10 is a huge number. E-mail me some of your 10s to andy@racerxill.com.