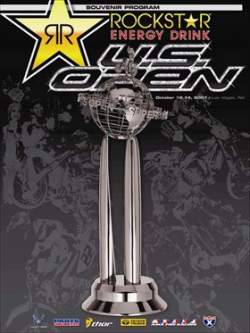 The official U.S. Open souvenir program.
The 10th Annual Rockstar Energy Drink U.S. Open is about to get underway this evening, with Monster Energy Kawasaki's
James Stewart
—who will be wearing the number #1 plate--looking to repeat. Although
Ricky Carmichael
won't be lined up, Stewart will have to fend off the challenges of Yamaha's
Grant Langston
and
Chad Reed
, along with his teammate
Tim Ferry
, among others. This year the race is boasting an all-new "run what you brung" format, pitting the top Lites riders against the premier class guys. If you didn't make it to Sin City, be sure to tune in to the Supercross Live!
webcast
featuring
Jim Holley
and
Jason Weigandt
tonight at 7:00 p.m. PST.
If you missed the stunning news of Carmichael's decision not to ride this race or the Paris-Bercy SX due to a developing illness,
check it out
. After a decade of being Superman—downright invincible—this is certainly not the way Carmichael wanted to go out. But he's done way more than enough for motocross and supercross, and it's nice to know that his last real race was a win at the MXoN at
Budds Creek
, his last AMA Toyota Motocross National at
Millville
was a win, and his last AMA Supercross at Orlando was as close to a win as one can ever get and not win…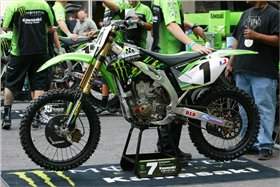 Now that's cool!
photo: Steve Bruhn
Which brings us to
James Stewart
: How cool is it that he stepped up right when RC had to step out? While the Stewart camp likely had no way of knowing what RC's situation was, he was quietly planning on coming back for the U.S. Open ever since his knee surgery turned out to be less complicated than everyone thought it was going to be. And he'll be debuting the #1 for the first time (unless you were at the KROC last week when he took a few laps around Englishtown with his Kawasaki teammate
Tim Ferry
). Wonder how the MGM Sports Book will set the odds now?
EJ
ran into
Roger DeCoster
this morning and he said "The Man" looked a little down. He said something to the effect of, "Our champ is really done," referring to everyone's realization that RC is not coming back to motocross. He also said it was touch-and-go that the team would show up with newcomer
Mike Alessi
, but #800 insisted on racing so he can get a baseline as to where they are as a team and he himself is as a 450 SX rider.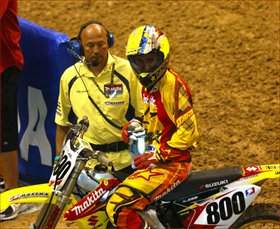 Mike and Mike.
photo: Steve Bruhn
This from
Weege
: One of the biggest questions centered around RC was where his long-time mechanic
Mike Gosselaar
would land. Rumor had it Mike was headed back to his old employer at Honda for an in-house job, but at the Motocross of Nations he made it clear that he is staying with Makita Suzuki and wrenching for
Mike Alessi
. They will make their race debut tonight at the U.S. Open. Goose said Suzuki made him a nice offer to stay, which he took as a great sign of respect for the job he has done with RC.
Every now and then, something really cool comes across my desk, like a reader sending along an old photo, or maybe an email from some moto legend I grew up worshipping. This afternoon, I got a mixture of both when
Scott Wallenberg
sent over a photo that he got off
Randy
from Pro-Vue, who had bought it off a kid that was at the race for $10.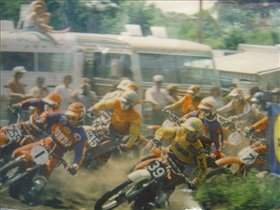 1976 Midlands, MI, AMA 125 National.
The photo is the start of the 1976 Midlands, MI, AMA 125 National, which took place on June 20 that year. That's #1
Marty Smith
and #39
Bob Hannah
, plus
Don "Killer" Kudalski
(255),
Bruce McDougal
(17),
Steve Wise
(14) and
Glen "Tex" Johnson
(56).
Scott also send it to Marty and Bob, then it worked it's way over to David Bailey, who sent along this note:
"Nice shot. I wanted to be like Marty Smith so bad in those days I even tried to walk like him with my feet slightly duck foot. I loved that whole Team Honda gig and wanted to look good out there with a bitchin' bike, but I was on a Bultaco with Griffs pants and a Cycle Barn jersey. Pretty dorky. The day I became a Honda factory rider, and wearing JT was almost as big a deal to me as winning a championship!"
How cool is that?!

There's also that really cool "Legends Rematch" race at the Rockstar U.S. Open between former U.S. Open winners Mike LaRocco, Jeff Emig and Damon Huffman this weekend. Who do you think is going to win? That's the question on this week's Troy Lee Designs Racer X Online Poll.
One more thing about RC: Did you see the piece about him in USA Today? The story talks about his illness forcing him to the sidelines, and check out this quote by Team Yamaha's Grant Langston about the GOAT. "Ricky made a lot of guys wish he'd never been born, or wish they had been born in a different decade. If Ricky had not come around, there would be a lot more wealthier and famous riders out there."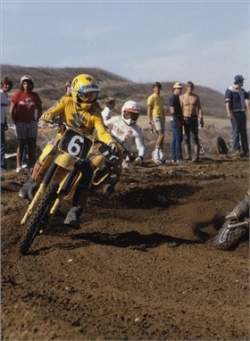 Get well soon, Ricky Ryan.
photo: Dick Miller Archives
Finally, my absolute best wishes go out to
Rick Ryan
, who apparently suffered a heart attack and underwent triple bypass surgery. Ryan, the privateer legend who won the '87 Daytona 250 SX in the mud—the last true privateer to win a 250 SX—and then lived a journeyman's existence racing all over the world, is just 41 years old. I've known him since the '83 Pittsburgh SX, which he showed up and raced amateur day, along with his fellow NorCal prospect
Rodney Smith
.
And a farewell to one of the all-time off-road legends, Bud Ekins, who was buried on Thursday. Mr. Ekins lived an extraordinary life around motorcycles, doing everything from racing on ISDTs with Steve McQueen to winning the Catalina Island Grand Prix. He has two huge places in the history books. First, he was the first American to score a GP motocross point back in 1952. According to Len Weed's History of Motocross, Ekins only entered the British GP after showing up for what he thought was an enduro race. But he entered the motocross race instead. It would be 20 more years before another American scored a GP point. If you can e-mail me and tell me who the second American to score a GP point was before midnight tonight, we will send you a Racer X T-shirt!
And then there's the other thing that Bud Ekins was most famous for: The Great Escape. Take two minutes this week and watch this weekend.

It was a HUGE moment in the growth of American motocross.
Rick Siemen, the legendary Super Hunky, offered this piece.

More bad news: A former top women's motocross rider passed away on Sunday, October 7: Carla Swing Nelson. She was 50 years old and a resident of Clark Mills, NY. She passed away unexpectedly on Sunday, October 7, 2007, at St. Elizabeth Medical Center, Utica, NY. Online memorial and guestbook available at www.heintzfuneral service.com.
Okay, right here is where I have to start my weekend at home. My wife Shannon is now four days past due with Baby #2, which means I better head back home to be there just in case things start happening. With that, I am turning the rest of this over to Bad Billy Ursic and the rest of the crew. Wish me (and especially Shannon) luck!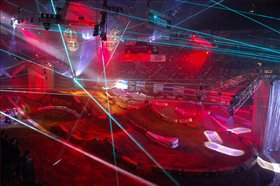 We're only a few hours away...
photo: Steve Bruhn
Okay, good luck, DC and Shannon. Bad Billy here, live from the MGM Grand. Nothing like being couped up in a hotel room working, eh? Well, I was able to come out a few days early and I got to participate in the Third Annual Hold 'Em or Fold 'Em Charity Poker Tournament last night, which is organized by the Road 2 Recovery Foundation. Unfortunately I didn't win the $10,000 seat into the 2008 World Series of Poker that was on the line. But I did get seated with poker sharks Jimmy Button and Team DNA/Butler Brothers MX's Jason Thomas who did a pretty good job shortening my chip stack. JT$ went on to finish fourth overall. As for the winner, I know his name is Jeff and he's a member of the Full Tilt Poker team. Congrats, Jeff.

This just in! Simon Cudby just sent me a few shots from practice inside the MGM Grand Garden Arena. Take a look:


Last week Racer X Publisher Scott Wallenberg was on hand for the Grand Opening of the Amsoil Sandbox Arena in New Richmond, Wisconsin. Located just a half hour away from the Minneapolis-St. Paul metro area, Sandbox is a mind blowing state-of-the-art MX facility that is the brainchild of local Minnesota MX rider Rob Murphy. Four years in the making, Rob has built his dream facility. Sandbox features a full-size motocross track and a pee-wee track with grandstands, snack bar, arcade, and a well stocked Pro-Shop run by Rob Jara of Bob's Cycle Supply.

Famous Minnesota MX photog Greg Wolfe was also on hand to capture the event and his photos can be viewed at his website.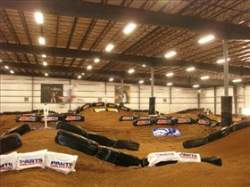 Sandbox Arena
photo: Scott Wallenberg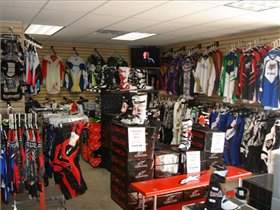 Bob's Cycle Shop
photo: Scott Wallenberg
For event schedules, maps and general info, visit www.sandboxarena.com.

Here's a little story from Matt Davis over at Throttle Jockey:

Starting at noon on October 6th some Throttle Jockeys traded in their throttles for pedals and embarked on 24 hours of pain. Robert Davis (TJ) was asked to participate in the first D.IN.O. (Do INdiana Offroad) Series 24-hour Mountain Bike Race last year by a friend, Matt Bolinger. Robert had this to say: "Last year was gnarly. It rained and was about 40 degrees at night. This year the weather was much better and my brother put together a team with some guy named Jeff Stanton." Matt Davis (TJ) added, "I was out of town last year so it was good to race the 24 hour for the first time. We can chalk this one up on the list of things we've accomplished. The first time we met Stanton was mountain biking so he was on the list to call when I was putting together the team. Both teams were loaded with motocross riders. Mountain biking has always been a natural crossover for motocross.

Congrats to both teams for surviving and turning in great results!

Team Throttle Jockey- 2nd place. 24hr/6 man
Matt Davis- Suckered everyone in to doing it.
Jeff Stanton- MX champ turned Jack Hanna.
John Kirchner- Indiana state Fox rep.
Dan Ball- North End Cycle. Elkhart, In.
Erik Tysklind- Pet Detective.
Brian Howell- The chain destroyer.

B.A.T. (Bolinger Adventure Team)- 3rd place. 24hr/5 man
Matt Bolinger- Master mind. A.K.A., Joe Dirt.
Robert Davis- The Rooster.
Jim Hintz- Dr. Hematology.
Kevin Kirchgesner- MC FRO
Shawn McGloklin- Back 2 Back laps.

We spotted this article on the main page of ESPN.com the other day. It's about Travis Pastrana's parachute-less skydiving stunt.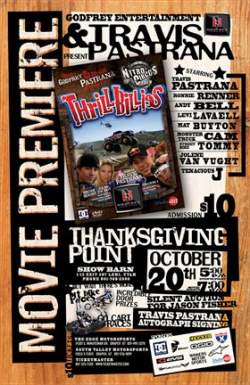 You're invited!
Speaking of Travis, he sent us this note:
"We are doing two main premiers for the new Thrillbillies video. It's far and away the best video we've ever made. I'm really excited about this one. I've attached a poster for the one just outside Salt Lake City, Utah on Sunday the 20th. That show starts at 7:00 p.m. but we will be racing go karts and pit bikes all afternoon. On the 21st we are having a premier in Maryland at the Annapolis mall. It starts at 7:00 p.m. as well, but we will show a sneak peak of the documentary (199 Lives) after we show Thrillbillies because I have a lot of family coming for that one. 199 Lives won't be released otherwise until after the Sundance Film Festival (the reason we made that film) in February. We have enough free swag to make it well worth the ten bucks. Theses are pre-releases, so judging from the reactions we will tweak the films one final time before they come out. See you in Vegas tomorrow."
Moving on, there's nothing like a little surgery video to brighten your day. Here's one of the Metal Mulisha's Brian Deegan going under the knife. Not for the squeamish.

Here's a cool video sent over by Rupert X.

For all of you who have been wondering when the 2007 Red Bull Motocross of Nations will be televised, we have some good news. We received a press release yesterday saying this:

Outdoor Channel, America's Leader in Outdoor TV, announced today its partnership with Federation Internationale de Motocyclisme (FIM) to telecast the 2007 Motocross of Nations on October 26th at 8:30 PM ET.

Mark your calendars, folks.

Let's turn it over to Jason "Blogandt" Weigandt:


This weekend's ITP Power Line Park GNCC is the next-to-last round of the Can-Am GNCC Series, and the long tour still hasn't found a clear-cut points leader. Red Bull KTM's
David Knight
had this thing tucked away a few races ago, but he has gone DNF-1-8 in the last three rounds, after his radiator busted while he was leading in Pennsylvania, and then he tried to race in North Carolina after racing the EnduroCross in Denver the night before. The ever-consistent
Barry Hawk
has kept Knight in reach, and now just 12 points separate the two with two rounds of racing to go. Basically, a win this weekend for either one will have huge ramifications in the title fight. Both riders need to perform now, because at the final round two weeks from now in Indiana, a whole slew of European riders are coming over and could spoil the party. World Enduro Championship veterans
Samuli Aro
and
Mika Ahola
will make their GNCC debuts at the event, and BMW is even bringing their 450 Enduro bike over, with the very capable Finn
Simi Kirssi
at the controls. If you want to see the Bimmer bike first hand, the only time you'll see it in the U.S. this year is at the GNCC in Indiana on October 27-28.
For more info on this weekend's Ohio race or the Indiana finale, hit up
www.gnccracing.com
And don't forget to check out the GNCC video clips that Matt Ware has been posting on
www.racerxfilms.com
.
Jeff Emig
was out at the Kawasaki SX test track this week preparing for this weekend's Championship re-match race at the U.S. Open.
Simon Cudby
went to shoot for Racer X Films and check on Fro's progress. Also at the track was Pro Circuit rider
Austin Stroupe
. "Stroupe-Dogg" was blazing-fast after only a few days of supercross riding. Both films can be seen at
www.racerxfilms.com
.
Now here's
David Pingree
: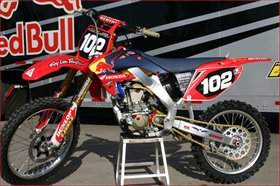 Lil' Goose's new ride.
photo: David Pingree
This is my first time trying to type something out since I broke myself up two weeks ago. With a cast on one hand, a brace on the other and a head full of Vicodin, believe me, it is a slow process. I'd get into a long-winded rant about the incompetent, doo-doo-for-brains track worker in Oregon that stole yet another title away from me by watering the dirt section like it was a rice paddy in Bangladesh… but I'm sure that will find its way into my next Electronic Ping column; so, for now, a little update from my neck of the woods. We'll start with mechanics…
Weege mentioned that Mike Gosselaar is staying at Suzuki with
Mike Alessi
but things are mixing up elsewhere.
Andrew Short
's longtime wrench and good friend
Chris Loschiavo
will not be with Shorty next year. Honda let Chris go just after
Glen Helen
and a replacement has not been named publicly.
Ivan Tedesco
will pick up
Tommy Hahn
's guy,
Frankie "fat kid" Latham
. Though, Frankie has lost so much weight this past year the nickname hardly fits anymore. Over at KTM,
Mike Alessi
's mechanic
Ed Longacre
is no longer with the team.
Jaime Ellis
will turn wrenches for
Nick Wey
and
Jay Burgess
will work with
Martin Davalos
. Also,
Tim Ferry
said yesterday at the press conference that his new mechanic will be
Dana Wiggins
.
I went by the Asterisk building this week and spoke with
Dave Castillo
. Dave runs the place but he also spends a couple days a week as a stuntman. He was the stunt double for the lead character in the smash-hit
Supercross: The Movie
and his latest work is coming from the new NBC series called
Chuck
. Dave resembles the tall lead actor and has already been thrown into a wall and smashed through a table. He is also getting work doing stunts on the new show
Carpoolers
. Good stuff, Casitos. He also found out him and his wife
Dove
(aka Windsong) are expecting their first child together.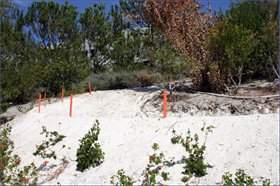 Oakley's MX track.
photo: David Pingree
I also went by the Oakley compound. I had to get a look at the motocross track they are building on their property and it looks pretty fun.
Marc Peters
built the course and they installed sprinklers around the entire thing. It has elevation change, sandy soil and views of Foothill Ranch. It also hasn't been ridden on yet. It will be interesting to see how much pull this company has since the people that will have to grant the permits (Irvine Company) are the same ones that shut down Saddleback Park years ago. After scoping the track I also got a tour of the company's facility. Wow. That was the most overwhelming tour I've had in a while. Thanks for showing me around,
Speedy
!
On my way home I stopped by the Troy Lee Designs race shop to clean out my locker. The mechanics were putting the finishing touches on their test bike that
Chris Gosselaar
will be racing this weekend at the U.S. Open. Goose has only been on the bike about three week but the crew says he looks really good. He has been riding with guys that won races last year and turning quicker times. I snapped a shot of Goose's bike just before they loaded up and headed up the 15 freeway.
KTM's newest rider,
Nick Wey
, has been figuring things out on his new ride at the test track. It took him a few rides to feel comfortable but he says he is really starting to like the bike.
"The motor was killer right away. It just took a little time to get the chassis set up the way I like it. I'm feeling better on it now. Some of it was probably just me being rusty too. I haven't ridden for most of the summer and I haven't ridden supercross since last May."

KTM also signed blazing fast amateur rider, Michael Hall. Michael loves the bikes and has told his trainer that he likes his stock practice bike more than his race bike from last year. Hall will be one of the top A riders at the amateur nationals this year. One more thing….

ESPN announced a new event they are putting on in a press conference this week. The ESPN Moto X World Championships are slated for the 12th and 13th of April at San Diego's Qualcomm Stadium. With the popularity of all the motocross disciplines in the X Games, the folks at ESPN wanted to create an event that showcases just the motorcyle events. It was also due in part to the fact that motorcycles were taken out of the Winter X Games completely last year. So, the Moto X World Championships will feature the world's best supercross, supermoto, freestyle and step-up riders on the planet with the title of world champion up for grabs to the winner of each discipline.

This is another great shot in the arm for our sport, as ESPN reaches folks that normally wouldn't watch our sports. But there is one major drawback; the 12th and 13th of April is the same weekend as the Detroit Supercross. That means that none of the top supercross riders will be there. In fact, the only riders that will be available are west coast lites riders and the arenacross crowd. Maybe McGrath will come back out of retirement? Either way, the guys at Live Nation are not happy. I don't know why ESPN wouldn't have scheduled their event on an off-weekend of the Live Nation promoted series. It sure doesn't seem good for any party involved, including the fans and riders. Still, the ESPN Moto X World Championships are sure to become a staple in the schedule of all top freestyle, supermoto, step-up and, scheduling permitting, supercross riders.

And last but not least, here's an update on the Dave Brozik
Scholarship Essay Contest which has been running on Racer X Online:


The votes are in for this week's David Brozik Scholarship contest. I took a long lunch since our Editor
Jeff Kocan
was in town from NYC for a rare visit, so voting went until 2:23 today. The good news: We have a winner!
Paul Freeman
had this week's fan-favorite essay. Great work Paul! Paul gets $25 of my hard-earned money from my karaoke show this week, not to mention, he now owns the second of four spots in the grand finale write-off.
Keep the good stuff coming in folks. Here are the elements for next week's contest - all
FIFTEEN
of them: sludge, cramp, NASA, Andre the Giant, Rubic's cube, espionage, no-handed-lander, muffler packing, shock, turkey leg,
Steve Stackable
, hitch, porkchop(s), Thailand, and platypus.
Again, 25 more greenbacks are on the line for next week's winner. Send your entry to
contest@racerxill.com
with the word "Essay" in the subject line.The deadline for next week's entries is 5:00 PM Tuesday. Voting will start on Wednesday. Now get typing!
If you were lazy this week and didn't check the website until now (shame!), click
here
to read this week's entries
Again, I'd like to thank
Racer X
, Pro-Action, Ogio, igotfumoney.com, Moto Tees, Cernic's, and DVS Shoes for their swag donations.
The December issue of Racer X Illustrated has just left the printer, but it can be read in its entirety right now by subscribers to our digital editions. This issue features coverage of the 2007 Motocross of Nations, a wrap-up of the 2007 AMA Toyota Motocross Championships, a great piece on privateer hero Gavin Gracyk, a Europe-USA comparison by English journalist Matt Allard, a feature on rookie Austin Stroupe, and an awesome photo feature on some of the world's top amateurs.

So if you're a digital subscriber, log on now to get your new issue. If not, get 12 issues for only $14.98 USD (no matter where you live) by subscribing to Racer X Digital Editions. If you want to test it out first, there's a free back-issue waiting there for you.
Well, practice is well underway and we have a great night of racing ahead of us. Again, be sure to tune in to the Live webcast on www.ussx.com. This race will also be broadcast on CBS Sports with a 90-minute television package Saturday, October 20, from 1:30-3:00 p.m. EST.
Thanks for reading Racerhead. See you at the races.


Endris has just been added to play Saturday night at the Ride for the Cure weekend at Cahuilla Creek. Most of the band rides and they're stoked on the event. Check out Endris online at www.myspace.com/endris.

Now here's a few photos from Englishtown's Annual Kawasaki Race of Champions.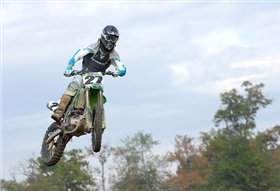 Keep an eye on South Carolina's P.J. Larsen
photo: Carl Stone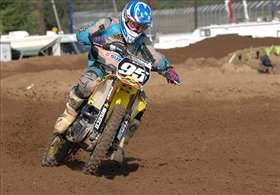 Cernic's Suzuki's Darryn Durham took some moto wins in the A classes.
photo: Carl Stone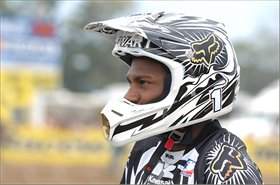 See you at the races!
photo: Carl Stone