Privateer Profile: Heath Voss
The last time Heath Voss launched his bike across a dropped starting gate was at the Summer X Games in Los Angeles on Saturday, August 4, 2007. When the evening's racing was complete, Voss loaded up, headed back to Texas, and took the rest of the summer off to (as he is about to tell you) rider supermoto, practice supercross, drive shifter karts and water-ski. Voss, 29, has been a professional supercross/motocross racer for over a decade now and, more than most, has seen and done a hell of a lot along the way. A longtime privateer, the journeyman racer has also done time in a factory big rig, racing for Team Yamaha before returning to the privateer ranks. As a full-on privateer riding a virtually stock Honda CRF450R, Voss had an excellent supercross series in 2007, placing ninth overall and running-up nine top 10 finishes. Choosing to sit out the AMA Nationals, Voss will make his return to racing at this weekend's Rockstar Energy Drink U.S. Open in Las Vegas. Today, Racer X spoke to the friendly Minnesotan-turned-Texan as he prepared to drive west to the big green MGM Grand Hotel and Casino.
Racer X: Heath, what are you up to today?
Heath Voss: I'm just getting my stuff loaded up to go to the race in Las Vegas.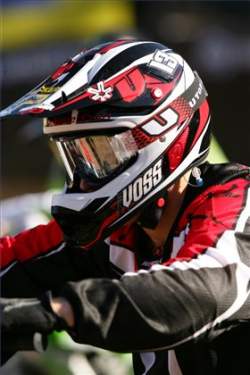 Heath Voss is looking forward to getting back to supercross racing.

photo: Paul Buckley

If I have it right, the U.S. Open will be your first race in a long time…
Yes, it'll be my first race since the Summer X Games.
What have you been up to since then?
I've been driving shifter karts a lot and practicing supermoto. I've been practicing to get ready for my first supermoto race that will take place on November 1 in Galveston, Texas. If I do well, I'll also do the Troy Lee supermoto race. Other than that, I've been riding supercross to get ready for this race and doing a lot of water-skiing.
You've been at this a long time now. Was it strange to be away from racing for so long?
Yeah, at the end of July, I was really disappointed I couldn't go racing. I just couldn't afford to drive all over the country to race motocross, though. It just doesn't pay enough. I mean it's going to cost me $1,200 in gas just to get to Vegas. With diesel at $3.00 a gallon, things get expensive quick.
Are you excited about the race?
I'm real excited. In fact, I've been keying on this race for a long time. I've done real well at the U.S. Open in the past. I've gotten fourth there and fifth a few times and it's always been a good payday for me. I'm also looking forward to the new format they're going to use, as I'll be able to get more time on the track. These types of races are a lot of fun and you can make good money. It's too bad there are not a whole lot of them
As far as the track goes, the U.S. Open is more arenacross than supercross. Are you okay with that?
Yeah, the track is like a bullring, but it's still a fun race to do. And in the past, with the old format, if you didn't make it through your heat race or make it happen the next time out, you were done. The new format has three heats, two semis and a Last Chance Qualifier. There's a lot more opportunity to overcome bad luck.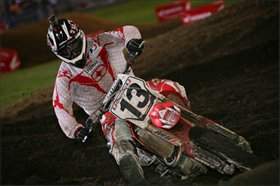 photo: Paul Buckley

What kind of equipment will you use at the U.S. Open?
I just got a new Honda CRF450R.
Has the bike had a lot of work done to it?
It has a Hinson clutch system, Mike Battista did the suspension, and I'll use a DR. D pipe. Right now, though, the motor is stock. I haven't had enough time on the bike to have motor work done.
Do you like the bike?
Oh yeah. It's great. It's incredible. The bike, even in production form and right out of the box, is ready to race supercross. The power of the bike is real aggressive — it's suited to more of a pro level rider. It has a lot of bottom end. If you crack the throttle, it really wants to go.
Do you know what you'll be doing for the 2008 season?
I'll be riding for the Synergy team that will be partnered with the Wonder Warthog team. I'll be in the front side of the truck. My sponsors are not completely finalized, but it looks real good that I'll have the U.S. Air Force, Cytomax and MasterCraft involved. The Air Force will be a great opportunity. They've treated me real good. In fact, I got to ride in an F-16 not too long ago.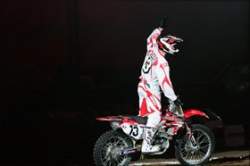 The U.S. Open is Voss's first race since the Summer X Games.

photo: Paul Buckley

How was that?
Oh man… I was depressed for three weeks afterwards because everything else in life is about 10 percent of what that experience was like.
Do you feel good about the U.S. Open and the approaching 2008 season?
Yeah, this time I took the summer off and I've gotten down to 182 pounds. I lost 13 pounds this summer. During my whole career in racing I usually weighed 195 or 200 pounds. I was real big. This summer I took a lot of weight off and feel as strong as ever. I also feel smarter now. I've ridden a lot of supercross this summer. There's something about practicing supercross that I enjoy. When I'm riding supercross I'll go around and around and get hooked on it. The most challenging thing on earth for man and machine to do is supercross. There's nothing like it. It's badass and I love it. I want to do it as long as I can. As long as I keep getting better and don't stop being good at it, I'll stay with it.
What are your goals for the U.S. Open and the 2008 AMA Supercross Series?
I want to be top five in the supercross series. I also want to get on the podium. I've never made it on the podium. I've been in a position to do to do it, but let it slip away with only two or three laps to go. So those are some of my goals for supercross. As far as the U.S. Open, I want to be in the top five. I mean sixth or seventh place would be okay, but anything less than that isn't much fun and isn't worth the amount of work you're putting into the sport. I don't want to give up. I want to keep working through it. When things are going good and you have a problem, it's easy to work through it. It's when things are going tough that it's harder to push through. But I feel good, I have a really good bike and I feel good about racing again.