Rev-Up: The Neverending Story
Hello, everyone, and welcome to the Rev Up. Where, oh where to start? Right now my compass is spinning faster than Captain Jack Sparrow's and I could take off at a sprint in any direction and write the Rev Up. I guess I'll just spray as much as I can and hope something hits.

The title of this week's column came to me as I sat back and listened to the goings on in the office, looked at the schedule and saw it was the annual Kawasaki Race of Champions at Englishtown, and the fact that I've got Talladega boldly staring me in the face. Then next week we have the Rockstar Energy Drink U.S. Open of Supercross and then the Branson amateur event. It just never stops, ladies and gentlemen. And, man, isn't it cool? I love it.

The world of motorsports truly is a never-ending story. Supermoto, freestyle, huge amateur nationals, Women's pro nationals, growing off-road series, mini bike nationals, endurocrosses…its all crazy, man. At the very least it's job security for us two-wheeled scribes. And there is absolutely no off-season anymore—at least not like there used to be. As you read, the boys have already parted with their '07 steeds and are all learning the cherry new stuff. Especially cats like Ivan Tedesco, Ben Townley, and the Alessi boys. (In fact, check out Jeff Alessi on his new Honda in this super-cool Simon Cudby film.)

In addition, AMA Congress is meeting this week to line everything out for Loretta Lynn's 2008. Also, Racer X Brand manager Mike Farber has been here at work at 7:30 a.m. all week making sure the 2008 Racer X, "dee-zhirtz are zweet." It just never stops coming and you have to have the juice if you don't want to eat dust. Well, I have the juice. I'm grateful that things have manifested into a never-ending story. Let's get Revved Up about all the cool stuff going on this weekend.
Englishtown is just an awesome race and it's been around for a long time. Hell, I think Barry Carsten's first race in the pro class there was on an air-cooled machine with drum brakes! Back before Yamahas were blue—and even before they were white, and maybe even yellow!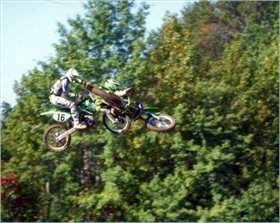 Dowd and RC at KROC back in the day.
Well, perhaps not, but all the same the dirt's been flying over there in New Jersey for a long time. Mickey Kessler used to haul there, and so did a slew of mega-quick Team Green riders who followed in his wake. Speaking of which, remember that
Crash & Burn
shot of Denny Stephenson making like an ostrich and burying his head in the old whoop section? Oh, I do! #360 on a KX125, blue MSR gear, full frontal upper torso flat with his arms still on the bars and his feet still on the pegs, with I think Chris Coleman riding by. It just HAD to have been shot by Thom Veety.
"The immaculate motocross face plant." That sticks out the most, and they always had that gargantuan mound of dirt that was some kind of triple step-up (and you're welcome for the old-school RC pancake shots, shot by DC back when he was still a roving
Cycle News
' reporter).
There will be some fast guys up there this time around.
PJ Larsen
is going up, and I would imagine Phillip Nicoletti on his new Kawasaki as well. James and Timmy will be there running a demo ride on the new KXs with the trick black rims. And you can bet your ass Barry Carsten will push up to the line.
Where's
Ryan Villopoto
, former KROC minicycle champion-turned-2-time AMA Lites MX Champion, turned MXoN world-beater? Hunting big game in Africa.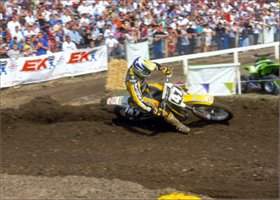 Barry Carsten is an Englishtown legend.
On another spectrum, how about the wild and wacky world of long distance jumping?
ESPN The Magazine
just ran an article on the ongoing power struggle between Ryan Capes, Trigger Gumm, and Robbie Maddison. While those guys were busy fighting over high-dollar shows, live TV, and who would get it first, some cat out in the desert taped it wide and hucked it three hundred and twenty one feet! You know, a little over ten years ago I had a pretty substantial wreck and at the time it was about as far as anybody had seen someone jump a dirtbike. Yeah, I wadded it up huge and ate cream of mushroom soup with a straw for eight weeks—and my jump was over 180 feet shorter than that nutbag's leap! I don't know if it's all the nuclear testing they did out there in the desert during the 1950s and '60s or if that guy lives under some heavy gauge power lines, or what, because that was crazy. Hell, just going as fast as he was on that sketch desert trail was enough to make me pucker. How far will the story of those guys go? It's been a never ending roll of measuring tape and you kind of just have to wonder how far they'll take it before…
I hope you guys have been enjoying this "off-season" because I guess I missed it. I've already turned the page to 2008 and am trying to be as ready as I can when the gate drops. You know, let that clutch out to where it just begins to catch and hold the front brake. Ya gotta watch that pin, not the gate, and be ready to unleash hell when it twitches. I'm already thinking about Anaheim. Tedesco and Townley on Red Bull Hondas? James Stewart defending the title belt with #1? Canard, Izzi, Stroupe, Keylon and Hahn riding supercross? Alessi and Vuilllemin on factory RM-Z450s!. Man, it is going to be good.
Before I go I want to ask how many of you watched
The Neverending Story
when you were a kid? We did countless times. From the Luck Dragon, to Altreyu, to the Rock Monster, I can remember every last detail. The moral of that story is that once the little boy stopped using his imagination, The Nothing emerged and began devouring everything in Fantasia until only a single grain of sand was left. Then, once he got in the game at the last minute it was up to him to recreate things the way they were using his imagination….
Where am I going with this? Just trying to make a point that if you put your mind to it you can make things as wonderful as you wish. Stay involved in the story and expand your spectrum of interest. There is so much out there if you only look around a little while. Do that and you will soon be enjoying a never ending story of your own. Or, just stay tuned to the sport of motocross because it's an amazing story that never, ever, stops.
Jason Hooper knows—that's why he's got a velvet painting of two white unicorns dancing around a giant rose…. .
Thanks for reading, see you next week.