Privateer Profile: Kyle Tobin
At 19 years of age, Kyle Tobin has quite a resume. After turning pro last year, he got an offer to race in Australia and spent five months away from his family and friends to pursue his dream. He is now back in the States and is focusing on the 2008 AMA Supercross Lites series, and he's entered to race the Rockstar Energy Drink U.S. Open next weekend. We gave Kyle a call today to get caught up for today's Sponsorhouse.com Privateer Profile.
Racer X: Kyle, welcome back to the United States!
Kyle Tobin: Yeah, thanks! I'm glad to be back. It feels so good to be home and riding with everybody and seeing the family. It's awesome.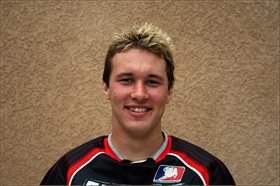 Kyle Tobin

photo: Brandon Thomas

So where do you call home?
I live in Climax, Georgia.
Is that where you were born and raised?
No, I was actually born in Massachusetts. And then went from there to Florida and lived there for five years, and then on to Southern Georgia.
When did motocross enter your life?
When I was about 9 years old. My dad would ride and we'd go down to a big gravel pit, and it just went from there.
When did you think that you could maybe make a living out of racing dirt bikes?
When I was in the 125 B and Schoolboy class I got sponsored by Suzuki, and Cole Gress helped me and gave me real good support. We then moved on to Hondas in the A and Pro Sport class, and after that I went into supercross with the Wonder Warthog program and Dana Kellstrom. And after that supercross season I went down to Australia and raced Suzukis again for the Cool Air Suzuki team.
How did the opportunity to go to Australia and race the nationals there come about?
It was pretty wild, actually. Just one of the people that I had known that lived here in the States was Australian, and he moved back to Australia. When I got back in touch with him almost a year later, he asked if I wanted to go race the Australian nationals, and I was like, "I don't know!" So I started thinking about it and got information on it, and before I even had too much time to think about it I was on a plane headed to Australia. It all happened within a couple weeks. It was good, though. It was a really awesome experience, and the racing was great.
How long were you there?
I was there from April till the end of August, so about five months.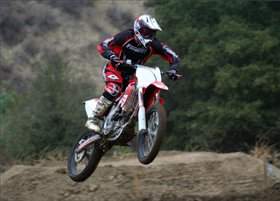 Kyle will be on a Wyvern Motorsports-backed Honda CRF250R at the Rockstar Energy Drink U.S. Open.

photo: Brandon Thomas

What team were you on?
It was Cool Air Racing, and it was a top-level Suzuki team. The guy was super nice and he gave us everything we needed. He put a lot of money into the team, and they all wanted me to go back and race again this year, but it's just too far. I'm not sure if I can see doing it again. If it was closer, it would be a pleasure to go back and race for them because it was an awesome team to race for.
Was it a lucrative deal for you financially?
Yeah, they had me on a salary and I was getting money at every race I went to, and I made pretty decent money when I was down there, so it was good.
Who did you stay with down there?
I stayed with my teammate, Troy Carroll. He's won twelve Australian National Championships. He's a great guy and I learned so much from him. Troy, the team owner and his wife are actually all coming to the U.S. Open, so I look forward to seeing them again.
I understand that you were also named the 2007 Australian Rider of the Year.
Yeah! That was really an honor to get that award, because it's the John L. Porter award, and he was a real good rider and he was well known throughout Australia, but he unfortunately had a fatal accident a few years back, and they named the award after him. So it was a real honor.
Let's back up a bit. Before going Down Under, you rode for the Wonder Warthog team in supercross. How did your season go?
It was good. Dana Kellstrom supported me a lot and I had an awesome time racing supercross. It was my first season out, so I had a lot to learn. I did fairly well. My top finish was a 13th in St. Louis, and I had a 16th in Daytona.
So for 2008 you're back here racing in the States full-time, and you're on the Wyvern Motorsports team, right?
As of now, yes. They picked me up to race the U.S. Open, but we'll see what happens after that.
So you're in for the U.S. Open. That has to be pretty cool.
I actually raced that event back on an 80 in 2002, but it'll be cool going there on a big bike racing against guys that I watched when I raced on an 80!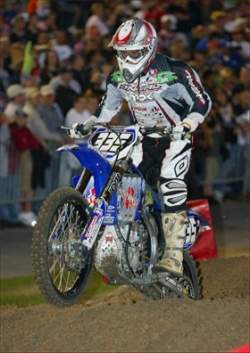 Kyle finished 16th in the Lites class at the Daytona Supercross.

photo: Steve Bruhn

Everyone is in one class this year.
Oh yeah, it'll be pretty intense. I'll be out there racing against Carmichael in his last race, so that'll be a cool experience.
Are you riding a 250F or 450F?
I'm going to ride the Honda 250F. I think you'll be able to go just as fast because it's so tight there. I think I'll be competitive on it. Maybe I'll just have to hook a first-gear start to get out of the gate better.
So are you in Georgia now?
No, I'm in California. I got here a few weeks before Glen Helen, and a week after that I started training for the U.S. Open and I've been here ever since.
Since your plans are still open for 2008; what class would you prefer racing?
I would much rather ride Lites, because I feel I'm a little better on that bike. I guess it depends what comes up.
What number you running at the U.S. Open?
I'm running #335.
Finally, who do you want to thank, Kyle?
I'd like to thank my parents, first of all. I'd also like to thank Dana Kellstrom and family, Larry Tobey, O'Neal, Scott, SixSixOne, EVS, Davey Kimmey at Engine Ice, and Brandon Thomas and my mechanic Vinyl at Wyvern Motorsports for getting me to the U.S. Open.