Number Cruncher: Odd Digits
Welcome to the Shift Number Cruncher. Numbers can be strange in motocross. It seems sometimes that as soon as we grow accustomed to a rider wearing a number he changes it or a big race pops up like the MXoN where they all have to wear a different digit. Well, at least the U.S. fans know what our guys will wear, ahem, #1, #2 and #3… but I digress. I'm still kind of in MXoN mode and when I sat down to put this week's cruncher together I remembered watching the event, sans program, and trying to figure out who was who based off their riding style. Quickly I noticed a guy riding with #4 on a Suzuki and I could tell from 400 meters away that it wasn't RC. Once he flew past I saw "Ramon" on the back of his Euro-tech jersey…. Then Tim Ferry passed by running the #3 and I remembered he had ran that number somewhere before… Then Tony Cairoli blasted by with #11 on a Yamaha and it reminded me of something else…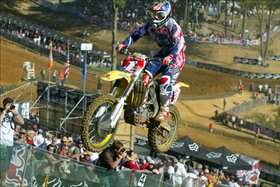 RC
photo: Steve Bruhn
I don't know why, but it always looked weird to me when
RC
raced with #1. He ran it a few times at Loretta's, then in the 1998 and 1999 AMA 125cc outdoor seasons, then became THE #4. He jumped back with the #1 for
Glen Helen
as he was jumping off the Honda's, then it was #1 again at GH last year (which ended badly. He also wore the #101 at the MXoN '05 that was soon shared by Ben Townley, David Knight, David Pingree,
Paul Carpenter
,
Tommy Searle
…
It just always looked weird to see the man with anything different than the stylized #4. Hell, he even races with #4 on his D.E.I. Late Model.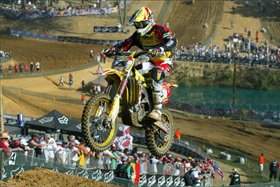 Steve Ramon
photo: Steve Bruhn
I don't know, but it almost seems like sacrilege to see a dude racing with #4 on a Suzuki in the same class as RC on American soil. But I have to admit I was impressed with this cat. He stepped it up when
Timmy Ferry
caught fire and even though "
Red Dog
" got him,
Steve Ramon
rode his ass off. He'll be mimicking RC again once the 2008 GP series fires up, riding with #1 on a RM-Z450. He's quiet and very cool-looking on the bike—like Windham.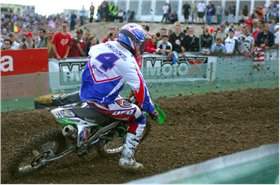 Sebastien Pourcel
photo: Steve Bruhn
Seeing Ramon reminded me of last year's MXoN when a rider was mimicking the original RC4…
Seb Pourcel
was #4 on a Kawi for Team France at last year's war of the worlds.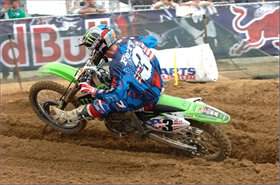 photo: Carl Stone
Timmy Ferry
riding with #3 on a Kawasaki brought back a lot of memories. I mean, Jeff Ward will always be the baddest #3 Kawasaki guy, but Emig won his SX title wearing #3 on a KX, and I think Mike Kiedrowski won an outdoor title with the hat-trick digit as well. And all of you hard core Ferry fans will remember this…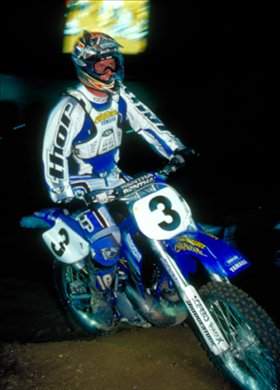 photo: Simon Cudby
This was a big race for
Timmy Ferry
, but sadly he was about the only one. It was a big race, but it took place in front of a very small crowd. All the same,
Red Dog
picked up the only premiere supercross class victory of his career at the 1999 Summercross. And how is this for weird. This is from Steve Matthes:
There was another time that Tim Ferry also wore the number 3 and just like the at the MXdN, he came away victorious. Let me set the stage for you, in 1999 when you thought of supercross, you thought of one man only, the King, Jeremy McGrath. Right smackdab in the middle of the outdoors there was a supercross in the L.A Coliseum and Jeremy McGrath was signed up for it. At the time Timmy had just gotten picked up after a strong SX season by none other then MC's own team, Mazda/Chaparral Yamaha. Backed by his ace wrench, me, we went to the Coliseum and because it wasn't an AMA race, everybody got assigned new numbers. MC was of course 1, Mike Craig was 2 and Ferry was given number 3. Now everybody knew that MC was going to run away with this, everybody that is except for Timmy Ferry. Also, please keep in mind that he had a horrendous crash in practice where I had to change the complete rear section of the bike, the shock and the clamps. When the gate dropped and MC started to check out, everybody pretty much figured it was over, everybody that is except for Timmy Ferry! Red Dog put on a charge and by lap 15 MC was tiring a bit and Red was catching him. Then the unthinkable happened: Jeremy, no doubt feeling the pressure, crashed and Timmy Ferry was in the lead. MC put on an incredible charge but came up short at the finish and Timmy Ferry won the 25K first-place prize. It was a glorious night and it happened when he wore the number 3.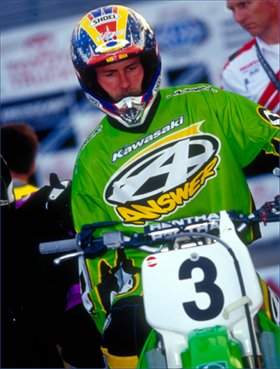 Larry Ward
photo: Simon Cudby
Just when I thought the well was dry on #3 KX guys, I found this rare shot of "Big Bird"
Larry Ward
running the combo at the 1999 Pasadena FIM World Supercross.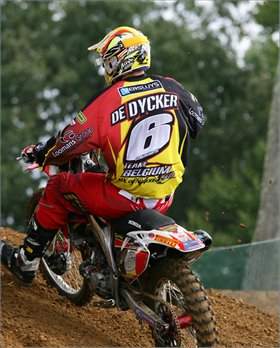 Ken De Dycker
photo: Simon Cudby
The guy that stuck out to me the most at the MXoN was
Ken De Dycker,
with his straight-back Euro riding style wearing number six. Dude was wicked fast though—if this Belgian ever came over for
Southwick
, he'd maybe be on the box—Ramon too. For some reason the odd-looking #6 reminded me of another odd looking #6…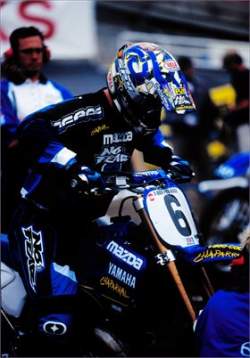 Jeremy McGrath
photo: Simon Cudby
Jeremy McGrath
wearing #6 – what? That just isn't right. This is this week's trivia: Name the race and what happened to McGrath in it.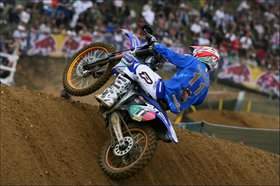 Antonio Cairoli
photo: Simon Cudby
I was so looking forward to watching MX2 World Champion
Antonio Cairoli
. I had been watching video clips of him throwing nac-nac's and just killing the comp all season and from what I saw on the clips he looked like he may have had a little something for RV Park…uh – nope. But seeing him on the #11 Yamaha did remind me of watching another rider look out of place with the number, but this cat won…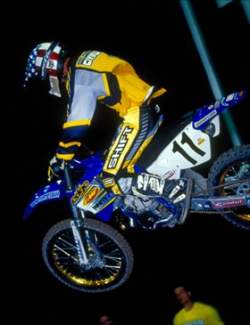 Jeff Emig
photo: Simon Cudby
What a big night this was. Factory Kawasaki #1 in 1998 to Strategic 3 Yamaha #11 in 1999 was the route
Jeff Emig
took to the $100,000 win at the U.S. Open of Supercross. The ten year anniversary of the event is coming up next weekend and it's shaping up to be a barn burner.
Alright guys, e-mail me some weird numbers you've seen and we'll through together a Redux. Next we're going to go back to the basics with a standard-style cruncher, but you can expect us to keep switching it up and keeping it interesting.