We are in the closing stages of what's been an epic summer for the AMA Toyota Motocross Championship. As I write this, there are four motos left, and four riders (on four different brands) are within ten points of one another for the AMA Motocross title. The Lites class, meanwhile, has featured a summer-long duel between
Ryan Villopoto
and Ben Townley that will also likely go to the last moto. The crowds are growing (except for the rain-soaked
Steel City
) and the move to Speed TV and expanded internet coverage have also helped raise awareness and prestige to new levels. So why are so many people whispering that the nationals are in trouble?
Motocross will always be harder than supercross, both for the riders and the fans. Supercross is comparatively easy, and it's awesome to behold. The races are shorter, the speeds are slower, and the spectators can see the whole thing from the comfort of the stadium stands, with adequate restrooms right down the concourse. Motocross, by its nature, needs to be held in a rural environment—we make lots of noise and dust—and since the facilities are only used for one big race a year, it's hard to invest in the permanent comforts of stadiums, which hold any number of football or baseball games throughout a year. I know the promoters are trying to make their facilities better, but it's not happening fast enough for some.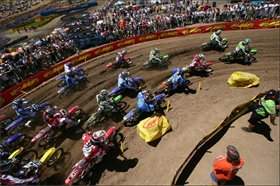 "Why not have a couple weeks off after the Vegas SX finale, do 5 or 6 nationals straight, then a weekend off, and finish up by mid-August?"
photo: Simon Cudby
There are other obstacles, like the growing emphasis on supercross by some teams and sponsors.
Chad Reed
makes enough from his main sponsor—an Indian casino in Southern California—that he admittedly would rather sit on his couch all summer than race the outdoor series. And veteran riders like
Kevin Windham
and maybe even
James Stewart
are considering going supercross-only to extend their careers and avoid the burnout that comes from following what's become a thirty-two-race schedule for many: eighteen SX races, twelve nationals, the U.S. Open, and the X Games (and then there's the Motocross of Nations and the Paris-Bercy SX and more one-off races). Besides, they make so much money now that they can afford to narrow down their performances.
It's time to make the nationals a little easier. Not the tracks, but the travel. Last month I wrote about possibly cutting the practices in half, but what about changing the schedule too? The sixteen-race AMA Supercross Series pretty much runs every weekend, trying to cram it all in from the first Saturday in January until the first one in May. That sounds like a lot of travel, but it's not as bad as you might think. Most of the guys and teams are based out of California, and almost half the races are within easy driving distance or a short plane ride: three in Anaheim, plus Phoenix, San Diego, San Francisco, and Las Vegas.
The nationals, on the other hand, are mostly in the East, which means a much longer journey (and rarely to a big city like Atlanta, St. Louis, Detroit, or Indianapolis). But it takes from mid-May until mid-September to get twelve races in, because there's a week off here, a week off there.… Sure, it allows guys to heal if they're injured, but it also stretches out training for a month longer than is necessary (it's not like everyone just relaxes on those weeks off). It's like the NFL giving teams a week off every month, rather than playing sixteen games in seventeen weeks—which is pretty much what supercross does too.
Why not have a couple weeks off after the Vegas SX finale, do five or six straight nationals, have a weekend off, and finish up by mid-August? It would give everyone an extra month of off-season and maybe cut down on the burnout factor we're hearing more and more riders speak of lately. Besides, it's hard to get a lot of families to come out for the weekend once school starts.
I'm not alone in thinking this is a good idea. At
Millville
I spoke to a couple of the most popular riders the sport has ever known—
Ricky Carmichael
and
Kevin Windham
—and they both brought this up. Maybe it's because they had a week off before that race, then a week off afterward. Ricky is done now and Kevin might be joining him soon, but both want to see the series continue to flourish. While it may cause some heartache with races moving off their traditional dates, everyone must realize that if we want to keep seeing the best of the best race AMA Toyota Motocross, we have to give them the best schedule we feasibly can.