Kawasaki/Racer X Race Report
September 30, 2007 11:45pm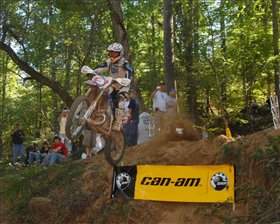 Charlie Mullins launched to his second GNCC win of the season.


Yadkinville
, NC
– After three tough races in the Can-Am Grand National Cross Country Series, Am-Pro Yamaha's Charlie Mullins roared back to score his second win of the season at the Elka Yadkin Valley Stomp GNCC. Mullins, of Hamilton, Ohio, battled hard early with FMF Suzuki's Jimmy Jarrett before pulling away at the halfway mark, while Parts Unlimited Moose Honda's Paul Whibley, of New Zealand, charged hard to finish second, and Am-Pro Yamaha's Barry Hawk, of Smithfield, Pennsylvania, finished third. Hawk overcame a possible broken nose to close back to within 12 points of series leader David Knight, who struggled to eighth after racing the Maxxis EnduroCross on Saturday night in
Denver
and then flying through the night to
North Carolina
.
Am-Pro Yamaha swept the event when 17-year-old Thad DuVall won the XC2 Lites class on his WR250F. Red Bull KTM's Justin Williamson was second over Monster Energy/Pro Circuit/FAR Kawasaki's Josh Weisenfels. Weisenfels led early before smashing his foot on a tree, allowing Williamson into the lead, but then DuVall put in an amazing last lap charge to pass both on the last lap and take the win.
Over 1180 racers competed over the weekend, run under perfect weather conditions with temperatures in the 80s. The tight track featured numerous spectator-friendly obstacles, including a creek jump, a creek crossing, and even a run through an abandoned house.
Mullins made almost all of it look easy. "I followed Jimmy for a few laps" said Mullins, who had grabbed the Racer X Holeshot. "I saw a line to get around him and then gapped the field as best as I could. The last lap I made a mistake off the creek jump, I jumped it and there was a lapper coming, and I hit him. I thought I threw the race away, and my front brake was done after that. Luckily I had a big enough lead. I'm happy to win after having some problems at the last few races."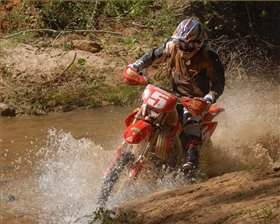 Paul Whibley used a rare good start to claim the second-place position.

Halfway through the race, Jarrett crashed and hurt his shoulder, pushing Whibley and Walpole Trucking/Action Kawasaki privateer Garrett Edmisten to the front of the pack. Hawk was struggling behind them after taking a massive rock to the face, and blood was dripping down the Yamaha veteran's face and chest as he tried to cling to positions. Whibley and Edmisten hooked up in a battle for second. Whibley won it, while Edmisten, fighting a bad suspension set up, eventually dropped his pace. On the last lap, Edmisten let Hawk around him for third. Edmisten took fourth ahead of FMF Suzuki's Glenn Kearney, running a sold race for fifth.
Whibley's second-place finish was his best result since winning the second round of the 2007 GNCC season back in March. For the first time in his GNCC career, he got a good start and used it to his advantage.
"After the start I was almost in shock, I was wondering what happened to everybody," said Whibley. "I got my best start ever. It helped me stay relaxed because I didn't need to take unnessary risks. The track was unbelievably tight, the first couple laps I was struggling with the 450, it was way too much power in the tight stuff. But I managed to settle down and started racing with Garrett and Barry."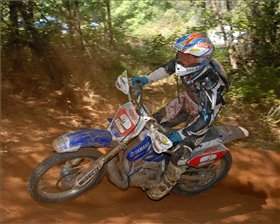 How tough is Barry Hawk? He took a rock to the face on the first lap and still finished third. Note that his chest and pants are covered in blood at this point.

Hawk had a rough day. "I had an okay start, I was with Whibley and Mullins. I turned the corner and when I looked up I saw a big rock right in front of my face. It was off Whibley's tire and it hit me in the face," said Hawk. "There was blood all over me, there's blood on my tank. I've never felt so much blood in my life, it felt like someone was pouring warm water onto my mouth. Finally, I felt it start to dry up on my lips, so I tried to keep the hammer down. I fell back to fourth, I got the two lap board, and I had to stop and get something to drink, I think I was losing so much blood that I must have been getting dehydrated. I never gave up and tried to keep charging. I'm happy to get up on the podium.
"Hawk made up points on Knight, who fell in the second turn of the race and never got to the front. "It was a waste of time," said Knight, no doubt frustrated with his result. "I was in last, and it was just so hard to pass. I crashed and pushed my clutch lever down, and I couldn't get it back up. Then I hurt my thumb, I think I dislocated it. It hurt, and then I hit it on the clutch lever to try to get it back up, and that made it worse. I couldn't pass anyone and get to the front because it was so tight. Just a waste of time really, the whole day didn't go well."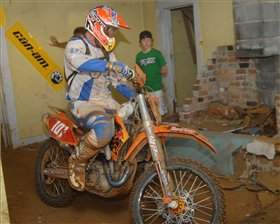 David Knight's long weekend included a trip through the infamous Yadkinville House.

Sixth went to
North Carolina
's own Jesse Robinson, who rode solid all day on his Monster Energy/Pro Circuit/FAR/Kawasaki. Then came Am-Pro Yamaha's Jason Raines, in his best ride yet since coming back from two years off with injuries.
"It took me forever to get going, I just don't have the confidence yet to really flow early on," said Raines. "But later, it all started coming back, I felt kind of like I used to, I was coming through and just picking guys off one by one. It's definitely better than the last two races."
In XC2, Powersport GrafX/KTM's Dustin Gibson grabbed the Thumpertalk.com Holeshot, but Weisenfels quickly took the lead. He looked like a winner until smashing his foot on a tree, and then the race unfolded, with Williamson leading on the last lap before getting caught by a flying DuVall.
"I've been down at Randy's (Hawkins) testing and training with Charlie Mullins, so I want to thank him," said DuVall. "Josh was riding really good on the first lap so I let him go, I passed J-Dub (Williamson) and next thing I knew I was laying down in a creek over a bank. Some guy helped me up over, and if it wasn't for him I wouldn't be up here right now. I thought the day was over, but I cruised for a couple of laps and stayed up there, so I thought maybe I could still do it. The last two laps, I've never rode so fast in my life. I really didn't think I could do it, but I got a pit board, and it said minus one minute, and then it said minus 45, so I figured if I was closing in that quick I better keep charging. The creek bed was my strongest point, so I just hit it wide open. I scared myself a few times, but that's what it took to get up there. I went right through the middle of the whoops wide-open and got around Justin."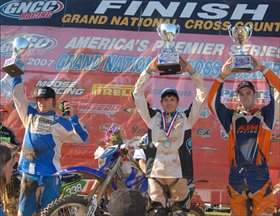 L-R Weisenfels, DuVall and Williamson on the XC2 podium.



"I wasn't on my groove like I was at Unadilla," said Williamson. "Midway I caught up to the guys ahead of me, I was slowly catching Weisenfels, and then I caught right up to him, he crashed, so I passed him pretty easy there. I swapped out in the creek section and about went off into the creek, but instead I hit a giant tree. I smashed the same foot Josh did. I just kept trucking, but Thad put on a great charge on that last lap, and I really didn't have much for him."
"I made good choices and everything felt pretty easy early on," said Weisenfels. "I caught up to Justin and he let me by. I hit a tree so hard, I thought my foot was broken for sure, but I had so much adrenaline I figured I would go to the end. But with two laps to go I couldn't put my foot down I hit it so hard I screamed. The whole metal part of my boot is gone. I would have liked to win, but it's hard to complain when you get a podium."
Pro motocross racer Zach Osborne made his GNCC debut racing in the XC2 Lites class on a Yamaha YZ250F, and the Virginia native performed well, notching sixth place.
The Can-Am Grand National Cross Country Series continues in two weeks with the Power Like Park GNCC in St. Clairsville, OH on October and 30.

Results:

Elka Yadkin Valley Stomp GNCC

Yadkinville, NC

September 30, 2007
Bike Overall

1. Charles Mullins

Hamilton

, OH

YAM

03:07:33

2. Paul Whibley

New Zealand

HON

03:08:15

3. Barry Hawk, Jr

Smithfield

, PA

YAM

03:09:16

4. Garrett Edmisten

Vero Beach

, FL

KAW

03:09:59

5. Glenn Kearney

Australia

SUZ

03:10:16

6. Jesse Robinson

Connellys Spg, NC

KAW

03:11:58

7. Jason Raines

Belfair, WA

YAM

03:12:24

8. David Knight

Isle of Man,

UK

KTM

03:12:56

9. Thaddeus Duvall

Williamstown, WV

YAM

03:13:43

10. Justin Williamson

Sanford, FL

`

KTM

03:14:12

11. Josh Weisenfels

Fort Smith

, AR

KAW

03:15:58

12. Jimmy Jarrett

Beloit

, OH

SUZ

03:17:41

13. Rodney Smith

Antioch

, CA

SUZ

03:18:29

14. Cory Buttrick

Logan, OH

KTM

03:19:18

15. Brian Guenther

Grove City

, PA

YAM

03:20:58

16. Anthony Roberts

Australia

,

HON

03:21:09

17. Scott Watkins

Leetonia, OH

KAW

03:21:35

18. Jason Gilleland

Vale, NC

KTM

03:22:06

19. Andrew Matusek

Fayetteville

, GA

KAW

03:22:39

20. Zach Osborne

Abingdon, VA

YAM

03:22:42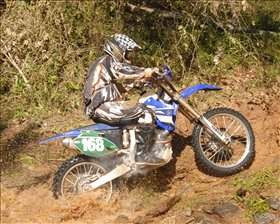 New Yamaha man Zach Osborne tried a GNCC and took sixth in XC2
Can-Am Grand National Cross Country Series Standings
(After 11 of 13 rounds)
1. David Knight 222/5 wins
2. Barry Hawk, Jr 210/2 wins
3. Charlie Mullins 196/2 wins
4. Garrett Edmisten 174
5. Glenn Kearney 164
6. Jimmy Jarrett 163
7. Paul Whibley 149/1 win
8. Joshua Strang 124
9. Jesse Robinson 123
10. Justin Williamson 100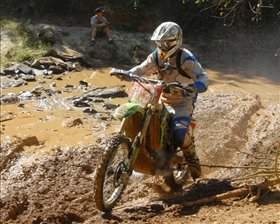 Garrett Edmisten continues to impress as a privateer.

XC2 Pro Lites
1. Justin Williamson (192/2 wins)
2. Scotty Watkins (180/1 win)
3. Rodney Smith (178/3 wins)
4. Josh Weisenfels (168)
5. Dustin Gibson (154/1 win)
6. Thad DuVall (150/2 wins)
7. John Barber (122)
8. Brian Lawson (116)
9. Wallace Palmer (93)
10. John Bennett (87)