If you're an American motocross fan, last weekend was epic. If you're a Grand Prix motocross fan, it was epic alright, but it was also humbling. You know the results, and you probably heard about the massive crowds and the general good time had at the 2007 Red Bull Motocross of Nations. In case you missed seeing some footage, here's the Racer X Motocross Show Wrap-Up on Motocross.com.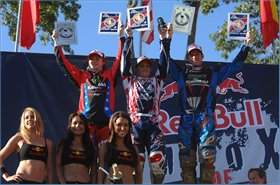 Mission accomplished.
photo: Carl Stone
We were on deadline for this magazine this week, so between the shows, the magazine and the website, I have pretty much exhausted all of my thoughts and opinions on the race. But then this morning, "
MXGeoff
"
Meyer
sent me a small list of questions for MXLarge.com. Rather than rehash it all, I figured I would just post his questions and my responses here.
1.) I can't remember a rider dominating an event like that, especially the MX des Nations. I mean, Ricky was awesome in France and Belgium, but can you remember anyone doing what Ryan did?
To say that Ryan Villopoto transcended the entire race would be an understatement. He was truly in a league of his own, and while we can make comparisons to Johnny O' in '86, or Lammy in '96, or even Tony Cairoli last year, the only thing that compares to this is what Danny "Magoo" Chandler did in '82, winning all four motos in the Motocross and Trophee des Nations. I think Villopoto felt slighted last year after some members of the press (ahem) gave Tony all the credit for winning the class in England, when it was RV who won the overall. He knew he had a chance to avenge himself on the biggest stage of all, and he took the opportunity.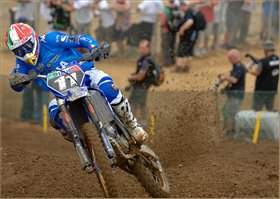 Tony Cairoli is much better than his MXoN result shows.
photo: Carl Stone
That said, I felt bad for Tony. He's so much better than the results show. He had a day like
RC
in '99, nothing more and nothing less. Same with
Townley
. But neither of them would have been able to stay with
Ryan Villopoto
at
Budds Creek
. It was just his day.... Like
Paul Malin
in Roggenburg '94, only even more so!
2.) For me it felt like crap, but how was it for an American—and an American that has followed this event for so long? This was a far bigger beating than in '96.
It was a great show, and a lot of fun, but I think at the end of the day the racing lacked on the whole. Everyone would have loved a battle like the last MXoN here back at Unadilla '87, where it went right down to the end. This was a foregone conclusion from the moment the practice times were posted on Saturday.
3.) Why did Team USA dominate so easily? It seems like your riders rise to the occasion better than anyone.
This one has a few ways to look at it: First of all, RC has no equal, and the closest guys that come to him on a motocross track -- Stefan Everts and James Stewart -- were there watching. RV has been at the top of the game since Millville, and he has something to prove. He also loves this track. And Tim Ferry knew there were doubters, so he wanted to come through as well -- and he did. Add in all of the fans, the Ricky's-last-race pressure of not being the teammate to let him down, and it's a perfect formula for success.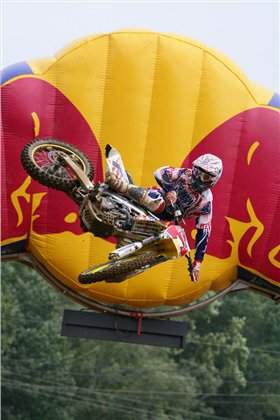 RC came through for Team USA.
photo: Simon Cudby
But every year, we Americans say things after the MXoN like, "Our guys had to travel halfway across the planet and have jet-lag," or "The track was different than what we ride," or "They were out of their comfort area." Well, all of that is true for the GP riders this time—they had to come across the ocean. I've seen Cairoli and
Ramon
and
Sebastien Pourcel
and all of those guys race in Europe, and they are just so much faster over there than they were here. AMA-based riders (including
Chad Reed
and
Grant Langston
) took 7 of the 9 podium spots over three motos—and Townley didn't ride and Ferry crashed off the start. The point is, the guys who live here excelled, and the guys who don't live here had their fair share of problems. That's what home court advantage is all about! Next year, our guys will likely be the ones out of rhythm.
4.) Would if be fair to say that Team USA is a lot more professional than the other teams? Your preparation always seems so full on. We laugh when we see all these Americans walking around with team colors on, but we were not laughing in Budds Creek.
Team USA has Roger DeCoster, the most successful and experienced rider AND manager in the history of the MXoN, at the helm. Plus he's got Scott Taylor -- the best fixer/planner/Swiss Army Knife in American motocross -- as assistant team manager. Roger worries about the riders; Scott worries about the infrastructure. Then you have Mitch Payton fully invested in this race. He puts as much into the race as he does an outdoor national or supercross, and his record speaks for itself in all forms of racing. Together, they all give the riders and mechanics all they could ask for, and what they don't bring to the table, a whole platoon of supporters do, like Kawasaki boss Mike Fisher, RC's close friend JH Leale, Bridgestone's Doug Schopinksy, Doc Bodnar and "Fast" Eddie Casillas of Asterisk, of course Bevo Forti of Scott USA, and just a bunch of other people who really get behind Team USA.... By the way, I haven't gotten one of those shirts in three years now!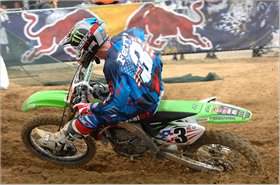 Ferry won the Open class! Have a question you'd like to ask Timmy? Well, check this out.

photo: Carl Stone

5.) From your experience, what is the difference from euro circuits and how Budds Creek was?
We dig the tracks deeper, the set-up is more technical, and the pace we ride -- something Tony Cairoli and Joel Smets both talked about this week -- is just wide-open from the get-go in American motocross. Sometimes that hurts us -- like when Stewart crashed in the first moto last year and got rattled -- but when it works -- think Villopoto -- it really works! I should mention that Budds Creek is one of the "most Euro" tracks we have. There aren't a lot of rhythm sections, and it's wide and fairly fast. But the preparation was key this time. A lot of Jonathan Beasley's fellow NPG promoters came in to help out, and they prepared the track like they do for a national, which was not the case at the actual national at Budds Creek in June! I think they got it right this time.
6.) Can the Euros come back in '08?
Of course the Euros can. Cairoli has 51 weeks to plan his vengeance, just as Villopoto did this year. Plus if Josh Coppins isn't hurt, Strijbos isn't hurt, Pourcel the younger isn't hurt, the Dutch show up, Cairoli doesn't get mind-@#%!ed because his bike got lost in a crate of parmesan cheese, there could just be a whole different outcome. I have watched you go on the boards this week and defend GP honor, but it's not necessary Geoff. Like you said, we dominated at Jerez in '96 and then got clobbered at Nismes '97! The MXoN is an incredibly intense and pressure-filled race, and this year the Americans came through in flying colors. I think we're the favorites again next year, but hey -- anything can happen. That's why we hold these races!


That's it. That's all I've got on the MXoN. But
Steve Matthes
and
Bill Ursic
offered a ton of words and colorful insight in this week's "Observations" for
Racer X Canada
. Check it
out
. He also has an exclusive picture of
Eric Geboers
. Man, I should've had him autograph this 1987 album!
And right here would be a good place to turn it over to
Carl Stone
, who shot many of the pics you see here…
In the months leading up to this years MXoN event the only thing that really worried me was that of the weather being cooperative. September can mean weather in the northeast sometimes brings cloudy, rainy days. I have been to a few races at Budds Creek in the rain and, for anyone else that has, know what a mess it is. The soil has like a mix of clay in it and when it gets wet it is like walking on oil.
But that was not to be the case and Mother Nature shined down upon as and gave us another spectacular day. Was it hot? Sure, but for September it could not have been any better. And what a crowd! I had to get to the track by 6 a.m. to be sure to get parked! It was insane! At 7 a.m. the Mototees truck had lines of people 10 across and 20 deep. They sold out of shirts Saturday and had more shipped in for Sunday which they sold out of! (If you didn't get a shirt and still want one, they are selling them online here (www.mototees.com).


I am almost embarrassed to admit it but this was my first MXoN race. As many races as I have attended, it was always near impossible for me to get off the time from my other job after traveling so much all year and make it overseas. I had heard so much about it and the fact it was like no other race, but after being at one, you really have no idea how exciting and different it is.
Each and every year when I go to the first outdoor race at Hangtown and when the gate drops and those 40 bikes rounds the corner wide open, I get goose bumps and a chill up my spine like I was seeing it live for the first time. Happens every year. The point to this is that this past Sunday, just before MX1/MX2, as I was walking down towards the first turn the announcers were talking about the event and then one of them said, "Welcome everyone to the Red Bull Motocross of Nations at Budds Creek!" That's when the crowd let out a roar like I have never heard at an outdoor event and as far as I could see it was a sea of people. Not an empty spot to be seen. And yes i got those goose bumps again. You really have to attend one of these event to appreciate the magnitude of it all; that was my first MXoN and I am not missing another one.

Yes, we won the event, but it was not easy by any means. Yes, Ryan Villopoto holeshotted and schooled everyone, but RC going down on the first lap putting him in last place sure made everyone nervous at first. RC really had to push hard to make sure he got up front for us to not lose too many points. But this is Ricky Carmichael we're talking about and was there ever a doubt he would podium? No, not really. How many times have we seen RC come way back in the pack and win? So RV wins easily and RC does what he had to do and comes in third behind Chad Reed.

Next is MX2/Open. Once again RV nails the holeshot and as the rest of the pack rounds the turn I see a bunch of bikes all get together and all go down in a pile. Much to my horror I see the # 3 Kawasaki on the ground! Now Ferry is in last place! By the time he got his bike up and restarted he was way behind the pack. RC did it but could Ferry? Well all I can say is Timmy dug deep and put in a spectacular ride. He rode the wheels off that bike into fourth place!
It was those two rides by RC and Ferry that for sure secured our taking home the trophy. Not saying that Villopoto's rides were not important—he was the absolute star of the day. What can you say about how he rode except "Wow!"

In MX1/Open RC took the holeshot and did what he always did after that: he checked out. As we all know, if and when RC ever loses a first moto he always comes back with a vengeance in the next moto. This race would be no different. Tim Ferry would come in a rock-solid second.

It was awesome to see how loved RC was by all the fans. Everytime RC would come around in both motos all the fans from all countries cheered him on. I thought that was pretty damn cool.
Thanks RC. We all are sure going to miss watching you ride.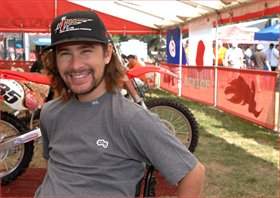 Ernesto Fonseca was at Budds in support of Team USA.
photo: Carl Stone
During the day in the pits, as I was walking past the Honda pits, I noticed a crowd standing around. I walked over to see what it was about and there he was—
Ernesto Fonseca
was under the tent! He looks great and has let his hair grow all out! People were all asking to take pictures with him and getting autographs. It was great to see. He remains one of the best people ever to get involved in motocross.
I have to say thanks to Red Bull for not only being such a big sponsor of this event but for the awesome after-party they hosted Sunday night. Everyone had a great time dancing and partying.
The DJ did an outstanding job. Too bad it ended so early! And yes the Euros sure do love their techno music!
No way I was driving back to the hotel after that party and lucky for me I hitched a ride with
Moto magazine
photographer
Paul Bliss
. So the next morning I have to go back to the track to pick up my car. I drove over to the pits where most of the big rigs were still parked and as I was saying my goodbyes to everyone, I see
Mike Gosselaar
putting on riding gear. I said "What the heck are you doing"? He laughed, "I am going to do something I have not done in two years! This will be my last chance to ride RC's bike outdoors."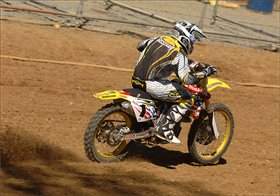 RC? Nope, that's Mike Gosselaar!
photo: Carl Stone
I told Goose I would gladly take some pics of him riding but he said, "No, don't do that cause my riding style really sucks." I was like, Okay, but without him knowing I did it anyways! I am sure he will appreciate it in the future! Sorry Mike, but I think you look good!
Now in the "What was he thinking?" category, I place aspiring filmmaker, part-time photo guy, and all-time live-life-to-the-fullest adventurer
Rich Van Every
. Rich is a great guy and I consider him a friend, but when it came race time and he came walking over and was wearing a red Jumpsuit with the sleeves cut off and it un-zipped halfway down. Couple that with a
Bruce Springsteen
red, white and blue headband and you have.... Well I really dunno exactly what! Not that I am a fashion template for anyone but....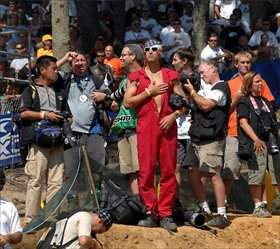 What was Rich Van Every thinking?
photo: Carl Stone
I said to RVE, What the hell are you wearing? He just laughed and said he didn't know what to call it! So all day I tried to think of that he looked like, and the best I could come up with was a Men at Work band look-a-like contestant or someone out of a bad '80s MTV video. He agreed and we had some good laughs about it.
But after the press conference James Stewart I think nailed it best. As James was walking by us he looked over at Rich and just smiled and shook his head and said, "What are you supposed to be, some kind of superhero?" That was it! Well said, James.

All in all I had an incredible time at the races and it was great getting to meet all the Euro photographers, Aussies and New Zealanders, riders and people that usually post on Mototalk. We all talk shit on each other in there but when we met it was all good and it was good to say hello to them all in person finally. Now we can get back to the shit-talking! That's three in a row for the USA!

Also thanks to Mario Marini for all his hard work with all the media stuff he had to take care of. He worked his ass off and everything went smoothly, I think.

Lastly, a big thank you to Monster Team USA and all that were involved in helping us take home the MXON trophy for one more year. Can't wait to go to Ireland!
Andy Bowyer added this: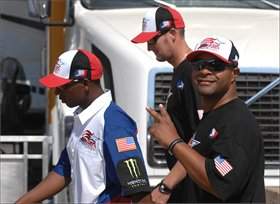 James Stewart came to Maryland to support Team USA.
photo: Carl Stone
After the race last weekend at
Budds Creek
there was a gathering around
Ricky Carmichael
's motor coach mostly consisting of family and friends. Joining the group were most of Ricky's former team managers and long-time sponsors like
John Fox
of
Fox Racing
, J.H. Leale, Mitch Payton, and many others. It was one of the first times that we've seen his new twins (
Kadin
and
Elise
) out in the public eye. They are completely identical and absolutely adorable with beaming blue eyes. Most of his immediate peers, including
James Stewart
, stopped by to extend their gratitude for all of the years of racing, traveling, and good times.
One of the coolest things I saw was Mitch,
Jeannie
, and
Big Rick
writing out a hand written contract for Kadin to race for the Monster Energy Pro Circuit team in 2025. Written in long hand on a yellow piece of what looked to be Big Chief notepad was the following legal agreement, "If you got the dough, we know how to GO!"
We've been getting tons of e-mails asking when the the FIM Motocross of Nations will be on TV. Well, we've heard that it'll be on the Outdoor Channel will be on Friday, Oct. 26, 2007 at 8:30 p.m. EST
And check out Loretta Lynn's on TV this weekend! The AMA/Air Nautiques Amateur Nationals air with a one-hour show starting Sunday, September 30th, at 4 p.m. on Versus. It repeats Wednesday, October 3rd at 3 pm, and Thursday October 4th at 4 pm. Now that you know
Stroupe
,
Izzi
and
Canard
have arrived, see how they got there with exclusive in-depth profiles and interviews with all three—as well as future superstar
Adam Cianciarulo
, Women's Champion
Tarah Gieger
and all-time LL's champ
Kevin Walker
.
Here's some MXoN stuff from
Jason Weigandt
:
There was almost as much competition off the track than on at the MXoN last weekend. From the Red Bull/Monster bout to the Thor/Fox power struggle to the AMA/FIM phallic contest, there was just a lot of match ups. Who won in the end? Everybody! The after-race parties were simply epic. And never mind the fact that the energy drink companies keep raising the ante in the hot-chick-representatives poker match, of which there really are no losers.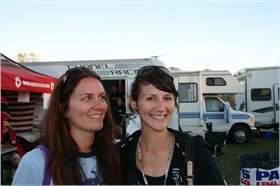 Sarah Whitmore met her number one fan!
photo: David Brozik
If you were sly enough you could pull a pass for the Monster party and share drinks and dance moves with Langston, Reed, and the Monster posse, then if you did your homework during the afternoon you got your hands on a blue armband for the extravagant Red Bull shin dig. And laying right in the middle of the two was the
Fox Racing
set up where they served gigantic BBQ ribs, fried chicken, and mashed potatoes.
So the cunning-post race partier could make his way from one end of the pits to the other. The procedure should have gone like this:
1. Start at team Suzuki and snap a picture of what could have been RC's last dirty number plate.
2. Enter Monster party and schmooze with the Monster clan, perhaps getting a wink or two from
Leticia
(making
Rupert X. Pellett
doesn't blow a spark plug because you're messing with his future ex-wife).
3. Stop by RC's motorhome and stare through the chicken wire fence with your best sad puppy dog eyes in hopes his body guard, JH, will throw you a sympathy beer over.
4. Run over to the Fox buffet and refuel on fried chicken and water down a little. Stand in awe of the 87 or so
Fox Racing
sales representatives also licking their greasy fingers.
5. Make stop at air-conditioned port-a-john.
6. Roll your neck and get ready to finish yourself off at the Red Bull tent where those mega hot chicks in the black Red Bull outfits with the suspenders eagerly await to pour Red Bull and Vodka down your gullet.
7. Look for drunken New Zealanders, Australians, South Africans and Pro Circuit personnel staggering in after leaving the everyone-does-shots after-party at the Thor/Parts Unlimited tent.
One thing is for sure: all of this inter-industry fighting sure has created a good time for the fans.
Okay, please check out the interview over at
www.mxsports.com
with
Renee Keylon
. Motocross has been quite the amazing cycle for the Keylon family. Husband
Kenny
won the 1982 St. Petersburg Outdoor National wearing #41. Renee and Kenny began dating shortly after at the 1982 Atlanta Supercross and they have been together ever since. She carried Kenny's jersey to the stands for good luck to watch son,
Kyle
race his way to 3rd in the Motocross A/Pro Sport at Loretta Lynn's. He and his brother
Kory
raced with #41. This year they will travel to Atlanta to watch Kyle's first pro supercross.
Jordan Burns
of Strung Out dropped us a note to let everyone know the band played Tallahassee on Tuesday night and had an exceptional turnout of motocross people on hand, which included
Ricky Carmichael
,
James Stewart
and
Jessica Patterson
! Jordan said that RC and
Bubba
were mixing it up in the pit—how cool does that sound?!
The Rockstar Energy Drink U.S. Open is quickly approaching, along with the Road 2 Recovery Hold 'Em or Fold 'Em Poker Tournament, which kicks off the Thursday prior to the race. In addition to the $10,000 World Series of Poker seat up for grabs, they also have a cash purse for the top 10 finishers. Here's how it'll break down:
Buy in: $300
Payout
1st: $10,000 WSOP Seat + Celebrity Suite
2nd: $2500 + $200 dinner comp from MGM Grand
3rd: $2,000
4th: $1,500
5th: $1,000
6th: $800
7th: $700
8th: $600
9th: $500
10th: $400
Other non-cash prizes will be awarded to 11th place and below. For more information or to register, visit
www.road2recovery.com
.
So where was
Travis Pastrana
this weekend? It sure seemed like Puerto Rico could use him. But Pastrana ended up racing rally cars, finishing second in a U.S. national to Subaru teammate
Ken Block
. Then he decided to go do a little skydiving for the next Nitro Circus, dubbed "
Thrillbillies
!" Pastrana jumped out of an airplane at 15,000 feet
WITH NO PARACHUTE
! He was "caught" by a couple of other jumpers. So that's how
Johnny Utah
did it in
Point Break
! From what we're hearing,
Thrillbillies
is going to be insane.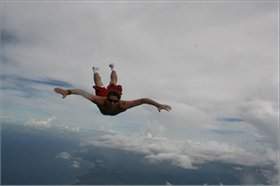 What is he going to think of next?
photo: Bill Hasley
Here's a quick Happy Birthday shoutout to
David Schmidt
with Schmidt Performance!
Quote of the week, from Mechanix Wear's "
Jean-Michel" Caper
:
"
Simon Cudby
, You just flew back from MXoN in your Boeing 777, you're sorting photos on your Apple iBook, you just got 16th overall at
Glen Helen
in Fox gear, you get home and you find your new signature laundry baskets by Smooth Industries…..It – just – doesn't – get- any- better- than- that!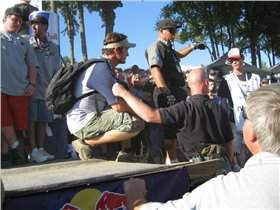 DC gets booted from the podium.

photo: Jake Klingensmith

Jake Klingensmith
snapped this photo of me getting pulled off of the podium after being given the okay to go do our post-race interviews with Team USA. I'm sure the Maryland State Trooper was just doing his job, but I was wearing the same credential he was, I was carrying a microphone, I had uber-cameraman
Wes Williams
with me, and the explicit permission of
Guido Becchis
, which is like having my Loretta Lynn's permission at Loretta Lynn's Ranch. Anyway, I'm glad I didn't go all
Tyler Evans
-in-the-LCQ on the guy, because Jake was watching!
Brent Trammell
saw the whole thing too, and wrote: "It was definitely a little nutty down there! After you guys left, the police were in a hurry to get out of there as well. We had a pretty good laugh as one of the Belgian mechanic's 'forgot' their rider's bike. We were pushing the bike back to the pit area when he came flying back down the hill to retrieve the lost ride. Imagine if Goose had 'forgotten' RC's bike!"
Here's a note from
Brandon Thomas
at Wyvern Motosports: "We will be attending the 2007 Rockstar U.S. Open October 12th and 13th. We will be there supporting our riders
Cole Siebler
,
Leighton Lillie
,
Joe Oehlhof
and newest Wyvern lites rider
Kyle Tobin
. We expect Wyvern riders to do very well at the U.S. Open and we are looking forward to a successful 2008 Supercross season. Everyone has been working very hard in the off season and is expecting great results!
www.wyvernmotosports.com
From
Ping
If you are in the Denver area this weekend be sure to get to the opening round of the Endurocross series. The race that has become such a hit in Las Vegas has been turned into a series and has a pretty impressive list of riders already signed up to compete. With $40,000 up for grabs the racing should be intense. Go to
www.endurocross.com
for details and tickets.
Also, the AMA Supermoto series is rolling into Redmond, Oregon this Saturday.
Jeff Ward
and
Mark Burkhart
will continue their fight for the Supermoto title in the 450 class as the two are tied at 133 points each going into this weekend's event. Teams are already setting up in the Deschutes County Fairgrounds and Expo center and the word is that the track is incredible. There is a large dirt section inside a covered arena so spectators will be able to see everything from the comfort of the shade. Go to
www.amasupermoto.com
to get the race times and directions to this weekends event.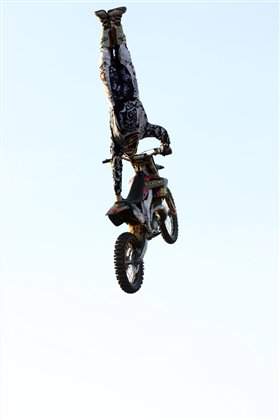 FMX demo
photo: Ping
The
Chris Ackerman
poker tournament was last Friday and a big crowd showed up to support the injured rider. The Metal Mulisha joined forces with the Riders-4-Christ crew to do a freestyle demo in the parking lot. It sounded like an odd pairing at first and even the Mulisha general got on the mic and said that "The Mulisha has gone good." Either way, the freestyle show was impressive, the auction was a success and although I never heard who won the poker tournament that went late into the evening I'm guessing they raised a good amount of money for a great cause. On a side note, I have never seen so many people in one place wearing black tee shirts, flat-billed hats and Dickies. It was impressive…And a little scary.
Lastly, and I apologize for the rant here, but if you don't like to hear excuses you better not read anything from the MXoN last weekend. The track was too, um, soft and bumpy and filled with too many lines and not enough dust, apparently. And some of the Italians' bikes were late getting through customs due to having too much cheese to go with the whining they had planned. And the Pro Circuit bikes are unfair because they are so fast. And Villopoto knows the track because he rides there so much—who knew Poulsbo, WA, was in Washington D.C., not state? Well Geoff Meyer and the rest of them can just check the scoreboard one more time and leave it alone. Do you know how many times our guys have gone over to their neck of the woods and come up with the same result? Let me help: 18 times since 1981.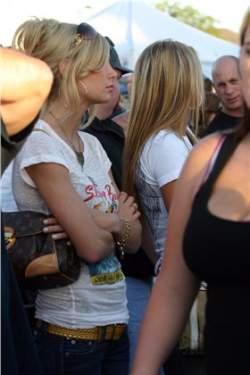 Pretty girls
photo: Unknown
Shouldn't we just be able to do it once without traveling so far?
I'm so sorry that food is readily available at all times of the day here in the U.S. and our portions are more than what is necessary. Look, the bottom line here is that the United States produces the best riders in the world, and lots of them, and has done so for quite some time. Sure, Everts was unreal but he was always teamed with quirky little guys with no shoulders thin mustaches and names like
Bing Bon Van Schmoorgasboorgen
that melt down mentally when the track isn't made entirely of beach sand.
Other than a few trip-ups, flukes and mud races—and the dreaded Roggenburg '94 race, damn you Paul Malin!—we have owned the motocross world since 1981 when our long-haired team of hippies came over and took that trophy for the first time. Good job Tim, Ryan and Ricky. You guys made us all proud.
PING
Great news from Team USA '05:
Kevin Windham Jr
. was born to
Kevin
and
Dottie
Windham this week! He weighed a little over 8 lbs.
www.ayearinmx.com
's
David Bulmer
is spending his last day in the parking lot of
Racer X
and will be heading to Texas shortly to sell his RV before flying back to England. It's been fun, David, and we wish you a safe trip home.
From
Stephan LeGrand
(spelled right both times!) Team USA was by far the best team at
Budds Creek
but… France did finish second for a reason! Here is a
best of
the
French team
.
Here is
Racer X Canada
's
James Lissimore
's
MXoN slideshow
. It's very cool.
The Can-Am GNCC series heads to North Carolina this weekend. For more information, check out
www.gnccracing.com
.
Here's a note from Ogio's
Dave Crapo
:
As many of you know our industry friend
Jason Fischer
(OGIO Team Manager) was hurt while riding at our freestyle compound about a mile from Ogio. After being in a coma for a day short of 2 weeks, he regained consciousness. It has been almost a month and he has been moved into a rehabilitation center.
Currently, he is able to speak, learning to write, able to read, and walking with assistance. It sounds like it is going to be a long road to recovery but he is making leaps and bounds daily. He was able to eat for the first time yesterday. He is able to recognize everyone and interact with all of us. His long term memory seams to be coming back extremely well, but short term has been affected a little. Over time that will improve. He needs financial assistance for expenses associated with the accident, etc. Hope that answers some of your questions and thanks again for all your help! He is able to talk on the phone so I can get you the number.
Here is the info for the donations:
Jason Fischer Recovery Fund

23623 N Scottsdale Road Suite D-3420
Scottsdale, AZ 85255

Finally, Racer X Publisher
Scott Wallenberg
opened up the Business Section of the Idaho Statesman and saw this front page story on a new Motocross shop. How cool is that!
In other Idaho Motocross News… The Idaho Vintage MX Club will be hosting a National Caliber Vintage Motocross race on March 30, 2008, at the famous OMC track that hosted an Inter-Am back in the day. Look for a press release with more details in Breaking News soon. Companies interested in being a part of this prestigious event can contact Scott Wallenberg via e-mail at scottw@racerxill.com
Okay, West Virginia University plays football tonight. I should have been drinking in a parking lot somewhere hours ago. All ribbing aside, here's a special thanks to the motocross nations of the world for coming to America this time and participating in the Red Bull Motocross of Nations. Our fans were awesome, your fans were awesome, and it was just a fun weekend. Congratulations, Mr. Beasley—you did it! Thanks for reading Racerhead; see you in Northern Ireland.

We'll end with a brief MXoN photo gallery by aspiring photographer, Dave Brozik, who is also hosting his own essay contest.