Bench Racing Ammo: The Other Guys
September 27, 2007 1:06pm
If you attended the FIM Red Bull Motocross of Nations this past weekend, you can probably agree that Team USA's amazing performance sort of overshadowed everything else—particularly the runaway wins for MX2 rider Ryan Villopoto. So for today's Motosport Outlet Bench Racing Ammo, we've decided to look back Steve Matthes-style with some of our own "observations" from the MXoN.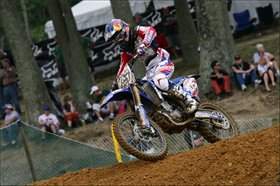 Puerto Rico's Tarah Gieger
One of the biggest stories of the weekend involved this event marking the first time in Motocross of Nations history where a female was entered as a rider. We all know that female was Tarah Gieger, who was Team
Puerto Rico
's MX2 entry. She was teamed up with Gino Aponte (MX1) and Cesar Santiago (Open). Unfortunately, Team Puerto Rico failed to make the cut for the main event, but it wasn't for a lack of trying. In fact, Tarah, who was riding a Red Bull/Cernic's Yamaha, had the 27th fastest time in the MX2 free practice, and she finished 18th in the B Final, topping both of her teammates!
Speaking of the B Final, did you realize that it was dominated by Ecuador's MX2 entry, Martin Davalos? The Red Bull KTM rider, who is a fixture on the American motocross scene in the Lites class, crossed the finish line 59 seconds ahead of Brazil's Antonio Balbi, another rider who has been racing in the U.S. for the past two seasons. In addition to those two, another rider you may recognize in the B Final was Mexico's Erick Vallejo, who came across the line in eighth.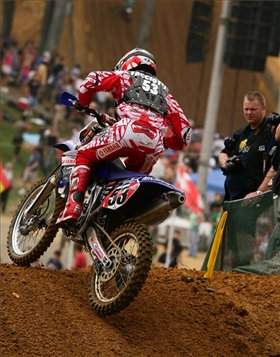 Canada's Colton Facciotti
And let's give props to Team
Canada
, who finished 10th overall, just one point out of ninth. Their best-ever finish at MXdN was an eighth at Lierop in 2004. Tenth doesn't sound like the most impressive result, but the team's long-time unofficial captain, Blair Morgan, wasn't able to bail the team out this year. He badly twisted his ankle in Saturday practice, crashed in the first moto Sunday and suffered a DNF, sucked it up and went out for the second moto, this time catching his already injured ankle in a huge rut and pulling off for his second DNF of the day. Five-time Canadian champ JSR had brutal starts all day but rode hard both motos to go 17-15 for ninth overall.
The real surprise for Team Canada was 19-year-old Colton Facciotti. Facciotti was an alternate on the team, replacing an injured Dusty Klatt, and he was also jumping on a 250F, which he hadn't raced in about two years. Facciotti posted the team's strongest results, going 16-12 for fifth overall. Not bad for the 'replacement' rider. Facciotti also gave his gate picks to JSR and Morgan both motos, making his fifth-place even more impressive.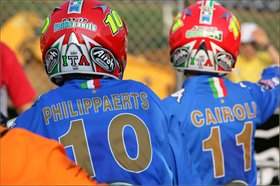 Italy's top two.
Tony Cairoli is soooo much better than he did in the results. But Cairoli and his very capable
Italian
teammates David Philippaerts and Davide Guarneri started out in a hole when their crates didn't show up—think of it as the Parmesan Cheese Incident. Also, according to some of the GP members of the press contingent, Tony put way too much pressure on himself and was too nervous Saturday, let Villopoto smoke him, then lost his confidence. A couple of unfortunate crashes compounded his bad weekend, and now he's got a year to think about avenging himself. The Cairoli that showed up this week was even more off his game than the Stewart who showed up in England last year.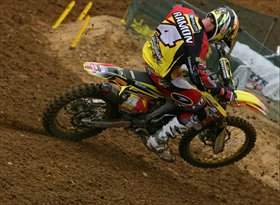 Belgium's Steve Ramon
The
French
team and the
Belgian
guys were absolutely stoked to be on the podium, and their enthusiasm was really cool to see. Both teams lost some good guys to injuries—Belgium lost Kevin Strijbos and France lost
Chris Pourcel
and David Vuillemin—so they had to scramble to make due. Sure, Team USA lost
James Stewart
, but we have a much bigger talent pool to draw from. So props to both nations.
For Australia, Chad Reed gave up the good gate pick for Andrew McFarlane in moto 1, but McFarlane got plowed into the fence on the inside of the start straight and was done for the day, which ended Australia's hopes. Reed came through the pack in moto one and even took Great Britain's Tommy Searle out for good measure. The Brits were pissed. Then Byrne's bike quit on the last lap of moto 2, making things even worse for Team Australia, who finished 20th out of 20.
South Africa's Grant Langston, who now resides in Clermont, Florida, had a horrible first moto and to be honest, the #19 pretty much went unnoticed. He finished 22nd, but in moto 3 he never stopped digging and passed Belgium's Steve Ramon for third on the very last lap of the race—even after crashing in the turn following the downhill triple. That was billed as the battle between the European MX1 Champ and the AMA Motocross Champ. Way to go, champ!
Remember Daryl Hurley, who won the opening round of the FIM World SXGP series in Seville, Spain in 2003 on a Motoworld Racing-backed Suzuki? He was the replacement for the injured Josh Coppins on Team New Zealand, but unfortunately he got knocked out in his qualifier moto on Saturday. This didn't bode well for the team, as MX2 entry Ben Townley had already suffered a grade-one separation of his shoulder in free practice. He could have raced if he had to, but with Hurley out the team was done anyway. Townley told us the best way to heal his shoulder was a month of vacation in New Zealand.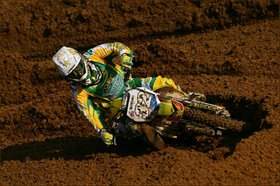 Australia's Andrew McFarlane
Finally (and
MXGeoff
is going to love this), U.S.-based riders went 1-2-3 in moto 1: Villopoto, Reed, Carmichael; 1-4 in Moto 2: Villopoto, Ken De Dycker,
Tommy Searle
, Ferry; and then 1-2-3 in Moto 3: RC, Ferry,
Grant Langston
. When you consider how few AMA guys were actually out there in the mains—those guys plus Byrne, whose bike melted down, and the injured McFarlane and the injured J-Rod—that's utter domination.