Monday Conversation: Ryan Villopoto
September 24, 2007 8:06am
There are very few days in motocross like Ryan Villopoto's at the Budds Creek Red Bull Motocross of Nations. Villopoto won both his motos on his Pro Circuit KX250F, becoming the first to accomplish this on a little bike - and on top of that, he led every lap both times out. It was an impressive, dominating performance, and it certainly gives him the right to talk a little, because he just backed it up!
RC was in one of his motos but had to work his way up from a first-lap crash. Townley was out with a hurt shoulder, and Cairoli, Villopoto's rival in the MX2 class, wasn't ready for the early-moto sprints of American tracks. Villopoto quickly took advantage of clear tracks and sprinted away in both his motos, opening up about a half-lap lead each time. We caught him as he was leaving the press conference to ask if this all had sunk in yet: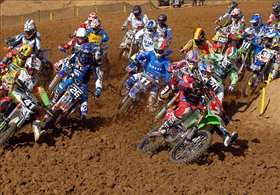 RV's dominance started on Saturday after he holeshot and won the MX2 qualifier.

photo: Carl Stone

Racer X: Ryan, this was quite a weekend for you.
Ryan Villopoto: Yeah, I think practice yesterday was good. I think we all had the fastest lap times in our practices. I came in today somewhat confident, but you can't be saying for sure that we have it. It's motocross, and anything can happen. I got lucky that Ricky gave me the inside gate in the first moto. I pulled the holeshot against all the 450s, which was good. That made it easy on me, then the same thing in the second moto. I got the holeshot again, and I could just ride my own pace.

Do you think the significance of this weekend has sunk in yet? Now you're the first one in the small-bike classification at an MXoN to win both your motos against the big bikes.
Yeah, that's what I heard. I didn't go into it thinking like that. Cairoli won the one moto last year.

Lamson did it once too, that was the last time.
I remember Cairoli did but didn't know Lamy did. I for sure wanted to win one, but I didn't expect to, you know, beat Ricky.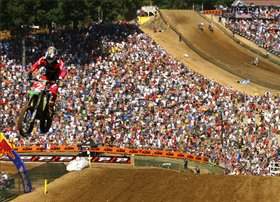 Villopoto was way out front in both motos on Sunday.

photo: Matt Ware

Did you come here expecting a showdown between yourself, Townley and Cairoli?
Yeah, not so much Ben because I raced him all year. I know what he's got. We even talked before that, if we got together on the track, that would get us both going. Then the Euros would have to go off our pace. I think we did a little bit then Ben went down. He kept riding, so I didn't think it was a big deal, then Ben didn't race. I guess he hurt his shoulder and neck. I was waiting to see what Cairoli had. You really couldn't tell in practice Saturday.

Before the weekend, before you got on the track, were you thinking this would be about speed, endurance, intensity, or what?
Well, for sure the Euros are way slower. I know the 450 guys are, just from watching. It's like the intensity over here is more because you have to learn to ride supercross. As soon as that gate drops, you have to be able to do that fast first lap. I think that makes it a little harder than on the GP guys. Some of them like to start out a little bit slower, and I think that might hurt them a little bit over here. Here, when the gate drops, we hammer down.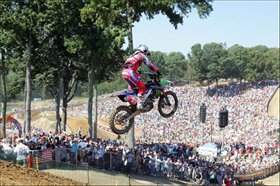 The crowd cheers on their MX2 hero.

photo: Steve Bruhn

Did you think the same about the Euros since the MXoN last year?
Yeah, I did, but last year was the first time and I really wasn't paying that much attention. I was more getting through the weekend.

Are you going to be the next champion of this race like RC has been, and say every year, "Yeah, I'm in, let's win it?"
Last year for sure was cool. After the second one, now I can see really how gnarly it is, what it means, especially winning twice so far, so for sure next year I would like to go.

Were the Americans faster today?
Like Ricky said, all the shit talking, that shut it up - but Motonews will be on there talking shit some more! Hopefully, none of that will go on that this was America's track. We won over there, so there's nothing they can say.