Kawasaki/Racer X Race Report
September 24, 2007 9:06am
Budds Creek Motocross Park in Maryland played host to the world this past weekend for the FIM Red Bull Motocross of Nations, and what an amazing event it turned out to be. Jonathan Beasley and the entire crew down there deserve a big pat on the back for a job well done.
Led by MX2-class rider Ryan Villopoto, Team USA laid a whooping on the 20 best motocross nations in the world on Sunday to win the 60th annual Motocross of Nations. While teamed with 450F riders Ricky Carmichael (Suzuki) and Timmy Ferry (Kawasaki), it was Villopoto, on his Monster Energy/Pro Circuit Kawasaki KX250F, who truly upstaged his teammates (and every other rider who dared to line up next to him).
Moto 1 – MX1/MX2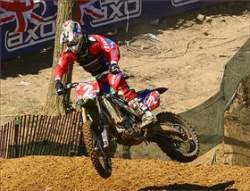 Ryan Villopoto was the most dominant rider at the MXoN.
photo: Matt Ware
In the opening MX/MX2 moto, Villopoto enjoyed a great jump out of the hole with Germany's Max Nagl, Great Britain's
Tommy Searle
, Italy's David Philippaerts, and Australia's
Chad Reed
in tow. With Carmichael down in a first-lap crash, it was all on Villopoto's shoulders to lead the American charge, and that's exactly what he did, pulling out to a 20-second lead. All was well until lap five, when a lonely lapper fell in front of the American, sending him to the dirt. Ryan got right to his boots, kicked his KX to life and once again roared away. He lost 15 seconds to second place, but it wouldn't matter, as he quickly gapped the field again. He was simply untouchable.
Quite possibly the most anticipated battle of the weekend was supposed to be between Villopoto and MX2 World Champion Antonio Cairoli. The Yamaha-mounted Italian started the first moto barely inside the top 10. He slowly moved up through the pack to get into sixth, but then crashed after the finish line, forcing him out of the moto and putting a hurt on Italy's chances for a MXoN title.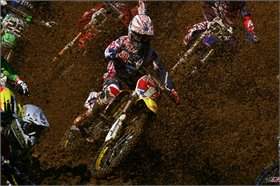 RC came from last to third in the opening moto.
photo: Simon Cudby
Carmichael, on the other hand, was forced to come up through the pack from dead last, and it kept the crowd on their feet. Where would he make it to? Top 10? Top five? Carmichael put on an amazing charge through the talent-laden field of international riders, and with four laps to go, got up to a podium position, behind Villopoto and Reed. It looked like Carmichael would be able to reel Reed in, but the San Manuel Yamaha rider kept charging and came across the line second overall in the moto, but first in the MX1 class. RC finished third, with Sebastien Pourcel finishing fourth, and Spaniard Jonathan Barragan rounding out the top five.
Moto 2- MX2/Open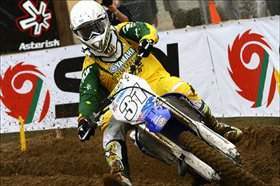 Chad Reed finished second in the opening moto.
photo: Matt Ware
Moto number two at the Motocross of Nations—the Open/MX2 moto—was all
Ryan Villopoto
yet again. The young American, who hails from Poulsbo, Washington, dove to the inside on the first turn and came out with the lead, closely trailed by Italy's Antonio Cairoli. The stage was set to see who the fastest 250F rider in the world is, but RV again checked out on the first lap, never to be headed. Cairoli crashed on the first lap and had to pull into the pits to get his wheel changed. He would return to action a lap down, and rode out a fourteenth-place finish.
Similar to Moto 1, RV's teammate again had trouble on lap one, but this time it was Open-class rider Tim Ferry, who was donning #3 for the red-white-and-blue. With teammate Ferry charging from the back of the field after getting caught up in a first-turn crash, Villopoto held the point for Team USA, dazzling the fans who watched his awe-inspiring performance. After 30 minutes plus two laps of racing, Villopoto flashed across the finish line to easily win the moto. Ferry raced all the way back to a very impressive fourth, and Team USA was clearly in control of the Motocross of Nations, barring any disasters in the third and final moto.
Moto 3 – MX1/Open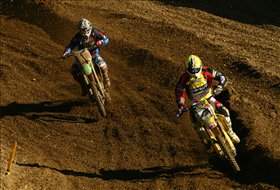 Tim Ferry sets his sights on the 2007 MX1 World Champion, Steve Ramon.
photo: Matt Ware
The third moto combined the MX1 and Open class, and both Americans finally made it through the first lap unscathed. In fact, Carmichael pulled the holeshot, followed by Belgian Steve Ramon, France's Sebastien Pourcel, De Dycker, and Ferry. Ferry made quick work of De Dycker and Pourcel, putting himself in third place. While RC stretched his lead out, Ferry went to work on 2007 MX1 World Champion Ramon, eventually passing him to take over second place in the moto. RC and Ferry then gapped the rest of the world, securing another Motocross of Nations victory for the United States.
After the final moto, Villopoto spoke about his performance in Maryland: "I got the inside gate in the first moto, I got the holeshot, and I was wondering where Ricky was. I broke the gap and rode it out to the end." And of the lapper who almost did him in? "I came over the finish line and onto the three rollers and I rode into some guy who was crashed. I got stuck on top of him. I kind of got the heart rate up a bit. It helped to have one of the best bikes out there. It makes it easy going to the line when you know you have one of the best teams."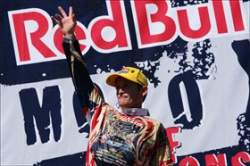 RC says goodbye to motocross.
photo: Simon Cudby
But perhaps it was
Ricky Carmichael
, the greatest motocrosser the world has ever seen, who paid Villopoto the biggest compliment on Sunday. "As for Ryan, he stunned everybody," said RC in the post-race press conference. "[Antonio] Cairoli is the world champion, but he isn't racing over here and our guys are beating third place by a minute plus. Cairoli is a great rider, but the pace over here is so different, and when you race fast guys, you get faster. Everyone is going to be scared to death of him, and they should be, because he has that something special."
Make sure to check out
The Racer X Motocross Show
MXoN wrap-up on
Motocross.com
.

Motocross of Nations Results
1. USA – 8 points
2. France – 34 points
3. Belgium – 35 points
4. Italy – 57 points
5. Great Britain – 63 points
6. Spain – 68 points
7. Japan – 77 points
8. Switzerland – 84 points
9. Germany – 89 points
10. Canada – 90 points
11. Estonia – 91 points
12. South Africa – 93 points
13. Ireland – 109 points
14. Sweden – 122 points
15. Latvia – 125 points
16. Brazil – 131 points
17. Czech Republic – 132 points
18. Chile – 161 points
19. Portugal – 168 points
20. Australia – 179 points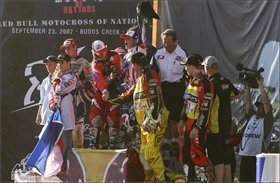 Team USA stands atop the podium once again.
photo: Matt Ware