It's finally here, and promoter Jonathan Beasley's lifelong dream—to host the Motocross of Nations at his family's racetrack in Budds Creek, MD—is about 48 hours away from coming true. Beasley has put a lot on the line for this race. He's campaigned and lobbied for it for years, and he thought his chances to host it were dashed forever when that inept group at Competition Park embarrassed motocross in this country with their 2002 fiasco. But Beasley persevered, kept working, and now it's almost on. Here's to you, Jonathan. Good luck, and thanks for making it happen.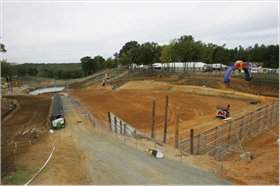 It's almost time for history
photo: TFS

John Ayers from MotoTees also deserves a huge pat on the back. The utility man of American motocross—actually, that might not be the best description; he's the hardest-working man in motocross—has been in Maryland helping Jonathan make it all happen, and so are the rest of the NPG promoters. Ayers has been the liaison with Youthstream, which means he has to match up their vision of what a big-time motocross race should look like to the American version, which is not easy task.
But after a lot of work, planning, work, meetings, work and more work, we're almost there. The weather looks like it's going to cooperate, and my friend Mario Marini called Thursday morning to tell me the track looked absolutely fantastic. (And he also said that the start has been reworked—it's still a left-hand hairpin, but it's not off-cambered anymore. "It's like a smaller, slower Glen Helen turn, with a NASCAR-type grade.")
So it's Team USA vs. the rest of the world on Sunday, as our best rider ever—actually, the best rider ever—takes one last bow on an outdoor motocross track. The word is that Ricky's ready, and we know he loves Budds Creek: He's won 9 out of the 10 times he's raced a national there, losing only once in 1999 to … answer at the bottom.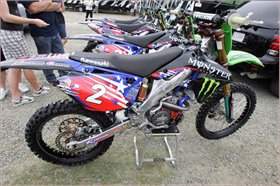 photo: TFS
Carmichael will be joined by
Ryan Villopoto
, who's 2-0 there in two years as a pro, having won all four national motos in the last two years. And then there's
Tim Ferry
, who has a chance to redeem his whole summer with this one race.
You can watch the race live on your own computer through the Media Zone moto package, which costs $19.99 for the race or $39.99 for race plus the whole 2008 Grand Prix season. If you can't be there—and it's not on live TV—it's the next best thing to being there!
The race is set to air on the Outdoor Channel, but we have not heard a firm date just yet.
Scott Taylor told me that Ricky Carmichael is going to take one for the team and start in the middle in both his motos, which means he will surrender the high pick to Villopoto and Ferry. He did likewise in France in '05 and it worked out well. I joked that he should call Austin Stroupe and find out just exactly what the super rookie off the start at Steel City (and Villopoto did in the second moto), using an outside-the-box gate to grab a ridiculous holeshot.
Last night, Wes Williams and I were invited along to the Belgian ambassador to the USA's house for a special ceremony for Team Belgium and Roger DeCoster, the Team USA manager who happens to hail from Belgium. It was a swanky house right off Embassy Row, and the Belgians really rolled out the red carpet their team.
DeCoster was not the only motocross star there: six-time Team USA member Jeff Emig, five-time world champions Joel Smets and Eric Geboers, plus DeCoster's old teammate Sylvain Geboers were all on hand, as was Team Puerto Rico's Tarah Gieger.
Rob Kinsey was also there, presenting DeCoster with the painting he did recently of "The Man" in the '78 Trans-AMA Series. They served great Belgian beer—Stella Artois, Hoogarden, Duvel—and showed how important motocross is to Belgium. It was pretty cool.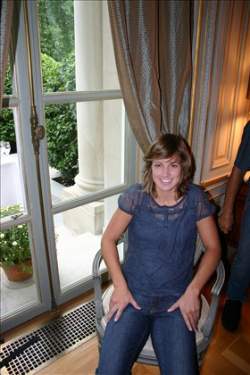 Tarah is a funny girl (and fast!)
photo: DC
Funniest part: Fro was talking to Kinsey about doing a painting, and I suggested he pick the famous photo from the '92 MXoN from Australia. "You know, the way where you had your feet on the pegs, standing up yet totally dragging the bars in that berm…"
At the moment, Tarah Gieger interrupted, "Oh, I do that all the time."
It was also really cool to see a cab pull up in front, and out steps DeCoster, Sylvain and Eric Geboers.… That would be like seeing MC, Bob Hannah and Jeff Ward jump out of a cab in Antwerp!
The ambassador himself was pretty funny too. When he mentioned Team USA, he added, "I hope they are drinking beer somewhere!"
After a few frustrating days, the Racer X Motocross Preview Shows are back up on Motocross.com. There is a real marketing war going on right now between Red Bull and Monster, and the main front is the Motocross of Nations. Here's what's going on: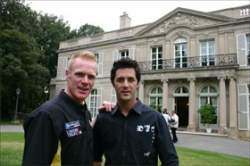 Former rivals, longtime friends: Smets and Emig
photo: DC
Red Bull is heavily invested in this event and Youthstream overall. They sponsor the Grand Prix series, and they are making a real surge right now to stave off the blitz that is the Monster marking machine. Monster sponsors all of Team USA, personally and for this race—that's why it's called Monster Team USA. Monster apparently even bought the old gas station across the street from the main entrance to
Budds Creek
!
Of course, Red Bull doesn't want Monster to overwhelm their event, and Youthstream wants the event branded Red Bull; Monster wants to market all of their riders, who happen to be most of the major stars: RC, Villopoto, Ferry, Townley, Langston.…
Like I said, it's complicated.
And so is this: Tomorrow, we get to do a six-minute Racer X Preview Show, followed by individual three-minute highlight clips from each of the three qualifier motos. We are also doing a six-minute post-race show, with three-minute highlight clips from each moto. It has to do with restrictions and rights, and we thank Youthstream for letting us do this to share with our fans, both on Motocross.com and Racerxfilms.com
Okay, here's the weirdest thing: Last night, after dinner with Jeff Emig and Lou Lopez in downtown DC, we were talking down the road when we decided to stop in a bar called Rumors. Off in the corner, a guy was wearing a Wonder Warthog-like red-white-and-blue, American flag shirt. Upon closer inspection, it WAS the Wonder Warthog! We had stumbled into Scott Kandel's MXoN party. Of all the gin joints in all the towns….
Bad Bill posted an online poll a couple of days ago: Who will win the MX2 class at the 2007 Red Bull Motocross of Nations? After 3,245 votes, here's how the tally looked:
Italy's Antonio Cairoli (718) 22.13%
Australia's Andrew McFarlane (7) 0.22%
Great Britain's Tommy Searle (10) 0.31%
South Africa's Gareth Swanepoel (4) 0.12%
New Zealand's Ben Townley (162) 4.99%
USA's Ryan Villopoto (2339) 72.08%
Other (5) 0.15%

Okay, here are some notes from TFS here at Budds Creek: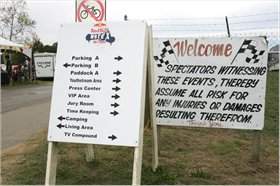 photo: TFS
- The Friday practice for amateurs on the big track was canceled. They are still doing the supercross tonight. The main track is well-groomed and looks nothing like it did at the national.
- Even by yesterday, there were more tickets pre-sold than there was attendance at the last national here. We're hearing 13,000 pre-sold. The place is filling up like crazy! It's like loading up the woods around Loretta's before the week starts.
- There is two-lane bridge that is now a one-lane bridge on the 234 Hwy on the way in. This is a little west of the track on 234, between Budds and the 301. Traffic has to wait in turn to get through. Looks like a cluster.
- The semis in the pits are supporting Team USA of course (Suzuki, Kawi and Pro Circuit), and a few others are here to support visitors, like SoBe No Fear/Samsung (Mexico), BSY (Guatemala), Bad Boy (Lativa), etc. It's a great idea and a great way to get good parking!
- There will be significant news items coming out of press late Saturday.
Here's the Budds Creek weather link.
MX Sports' Andy "Number Cruncher" Bowyer got a mention in a USA Today cover story yesterday featuring his brother Clint, the NASCAR Nextel Cup contender. And yes, that was Clint winning his first race last weekend!
Here's a good place for Ping's stuff:

You would never guess that the season ended last weekend by the looks of the local practice tracks here in SoCal. Villopoto, Langston, Rodriguez, and others have been pounding laps all week in preparation for the race this weekend in Maryland. We all know that they look good, but I saw another rider on the track that I almost didn't recognize. I had to do a double-take when I saw the 27 on the back of this guy's jersey.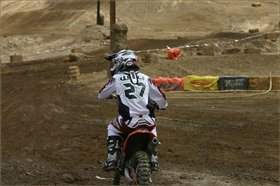 photo: Ping
That's right,
Nick Wey
is back in action and shaking down his new KTM 450. He was just getting started doing some testing on the new bike, but he did say that it was very, very fast. It's good to have Nick back after that nasty crash he had earlier this summer.
The 2008 Racer X 250F Shootout went down this week. We had the most diverse group of test riders we've ever had. Phil Lawrence and Ray Sommo were our two resident pro riders. Daron Rahlves, world champion downhill skier and former Olympian, stepped in as our vet intermediate voice. Kai Pattison, professional surfer, made the trip over from Hawaii and was our B-class rider, Kevan Carman was our novice and Victor Sheldon, Jet Ski world champion and current Thor rep, also helped out.
It was a long couple of days but we got a pretty good idea of each bike's characteristics. This is worth the read if you are in the market for a new bike, just so you know what you are getting into. I always like to remind people that all of the bikes are competitive, even at the highest level, so your very best bet is to find a dealer that will take good care of you and buy whatever color he's selling. In the long run, that's much more important than anything else. Check out the results here.

If you are in California, remember to stop by the Chris Ackerman poker tournament tonight in Lake Elsinore. Things kick off at 5:30 pm with a freestyle demo, silent auction, and then it's time to hit the tables for some poker. It's a good time and for a good cause. The proceeds will be split between Chris and Jamie Murray. The entire Metal Mulisha crew will be on hand, so be on your best behavior or you will get punched. I'm kidding.

Speaking of injury, if you are looking for a place to help out injured mountain-bike rider Tara Llanes, she has a website set up at www.tarallanesroadtorecovery.com. She crashed at an event in Colorado two weeks ago and is currently paralyzed from the waist down. You can send her messages or donations at that website and read up on her progress daily.
Check out this video from Pat Schutte.
We just got word that the latest issue of Pit Racer (Issue #20), which features minibike fast-kid Kyle Engle on the cover, is out. To get your very own copy, sign up for a subscription online at www.pitracermagazine.com.
Finally, here's the quote of the week, from Preston Bornman, the executive vice president of America One Sports: "I do not believe that Tony Cairoli is beatable by anyone in any class."
That's it for Racerhead from Budds Creek. Go, Team USA!