Memories from Unadilla
September 21, 2007 9:49am
For me, this sport started with Unadilla. My dad worked for Bel-Ray, and back in the 1980's the oil company was title sponsor of the USGP at 'Dilla. Each year the race would be televised on a special edition of MotoWorld, and for the 1985 event, Bel-Ray even created its first television commercial. Dad and I had scheduled a typical evening of watching WWF "Big Wrestling" from Madison Square Garden, but he wanted to catch the commercial, so we flipped over to the USA Network, popped a tape in the archaic VCR (which dad bought exclusively so he could tape every episode of Late Night with David Letterman) and recorded the motocross race.
At that point I was already into all things motorized, and I had a sweet Suzuki LT50 Quad Runner that I rode around in the yard. But I hadn't really discovered motocross racing until I watched that USGP. Life wouldn't ever be the same.
By 1987 I was mega-huge into the sport. Dad would bring Cycle News issues home from work and I would read every word. Once I tried to run CN as a book report I third grade. They didn't accept that…
Anyway, one day dad came home with huge news. "How would you like to go to Unadilla this year?" ARE YOU SERIOUS??? Apparently this year's Unadilla was going to be a big event. Instead of the typical race like I had seen on TV in 1985, this was a team race, and Bel-Ray was putting in a massive effort to make it happen. Bel-Ray's JJ Handfield had a special relationship with the Motocross des Nations, because he and MXA's Dick Miller were two of the main men that made the original 1981 Team USA victory happen. Now the race was coming to the U.S. and JJ and Bel-Ray were backing it big time.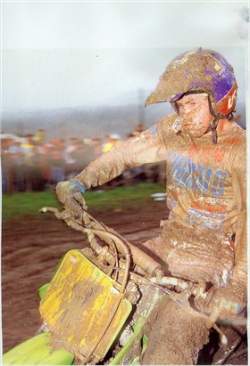 Jeff Ward. This is the ";it"; in doing ";it"; for your country.
I spent the summer studying the sport so I would be ready. The was huge controversy picking Team USA for 1987: Rick Johnson and Jeff Ward were locks for the squad, but the AMA wanted Bob Hannah to join them because, even though he was well past his peak, he still hauled ass at
Unadilla
. Honda's Mickey Dymond had been killing the 125 Nationals for the last two years, and Ron Lechien was right there with Johnson and Ward, but at
Unadilla
, they wanted Hannah. The next problem came when they tried to figure out who would ride what. Johnson won the 500 National title that year and Ward was still unproven on the big bore, but they had RJ ride the 250 and Ward ride the 500! And then Hannah raced the 125, which he hadn't done in like eons. I recall reading that Hannah had already said years ago he would never ride a 125 or race the Motocross des Nations again. And now he was doing both!
For a brief time, Bel-Ray owned a small private plane, and they offered to take me, mom and dad up on it to the track (we're from NJ, the flight to New York took like 45 minutes). The plane ride was rough—mom even lost her lunch during it—but I didn't even flinch, because we were going to Unadilla.
We watched practice on Saturday, and I learned everything there was to know about the event thanks to the inspired announcing of Larry Maiers. Looking back now, here is what I don't get: Today, we bring in massive speakers and hang them from cranes so the spectators can actually hear the announcers, and even that doesn't always work. Without them it's hopeless—I was just at Unadilla last week for the GNCC and even in 2007 it's impossible to hear the regular PA system with bikes blasting past. But somehow, some way, Maiers was loud and clear over everything back then. It was like he was wired into my head.
I got to go into the pits, and we even met Roger DeCoster! The practice began. The track was unbelievably perfect, and from my memories of then, it was absolutely massive. Gravity Cavity looked like a mountain, and I swore they were jumping 100 feet and landing in supercross style whoops. The track was unbelievably cool—but then again I had never gone to a motocross track before so I was a little crazy. At the GNCC last weekend, the track now looks about 25% as big as I remember it looking in 1987—and in reality it's exactly the same.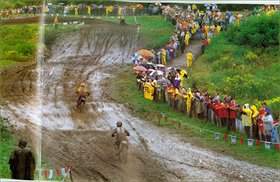 It was really, really muddy back at Unadilla in 1987.
Once practice started, I got scared. A lot of European guys looked good, like number 8 on a Suzuki (Michele Rinaldi). Maiers was really good at building the
USA
versus the World thing and he kept pumping up Eric Geboers: "That's 250 Wooooooooorld Champion Eric Geboers." He would really stretch the wooooorld part out to make you think "Dude, RJ and Wardy are only NATIONAL Champions!" And man, Geboers was jumping further out of Gravity Cavity than anyone. Uh oh. What if he was faster than Johnson?
The race was expected to come down to three teams. You had Team USA. Team Belgium, with 250 Wooooooorld Champion Geboers and 500 Wooooooorld Champion Georges Jobe, and Mark Velkeneers on a 125. And the Dutch team was really strong (contrast that with today's Dutch team, which isn't even coming to the race). They had 500cc veteran Kees Van der Ven, who had won the Unadilla USGP before, 1987 125 Wooooooooorld Champion John Van den Berk and 1986 125 Wooooooorld Champion Davey Strijbos.
Then we went back to the HoJo on Saturday night and got all pumped for the big race tomorrow. Hey, is it raining outside?
We woke up the next morning and it was still raining. Still! It hadn't stopped for hours. We headed to the track the next morning, greeted by stuck rental cars everywhere. And what about the track?
It was really early in the morning and Maiers was already running his game. "The rain is the great equalizer! The Europeans are great mud riders! Woooooooorld Champion!"
I was scared. What if Team USA lost for the first time at their own track? Opening ceremonies were about to get underway. I was asked if I wanted to participate, they wanted to have kids walk down the track holding big signs with the names of each country. I think I could have held the sign for Sweden of Finland or something, but I was way to scared and nervous to help. Damn I wish I wasn't so shy back then!
We stood across from the first turn for the first moto. It was so ridiculously muddy. The bikes just came flying into the first turn with mud and roost everywhere—I swore I could hear the mud splattering against the bikes, while still hearing Maiers yelling. We were standing on the outside of the turn and got roosted so bad—my mom even got hit right in the mouth with mud.
I saw Wardy was right up there in the first turn, which was awesome. But then he was gone. He came around way back in the pack with his goggles hanging down, and everyone was talking about that. Hannah was way back, too, and then Maiers said he got stuck on a hill. Hannah couldn't ride the 125! Team USA was losing bad! Maiers started pumping everyone up. "Here comes Jeff Ward toward Gravity Cavity. Let's all let him know how badly we want to see him get to the front of the pack!!!" You heard some pretty good cheers from that, but when Maiers ran the same trick with Hannah, the response was unbelievable. They went nuts for the Hurricane!
Ward got to second at one point, but then he fell and finished third. Hannah could only manage fourth, and that was lucky because some French kid named (and pronounced exactly as you read it here) Jean-Michael-Bayle was killing everyone on the 125s until he bent his shifter or something. Jobe won the 500s, Strijbos won the 125s, and Team USA was in THIRD after the moto. OH MY GOOOOOODDDDD!!!!!!!
Maiers didn't help. It was like the whole event was scripted, and he knew that the more worried he made you about Team USA losing, the more elated you would be when they won. Well, it did the trick because I was so damned scared, I remember doing math and figuring out how much it would help if Team USA could somehow pull off a miracle and go 1-1 in the moto. I started literally praying to get it done: Hail Marys, Our Fathers the whole repertoire. But honestly, Hannah had proven to be the wrong choice for the 125, and Johnson had to race the 250 Woooooooooorld Champion and it was muddy. We were doomed.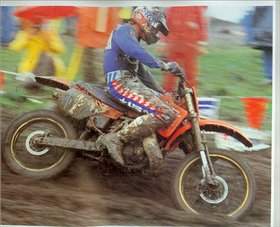 RIck Johnson saved the Weege from childhood trauma by winning both of his motos and leading Team USA to victory.

Before the moto, the Bel-Ray pilot told us we may have to leave early. The weather was so darned bad that he would probably only get a 20 minute window for take off, and that would only come in the afternoon. But he also said, "Hey, by the third moto you probably already know who is going to win, anyway."
Yeah by then we would know Belgium or Holland was gonna' win because Team USA was dead! Then they started the moto and HOLY CRAP RJ IS IN THE LEAD! But then 250 Wooooorld Champion Geboers got into second, and he started closing the gap, still jumping all huge out of Gravity Cavity. I was so scared. Watching RJ get passed and beaten on American soil would be like having a bodyguard against the bullies, and watching the bullies beat up your bodyguard. What the heck would you do now?
Well, someone must have gotten the word out to RJ because he stepped it up and started pulling away. Maybe this wasn't so impossible. Then something happened to Jean-Michael-Bayle and then Strijbos and MOTHER OF ALL THINGS THAT ARE HOLY Hannah was LEADING the 125s!!!!! Yeeeeeeeeaaaaaaahhhhhhh!!!!!!!!!
The crowd was going absolutely nuts at this point. Maiers plan had worked! Looking back now, I can't even believe how bad a dude RJ was. He beat all these GP guys in the mud. That's just the way it works, on paper, a Californian shouldn't be beating Euros in these conditions, but this was a big race, RJ was the man, and that's what confidence can do. There was no way in hell RJ was going to lose on this day.
At one point Hannah got into third overall on the track and was even closing the gap on Geboers. Man it was good. He and RJ were mobbed at the finish line, everyone was screaming "Hannah! Hannah! Hannah!" It was awesome!
Then I had to leave the track to catch the plane. It's a good thing I didn't realize back then that Unadilla was only a three-hour car ride from home. And as for the "you'll already know who will win" stuff, Team USA was TIED for the lead going into that moto.
In reality, though, there was no chance they would lose. There was just too much momentum, too many fans and too much of a crazy vibe for anything else to happen.
RJ won the last moto, too. Belgium's chances ended when Jobe got banners in his brakes and Geboers just started "crashing and crashing." Ward rode valiantly for third in the moto behind the very proud Van der VenOne thing I heard all weekend was "you better enjoy this because you'll never see this race in America again." I don't know what was going on behind the scenes there, and I don't know what the race would have been like had it been held in Europe. I do know that just a few years ago, when Team USA wasn't even sending a team to the race, that I was pretty sure I had seen the first and last des Nations in America.
We all know that's not the case now, but I can't thank everyone at Bel-Ray enough for letting me go to the first one. Thanks JJ Handfield, thanks to the Kiefer family—founders of the company, and thanks mom and dad. And Team USA!