I thought I'd share with you a part of Bob Hannah's MXDN collection...


First, we have his 1978 Motocross des Nations/Trophee des Nations Jacket...a little worse for wear because his father, Wild Bill, wore it as a riding jacket for years.
And then, we have Bob's 1987
Unadilla
Motocross des Nations T-shirt.
Enjoy - and have a blast this weekend!
Cheers,
Terri Hannah
. Idaho

Here are some photos of my most prized possession, a souvenir program from the 1987 Motocross Des Nations at Unidilla.
I was 16 at the time and it was my very first exposure to the European motocross riders, the bikes, the gear and the languages. I remember dragging my Dad up and down those burly hills and in and out of the pit area just so I could snap pictures and take mental notes. I remember that back then I was obsessed with everything motocross, what I don't remember is ever feeling irresponsible or guilty about my obsession, motocross in 1987 at 16 years old was as pure as anything I've ever felt. I think that's why the Des Nations was so amazing and still to this day feels really special.


I remember It was getting really muddy towards the end of the day and I can remember Wardy hauling around that gnarly track with his open faced helmet, goggles gone and just pinned wide open with his feet off the pegs on that huge 500.
Twenty years later and that day and those memories are as crisp in my mind as they were on September 13, 1987, and 20 years from now I'm convinced it will mean even more that I was at the 1987 Motocross Des Nations.
Nate Smith
. Canada
These are Jeff Ward's moto 1 goggles that he tossed after they got caked with mud and were sliding down his face. In the photo, they are around his neck. During moto 2, he raced without a face mask. Because of the bad weather conditions, my friends and I were able to sneak into the pits for four hours before we were kicked out, while posing for pictures next to Leif Perrson's YZF 500. What a great weekend for three moto fans from Utah. The Unadilla Hill People really are insane!
Rob Peterson. Roy, Utah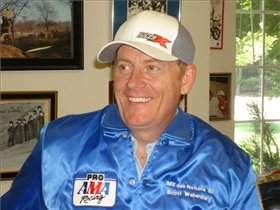 Scott Wallenberg and his 1990 MXdN jacket.
Here is
Racer X
's publisher,
Scott Wallenberg
, sporting his 1990 Motocross des Nations jacket, that he will be wearing this weekend in Maryland!
Finally, here is one of Eric Johnson's most PRIZED possessions. The jersey Stefan Everts wore at the 1993 Motocross des Nations in Schwanenstadt, Austria. Sent to EJ when he was in a hospital ward in Flagstaff, Arizona with his left leg snapped in half. He also has a 1981 Lommel pin.


Want to share your collection? Send us a look at what you've got: Online@racerxill.com
Watch the 2007 Red Bull Motocross of Nations LIVE on MediaZone.com!